Project Report

| Aug 11, 2023
Inspiring Tales of Overcoming Diabetes in Ethiopia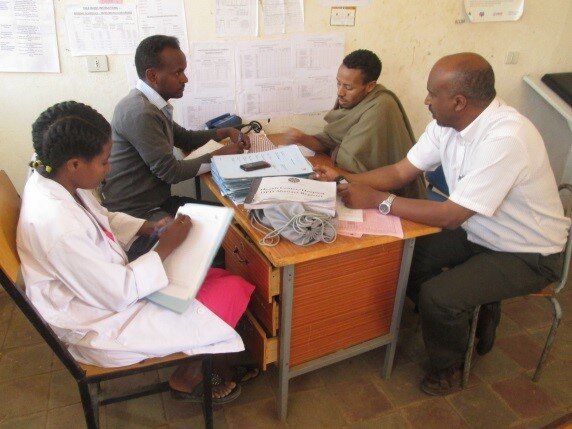 In the fight against diabetes, heroes are born every day, quietly transforming lives and writing stories of hope and resilience. Today, we bring you two awe-inspiring stories of young individuals who triumphed over diabetes thanks to the dedication and expertise of healthcare professionals.
Story 1: A Life Saved, A Future Restored
Meet *Peter, a vibrant 24-year-old with dreams of a bright future. But Peter's world turned upside down when he started experiencing unexplained symptoms: excessive thirst, frequent urination, and overwhelming weakness. Alarmed, he rushed to a local clinic, where he was mistakenly prescribed hypoglycemic agents instead of insulin. As Peter's health deteriorated, fate intervened in the form of a chronic disease nurse. With her sharp eye and expertise, she recognised the situation's urgency. Suspecting type 1 diabetes, she promptly referred Peter to Gondar teaching hospital for specialised treatment. Her quick action and accurate diagnosis saved Peter's life, offering him a second chance to pursue his dreams.
Story 2: Vision Restored, Hope Renewed
In another corner of our world, a 35-year-old man named *David faced a silent battle against diabetes. Unknown to him, his blood sugar levels had soared, leading to a stubborn foot wound that refused to heal. The pain was unbearable, and the darkness of impending blindness loomed as retinal lesions took hold.However, an attentive team of healthcare professionals at Gondar University Hospital stepped in just in time. Diagnosing David with diabetes and spotting the telltale signs of retinopathy, they acted swiftly. Thanks to their expertise, David received life-changing laser therapy, saving his vision and giving him the gift of hope.
These powerful stories remind us that diabetes can be managed and lives can be transformed, especially when detected early. Through the vigilance and dedication of our healthcare heroes, countless individuals like Peter and David are thriving, living proof that diabetes is not a barrier to dreams.
As we celebrate these triumphs, we want to express our sincere appreciation to our esteemed donors. Your unwavering support highlights the importance of spreading awareness about diabetes and acknowledges the crucial role played by healthcare professionals. Together, we are forging a world where diabetes is not an insurmountable obstacle, but a challenge that we confront with courage and mutual assistance. Let us stand united, knowing that the power to overcome diabetes lies within all of us.
*Peter and David are pseudo names.