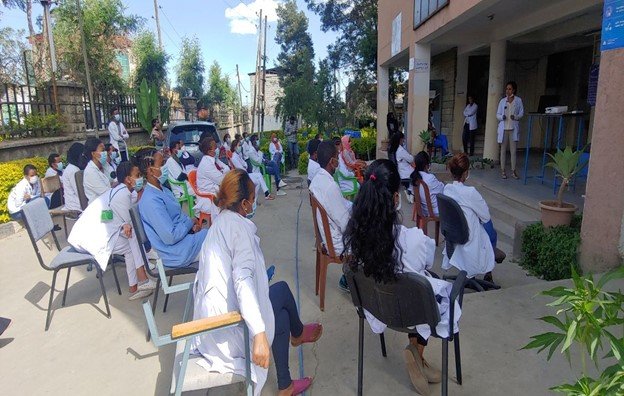 My name is Dr. Meti. I am 26 years old and I was born in the Oromia region of Ethiopia.
My life was stable until I was diagnosed with type 1 diabetes and was started on insulin. Soon after my diagnosis, my mother was diagnosed with breast cancer and started a battle against it. Finally after going through chemotherapy, radiation and surgical procedures she lost the battle.
I decided then to be a doctor and vowed to myself that all the mistakes I saw and mistreatments my mom and I got will never be repeated again.
I am a physician now and I am working at one of the health centers THET supports. I am happy I can help people like me, and make all the difference I could possibly can in their life.
When people stand bedside us, it means all the world.
I work in a health center, the lowest place in the health tier and it gets you close to the community. You will see the real financial and health problem of the society. As a primary health care provider you will meet with true face of poverty.
For me, a typical day starts with a wave of fear. The moment I open my eyes I battle with the thought that as a diabetic patient, I could get infected with COVID-19 and I may never make it out alive.
Every day is a battle like a soldier in a war, afraid for my life but thinking of those who need my help. I put my fear down and try my best to get through the day with a positive attitude. After all the worry and anxiety, I get up take my insulin and get off to work.
There are days where I feel hope full and try my best to help my patients with what little we have. Thanks to donors, we are able to screen most of our society for NCDs, helping us pick those at risk and who already developed the disease fast and act on it.
In a poor country like mine, the best way to help is prevention. If I am able to prevent or at least delay diabetic complications such as blindness and amputation, I will be helping my patient, his or her family and my country in some way.
I would like to show my gratitude to organisations for making this possible.
I know with the support of organizations such as THET, and with collaborative work of my colleagues we can make a small change in a world full of chaos.