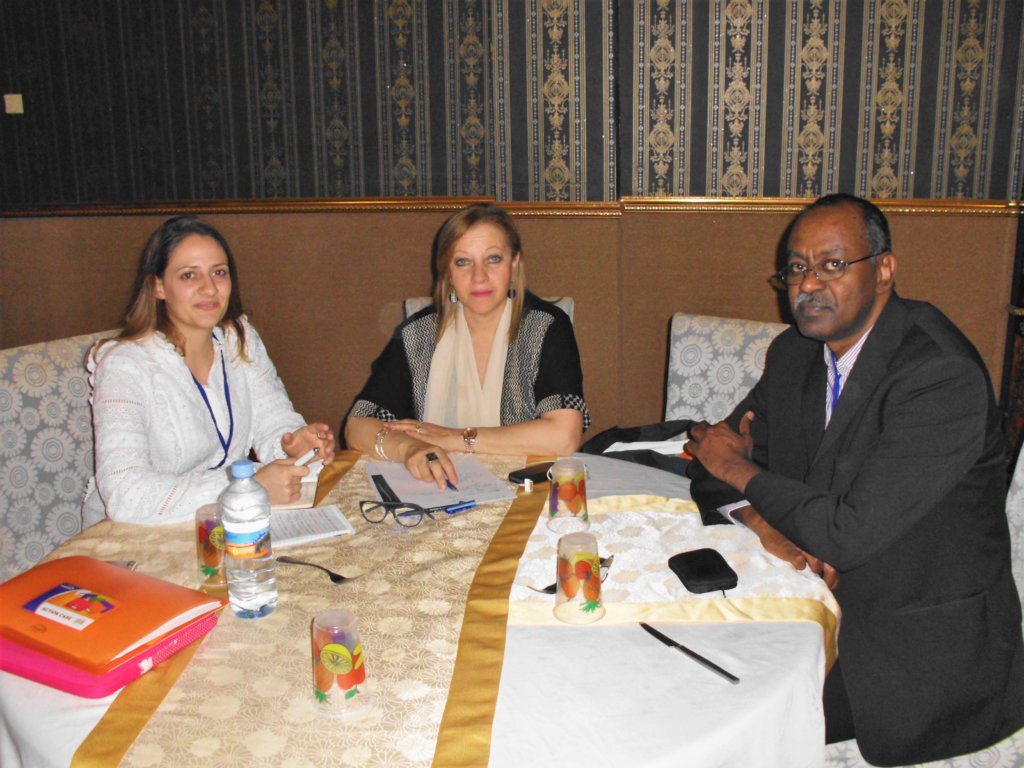 Thanks to your generous support, we were able to launch #RoutesToJustice and lay the foundations for our planned casework at the African level.
In April 2018, LFJL attended the 62nd ordinary session of the African Commission for Human and Peoples' Rights (ACHPR), the regional mechanism dedicated to the promotion and protection of human rights in Africa. Ahead of this mission, LFJL published its advocacy priorities for the session in a position paper highlighting the importance of promptly taking measures to end the dire situation of migrants in Libya.
During the mission, LFJL met with several Commissioners to discuss the human rights situation of migrants in Libya and put forward our recommendations put forward in the position paper. We took this opportunity to draw further attention to #RoutesToJustice and inform the Commissioners of our intention to submit cases to the ACHPR in order to provide redress to migrants who faced human rights abuses in Libya. We insisted that the failure of the Libyan state and the international community to address this issue urgently requires the ACHPR to adopt a resolution urging Libya to act to protect migrants.
"In Libya, migrants are subjected to widespread human rights violations including arbitrary detention, torture, forced labour, and sexual exploitation. Libyan authorities, empowered by European migration policies, implement a system of automatic detention for migrants considered as illegal. (...)Despite the outrage that the reports of slavery generated at the regional and international levels, the situation of migrants in Libya has not improved."
[From 'LFJL's priorities at the upcoming ordinary session of the African Commission on Human and Peoples' Rights', available here]
We further highlighted the importance of conducting a fact finding mission in Libya to identify these human rights abuses and violations. One Commissioner, supporting our call for a resolution, stated: "I believe and agree with you that, at this point, a resolution by the ACHPR on this issue is crucial".
Following these advocacy efforts, the ACHPR adopted a resolution which includes the essential points we highlighted, meaning that international and regional stakeholders are seized of the issue of migrants in Libya. This is a positive step towards accountability for violations faced by migrants in Libya which would not have been possible without your help. Many thanks again for your support!
What next?
We are currently working with partners to plan joint outreach activities to raise visibility and awareness, in the UK and in Europe, of #RoutesToJustice and the situation of migrants in Libya. These activities aim to promote greater understanding of the root causes for migration and the crucial need for support to migrants. Through these activities, we aim to build an invested public that cares about this issue and motivated to contribute to #RoutesToJustice by pushing their politicians to enact change.
The coming months will be marked by a series of international days promoting the human rights of refugees and victims of torture, the prohibition of trafficking in persons and the abolition of slavery. They will provide a key opportunity to continue to raise awareness on the human rights abuses faced by migrants in Libya as well as to increase the visibility of, and support for, #RoutesToJustice.
We will continue to keep you updated on the progress of the project through Global Giving, however please don't forget to subscribe to our mailing list here to stay tuned and follow all of our work across our programmes!
Many thanks again from all the LFJL team for supporting our work!