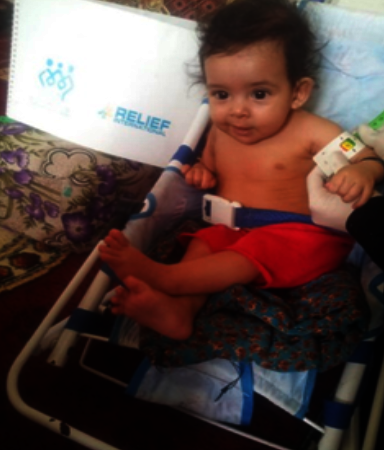 At only nine months old, Marwa's life was in grave danger. Her mother, increasingly worried about Marwa's sudden weight loss, took her for an appointment at one of Relief International's health units located in their home district of Sana'a.
When our team met Marwa in July, she weighed just 11 pounds – well below the average weight for a healthy nine-month-old. Our teams conducted routine tests, including measuring Marwa's mid-upper arm circumference to determine her nutritional status, before diagnosing her with severe acute malnutrition. They determined that she also suffered from anemia and wasting, both of which contributed to her rapid weight loss.
Our teams immediately enrolled Marwa in our outpatient program where she received weekly treatments and follow-up visits to monitor her weight gain progress. We also provided her mother with information on good sources of nutrition to help improve the family's overall diet. In addition, we sent Marwa home with Plumpy Sup, a nutritional supplement that scientists have found to be an effective way to treat severe acute malnutrition in young children. Over the course of this treatment, Marwa proved resilient. She gained more than four pounds in two months, putting her out of danger.
Unfortunately, stories like Marwa's have become all too common in Yemen. Millions of children like her suffer the crippling effects of malnutrition every day, including irreversible stunted growth, weakened immune systems, and impaired cognitive functions. Many will experience severe health issues for the rest of their lives.
We could not do this important, life-saving work without your generous support. It provides families like Marwa's with the services they need to survive this conflict. Your support also helps plan for the future by investing in the recovery of the country's health system, ensuring that Yemeni families can recover from these unimaginable hardships with the safety and dignity they deserve.