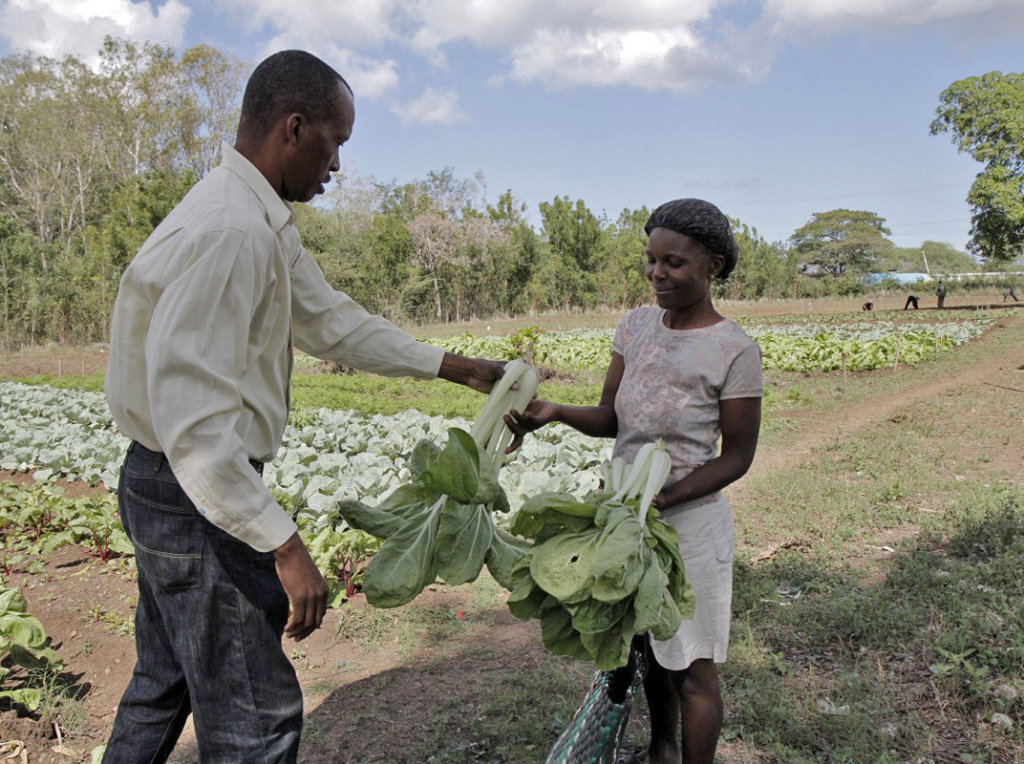 Hello friends!
It's hard to believe that three months have already passed. And what a three months! 20,000 packets of seed arrived in August just in time to reach storage in Port-au-Prince before Hurricane Irma made its way through the Caribbean. Even though Haiti was spared a direct hit, the high winds and heavy rains were hard on farmers who had just begun to recover from Hurricane Matthew.
As our partners are regrouping, our agronomist, Stephany, has been coordinating with partners on the ground to deliver seed and learn more about who they are and the communities they work with. As of today, half of the seed — 10,000 packets — has been distributed! 2,000 packets have reached each of five partners, so we'd like to tell you a little about them.
Tree Angels for Haiti
Tree Angels for Haiti was featured in our last update and we're happy to report that they have new seed! We've been working with them for several years through their Seeds for School Supplies and Francine's Garden programs. They've planted over 70,000 trees through their reforestation program in addition to their educational and agricultural programs.
ICOFE
ICOFE has been an SPI partner for almost one year. Their program is in St. Nicolas and we're looking forward to hearing more about their community collaboration.
St. Barnabas Center for Agriculture (Centre D'Agriculture St. Barnabas)
St. Barnabas Agricultural College (CASB) is a center for agriculture education and its practical application within Northern Haiti. They work toward change by training agricultural technicians as part of a comprehensive effort toward agricultural and economic development. They received their first SPI shipment in 2015, and you can see a photo from their garden in this report (Lynette Wilson/Episcopal News Service).
Consider Haiti
Consider Haiti is another partner we've worked with since 2015. Their mission is to promote the health and welfare of children in Haiti, and they work with over 600 children each year through their four core programs. Their sustainable nutrition program features an agricultural component, which is where we come in. And bonus — they're our neighbors here in Asheville, NC!
Little Footprints, Big Steps
Little Footprints, Big Steps has partnered with SPI since the end of 2016 in an effort to recover after Hurricane Matthew. Their local agronomist works closely with families during outreach trips to provide access to seeds, training, tools, and other support for a successful harvest. Earlier this year, they wrote:
"Thank you for helping the recovery and rejuvenation of Haiti's beautiful 'sud'! Vegetable gardens are growing in abundance. Not only will the children and their families that we are working directly with have a clear and healthy opportunity to break their cycle of poverty, but their communities will have a healthy food source and the land and ecosystem can begin to recover as well."
What's next?
This is just the start. More partners are lined up to receive seed in the coming months and we'll tell you about them as seed is distributed. In the meantime, Naima will continue working with Stephanie to conduct partner assessments and learn where support will be most beneficial. Stay tuned!
Always, thank you for your support. It means the world to us and to the folks who have access to good seed, supplies, and training through our partner programs!