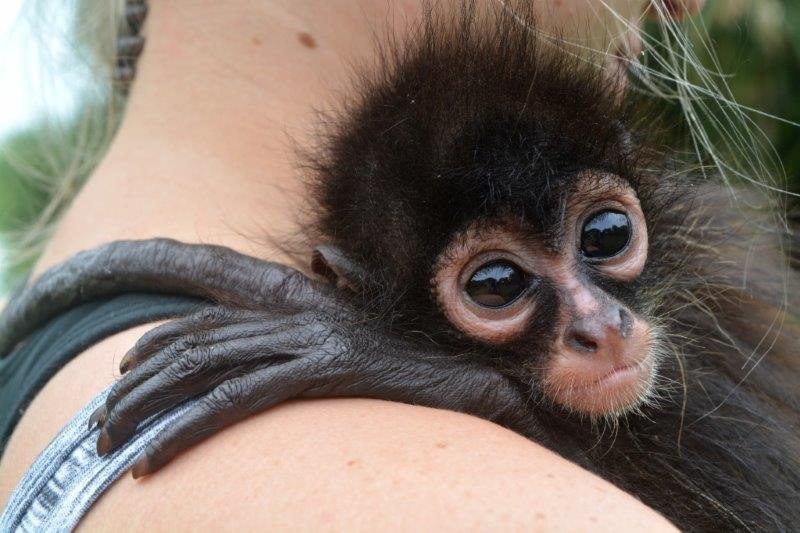 Why is rehabbing spider monkeys such a long, difficult process?
Throughout this campaign, we've referred to the spider monkey rehabilitation process as being long, arduous, and emotional. Rehabilitation of any animal species presents its challenges, but why are spider monkeys so notoriously demanding? In this report, I'll take you through an overview of our spider monkey rehabilitation process, and some of the hurdles we face on a regular basis with these gangly, impish primates!
As you probably know by this point, all of the spider monkeys here at Wildtracks have been confiscated, rescued, or surrendered from the illegal wildlife trade. All bear the emotional, and more often than not, physical scars of being kidnapped from their families in the wild. As a pet, where proper care and development can't take place, most infants don't survive for more than a few months. Those that do are often turned loose as they go through sexual maturity and become, stronger, more frustrated, and as a result, aggressive. Ultimately, these monkeys meet the same sad fate – without learned survival skills and a family troop to be a part of, a spider monkey's chances of survival in the wild is virtually non-existent. Since monkeys aren't born with all of the skills they need to survive, and many are learned from their families as they grow, a huge emphasis in primate rehabilitation is teaching the necessary skills required for survival – like climbing, foraging, and cooperation.
The initial approach taken when admitting a new spider monkey to the rehabilitation program depends a lot on the age and health of the animal in question. First, the animals go through a 30 day quarantine period, when any physical ailment is treated— but often times the physical and mental side of illness are inextricably intertwined. For example, monkeys will very commonly be admitted to the program significantly underweight. Providing nutritious food rarely solves this problem on its own, as their poor body condition is generally due (at least in part) to depression. Treating mental illness like depression, separation anxiety, and PTSD in spider monkeys involves catering specifically to the individual and ensuring that their environment is as stress free as possible. Infant intakes are placed with surrogate human mothers who care for the baby spider 16-24 hours a day, depending on their level of separation anxiety. Since infant spider monkeys are hardwired to cling to their mother for safety, separating an infant in rehabilitation from his or her surrogate can recreate the stress of being poached. For adults, reducing stress upon intake can mean giving them social support from a dedicated carer during the quarantine period, providing mentally stimulating enrichment, or just giving them a comfortable, quiet space and alone time in between feedings.
Once the spider monkeys' physical and mental health has improved, we begin to introduce them into a suitable troop. Introducing spider monkeys to each other (which we call integrations) is sometimes easier said than done! Age, ability, and the number of monkeys we're introducing all have an effect on how the integration plays out, but personality is definitely the biggest factor. All of our spider monkeys have wildly different temperaments; they are as individual as people, so playing matchmaker is as much of an art as it is a science! It was love at first sight for Mattie and Duma –the first two spider monkeys at Wildtracks. Charlie, on the other hand, had a more difficult time making friends. He was the last to be integrated into the troop of five. Being a young male, the girls (especially Mattie) wanted to make sure that he knew his place in the group!
Integrations are considered complete when we see the monkeys playing, eating, and most importantly sleeping/ relaxing together, but for spider monkeys that doesn't mean the drama is over. Spider monkeys have extremely dynamic social structures without a fixed social hierarchy. Charlie's grown up a lot since his integration into the Satellite 2 troop, and now he rules the roost. The girls are in a constant competition for the number two position, so much so that it's hard to keep up with. The shrieks of the girls in Satellite 2 are not dissimilar to those of squabbling teen sisters! But at the end of the day, all of the quarrels are forgiven and forgotten as they snuggle down in their hammocks together.
Once integrated, we turn the focus of the spider monkey rehabilitation process to honing climbing skills and significantly reducing human contact. We've found that a lot of climbing behaviour is innate. Barring any physical issues, perfecting their balance, brachiation, and overall treetop ballet generally comes naturally as the spiders continue to grow and develop. This part of the process has been especially important for Mel. Not much information is known about Mel's life prior to being confiscated and brought to Wildtracks but we suspect she suffered a badly broken arm at some point early on and was confined to a very small enclosure. She had very poor coordination initially and favoured her right arm. For monkeys like Mel, it's extremely important to gradually increase enclosure size to reduce the likelihood of injury. As Mel's arm strengthened and her coordination grew, we moved her from a single quarantine enclosure, to one twice the size, to Satellite 2 and eventually with access to the central enclosure complete with real, live trees. Today, Mel can fly around the enclosure like a lightning bolt – especially when she sees a volunteer laden with fruit bowls!
Ensuring the monkeys are properly weaned from human contact can be one of the most difficult aspects of rehabilitating spider monkeys. What we've seen over the years is that spider monkeys who have been raised at the centre since infancy, with intensive surrogate care, but from a restricted number of people, develop with a healthy apprehension of strangers. Conversely, spider monkeys that have grown up as pets who may not have had as much one on one attention, but who have been exposed to dozens and dozens of people during infancy display much more unnatural attention seeking behaviours. Switching that attention seeking behaviour from being human directed to monkey directed takes time, commitment, and a lot of patience. So far, we've seen huge transformations in most of the ex-pet spiders at Wildtracks, and that's largely due to the volunteer team. We are incredibly lucky to have extremely committed volunteers who resist the tempting urge to solicit contact from the spider monkeys in the spider monkey complex. We're so grateful we work with people around the world who share the same long term goals for these animals as we do, and can't wait to take this next long awaited step for the Satellite 2 troop with your help!
Thank you once again for your support and becoming a part of this initiative - it is really appreciated, and so critical for ensuring the first spider monkey release is a success! Over the next few weeks, we will be sharing more about the different characters in our Satellite 2 spider monkey group, as we prepare them for release. Our first report highlighted Duma's story, the first spider monkey to arrive at Wildtracks – check it out if you haven't already done so!
Links: