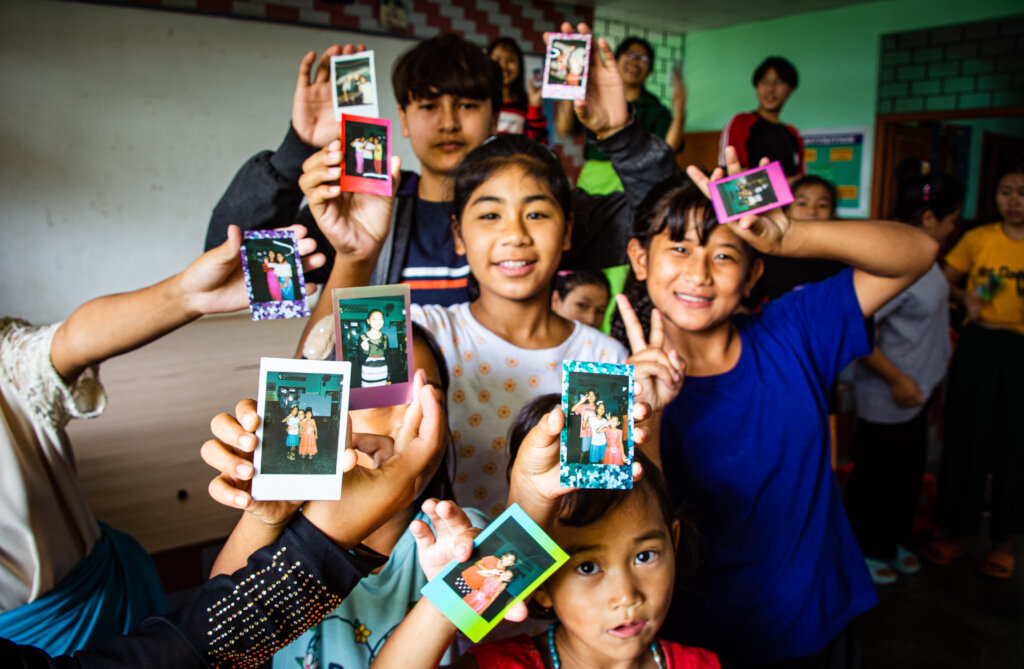 Hi all! Happy December. This is what's been going on with Retake since this summer. Thank you for your continued support!
In September, our director went to rural parts of northeast India in collaboration with another nonprofit that is based in our headquarters in North Carolina: Homes of Hope India. They build schools, orphanages, and hostels for at-risk young girls who are often marginalized the most. They are able to attend school and get the care they need. She visited five different locations to meet the girls, take photographs for fundraising purposes, and hear their stories. While she couldn't give them framed family portraits, she was able to give over 150 Polaroid photographs so all the kids could own their first printed photograph of themselves with their closest friends. It aligned with our mission of giving keepsakes in the form of photographs to those who are going through hardships.
In October, we photographed numerous locations around the state of North Carolina including Greensboro and Raleigh. We gave family portraits to resettled refugee families originally from Burundi, Sudan, Nigeria, Afghanistan, Guatemala, and El Salvador.
We also had the opportunity to go to the Texas/Mexico border for a few days with the National Immigration Forum and We Welcome organizations. They partnered with Abara, a local group on the ground that does border encounters and helps navigate the convulted world of the border crisis. We were able to meet families at border shelters on both sides of the border, cross into Juarez, Mexico, visit the UNHCR office in Mexico, meet with Border Patrol, and so much more. The families we met were fleeing unimaginable situations and conflict from countries all over Central/South America and the Caribbean. Again, similiar to our time in India, we couldn't photograph the families and give them framed portraits, but we could take instant Polaroid photos that printed on the spot. We photographed over 50 families at shelters in both countries. The kids called it magic when the image of their family appeared. We look forward to going back and giving joy to as many families as possible in that small way. We encourage everyone to learn more about the border crisis and offer support to those just trying to survive. Their stories are incredibly sad, hard to hear, impossible to imagine, and heartbreaking.
In November, we traveled again to Washington, DC to work with Lutheran Social Services and offer free photos to families in the area. We always enjoy working with their team and meeting the families in the area. That is a partnership we look forward to continuing!
At the end of November, it was #GivingTuesday. Thank you to everyone who supported us, especially through this platform. We appreciate your support and the GlobalGiving team for helping us raise funds.
We have a very exciting upcoming year with projects across the United States, and hopefully some international locations as well. Your support means even more families who are refugees/immigrants/migrants/asylum seekers/survivors of disaster or conflict will be able to receive free family portraits and keepsakes to cherish and pass down to future generations. Thank you again.