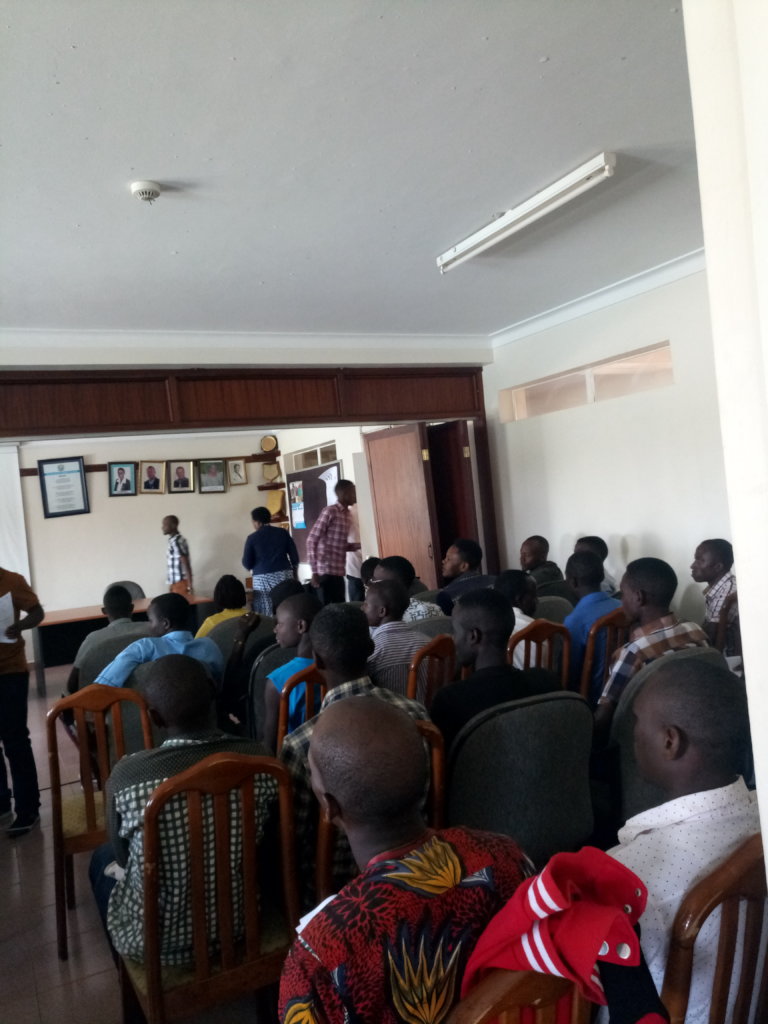 Special Regards from MBARARA RISE FOUNDATION – UGANDA (MRF)
20 LGBTQ community members in Bushenyi District have been equipped with skills and knowledge on their safety and security.
Introduction and Background
Mbarara Rise Foundation (MRF) is a grassroots, community-based lesbian, gay, bisexual, transgender and queer (LGBTQ) organization based in Mbarara,western Uganda.Incorporated in Uganda in 2016, MRF isa registerednot-for-profit company limited by guarantee, bearing the registration number 80020000015131, MRF was formed in 2016 by a group of social activists and educators led by Raymond Twinamatsiko, who serves as MRF's Executive Director. Experienced in the fields of development and social education, we have come together as MRF to give our services voluntarily, with the vision of a society that understands, appreciates and accepts diversity. MRF's mission is to foster a united voice for the rural, grassroots LGBTQ community in western Uganda, empowering and raising awareness on equal rights for all.
Through MRF lobbying and constant dialogues with health service providers, MRF has managed to bring on board The AIDS support oeganisation (TASO) to provide HIV health services to the LGBTQ in Mbarara district without discrimination and stigmatization. This Cleary shows MRF is on the right track towards the realization of human rights for all especially the right to health that has been nonexistent among LGBTI in western Uganda.
MRF has been able to train 149 LGBTQ youth in Cake baking and income generating activities. The training has resulted into formation of members gaining skills in bakery This project is supporting MRF members to experience real life experiences in starting businesses and also earning income for them and their family members. Under this project the organization is supporting and building the social economic capacity of the LGBTQ to become financially independent and overcome challenges of poverty and unemployment.
Thank you for your donations made on Global Giving, to fund a program that would train 120 LGBTQ people with safety and security skills and tools necessary to protect themselves in western Uganda that have consistently faced threats due to their perceived or real sexual orientation and gender identity.
Activity
120 LGBTQ will participant in this program, 20 LGBTQ will be selected in each of the six western districts. As the first of six trainings.
From 4th-5th October 2018 MRF carried out a two-day safety and security training in Bushenyi District for 20 LGBTQ participants, including 8 transgender men and 3 transgender women, 5 gay men and 4 lesbians. MRF Executive Director Raymond Twinamatsiko and Programs Director Janet Mutesi organized the training and were held at Busiime Gardens, a local meetings and conference center.
Topics and activities carried out during the training included an introduction to digital and physical safety, understanding rural working/living environment, Analyzing security incidents and threats, group work exercise on risk assessment and at the end of the second day, participants were able to develop sustainable strategies and tactics and individual safety management approaches. MRF staff engaged in an open discussion where lived life insecurities and threats were shared.
Mbarara Rise Foundation's Programs Director Janet Mutesi carried out an ice breaker – getting to know each other and welcomed participants. MRF Executive Director Raymond Twinamatsiko gave his opening remarks and key note address
Objectives of the training included:
To equip community members with knowledge and skills necessary to enhance their personal and digital safety and security.
To enhance the LGBTQ knowledge and understanding of the concepts of security and their safety and security strategies.
To create safe working environment/space.
To discuss and lay practical strategies for better cooperation to further protect and promote safety and security for the rural LGBTQ in Uganda.
An initial challenge in implementing the training was the fact there was delay of donations to make this happen. We had planned to carry out both our first and second activities in early August.
At the end of the first day, participants had acquired information, knowledge and skills on their safety and security.
The participants appreciated the training methodologies, particularly the structured learning experiences. These included the use of participants' own examples and the sharing of their own experiences,
The safety and security training was most successful as at the end of a two day training, participants came up with a risk assessment tool, developed sustainable strategies and tactics and individual safety management approaches which will guide them in their daily to daily life.
"If I have had a chance to be equipped with safety and security skills earlier, I couldn't have been arrested by the police in February 2018"
Reuben, I renown pastor in bushenyi district explains his brutal arrest by the police which was a result of lacking knowledge about his personal safety as a gay man….. "It was evening hours around 17:45hrs when I and my best friend decided to take a nap in one of the lodges around mbarara town before heading to bushenyi, my home town. After 30 minutes when we had entered in the room, police came banged the door and entered forcefully. They brutally started beating me and my friend claiming to have been practicing homosexuality. We were later taken to the police station and spent their one week and later set free with no charges.
Next Steps
20 trained participants will be given security tips on a monthly basis to continue guiding them on their daily to daily life and activities. MRF is hopeful that there will be reduction on insecurities and threats often results in feelings of depression or desperation, leading to members of our community developing suicidal thoughts.
As per our project, 5 additional safety and security training for 100 people are already planned and ready to be implemented provided enough support. That is, one training for 20 people in each of the districts of Mbarara, Ibanda, Ntungamo, Rukungiri and Kabale.
MRF continue working to save LGBTQ communities from causes like insecurities, poor education, poverty, unemployment, gender-based violence, human rights violations and lack of access to quality health care services. And all the credit goes to all of you. Thank you for supporting and empowering members of the LGBTQ community in rural Uganda! Your support and donations allow MRF to have a positive impact on the activities performed for the LGBTQ Community.
We thank you for your generosity in order to ensure the financial viability of MRF. Any donation of any size will be extremely appreciated!

Thank you very much for your continued support!
Janet Mutesi