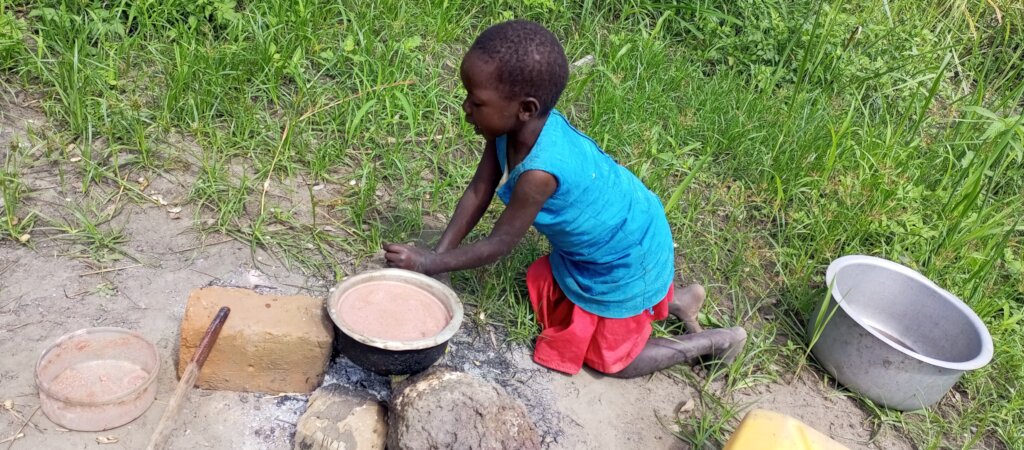 Catherine is an 8 year old girl who cooks her own food and takes care of herself despite the having hearing challenges. We recently provided Catherine with nutritious porridge flour (mix of soya, millet, peanut and maize) along with other personal besics like soap, sugar, and salt. Its these items that have given Catherine and the mother reason to live and be hopeful again.
Catherine was abandined by the father upon realizing she had hearing problems and also had mental problem. She is now living with her mother in a remote village called Akwarekia in Katakwi district where they survive by Gods grace. Each day, the mother says begins with no hope ''BUT by Gods grace we go through it'', she says. Some times, I go to the bushes to gather lives and fruits for us to eat and sleep and i have to live Catherine behind worried she might disappear but i have nothing to do than to hand everything to God, the mother adds.
When we visited Catherine and the mother ayt their home and provided them with an assortment of food and other basic needs, Cathy as she is commonly called coud not wait but to quickly make porridge with her make shift 3 stone fire. ''Today God has heard and answered our prayer'', Ctaherine says as she prepared her porridge.
Children with hearing challenges are generally considered a curse in many communities of Uganda and when the fathers realise the child is deaf, often they abandon the marriage/relationship and live the mother to struggle with the child alone. These children end up misising on education, condeming them to poverty, malnutrition and poor health.
Its your generosity that helps us reach out to children like Cathy and many others who need a hand of help to give them a hope and purpose to live.
Thank you for your generosity and please would you spread the word with your friends and family by sharing our project link
https://www.globalgiving.org/projects/restore-hope-for-deaf-and-hard-of-hearing-children/
David
Links: