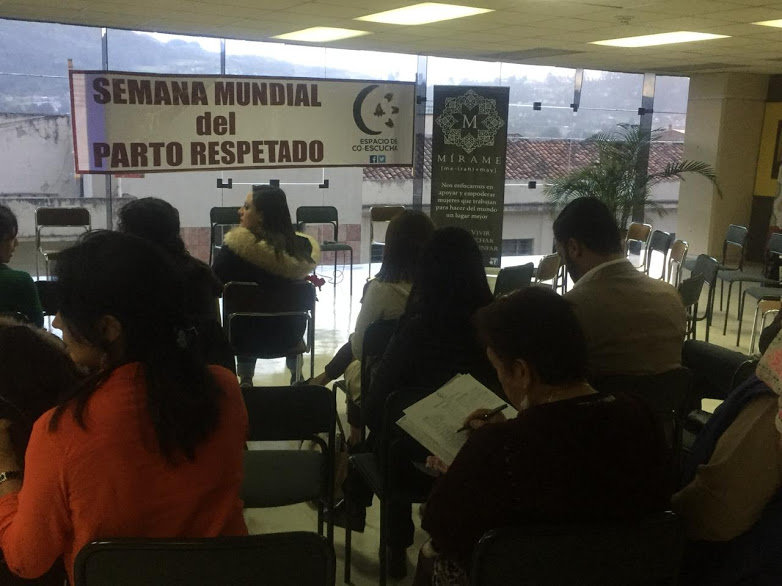 Last week, you helped Ecuadorian women become aware of something amazing and important and you supported women duringone of the most vulnerable times of their life- pregnancy and childbirth.
You invited women to learn about the realities of childbirth and exposed stories, testimonials and facts from women and medical practitioners about the importance and value of "Respected Childbirth".
Thanks to you, Mírame joined forces with Espacio de Co-Escucha and El Parto Es Nuestro, two women-led and women-based service organizations, to host the first week-long educational campaign in Ecuador in support of empowering women to practice natural birth and to educate families and professionals about the rights of women during childbirth.
Over 100 people, men, women and medical professionals, assisted our events. For many, "respected childbirth" was a term they had never heard before, and many mothers were astonished to learn of women's internationally acknowledged rights, as supported by the World Health Organization since 1985, regarding their freedom to decide:
how to birth (standing, squatting; consuming foods or liquids, etc.)
who is present with them at childbirth (husband, mother, doulas, etc.)
how their baby should be treated in the first moments of life (skin-to-skin contact, immediate breastfeeding, when to cut the umbilical cord, etc.
Often, these important rights are unacknowledged by medical professionals and are unknown to pregnant women.
Thanks to you and your generous support of Mírame, we were able to help women reclaim pregnancy and childbirth as a natural, ancestral process (not a medical illness) and to be aware of their rights to an intimate and respectful child-birthing experience that centered on a mother and her infant.
Your support also led to the inauguration of the beautiful mural "La Bosque de la Vida" (The Forest of Life), a unique artwork made from the imprints of 22 of naturally delivered placentas which was on display in Museo Pumapungo's public library in Cuenca, Ecuador from May 13-19th.
A testament to Andean art and the symbolic power of the placenta, "La Bosque de la Vida" invited visitors to learn and discuss the ancestral importance of the placenta, and the emblematic transformation that occurs for both mother and child during natural childbirth.
Thank you so much for helping women reconnect to their rights and inner power during childbirth, and for sponsoring such an amazing, first of its kind initiative in Ecuador. Next year, we look forward to growing this initiative and educating more women, men and medical professionals about a women's rights and their personal power in natural childbirth!
PS- To streamline Mirame project communications, the project & report page for "Resilient, Ambitious Women in Ecuador Need You" will be closing. If you would like to continue to receive updates about Mirame, please opt in to join our new mailing list by sending us an email or responding to the following GlobalGiving email. Thank you for your patience and understanding!