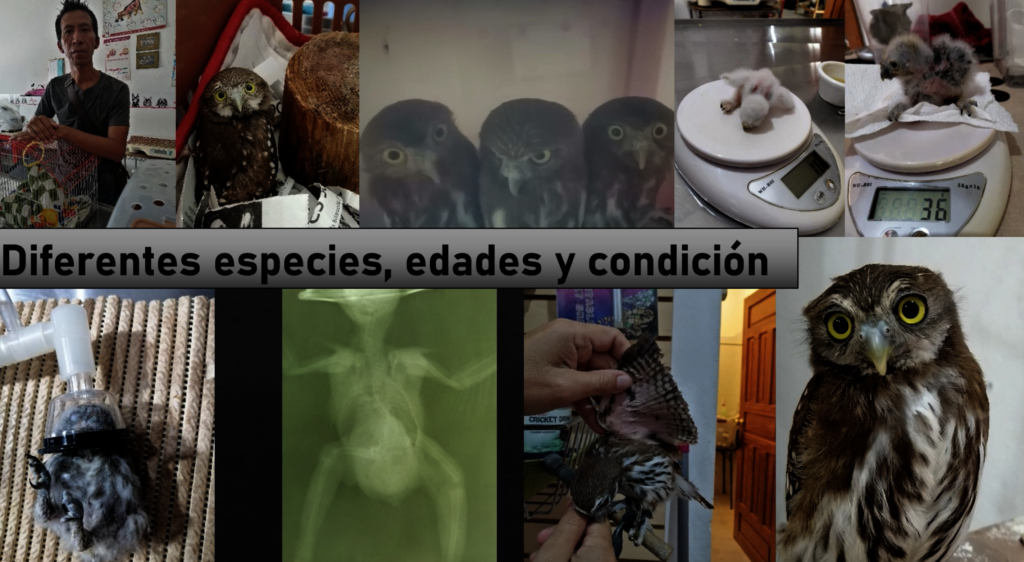 Between 2021-2022 we have received approximately thirty birds of eight species of wild owls.
Unfortunately, most of them have arrived as nestlings, since people have taken down the trees where their nests were located, which tells us about the strong impact that humans are having on the habitat and populations of these mythical birds. Most of the birds were rescued in cities far from our rescue and veterinary care center Tivú, which implied a long trip and long hours or days of waiting, before arriving with us. Among the species rescued are: Barn Owl, Ferruginous Pygmy-Owl, Pacific Screech-Owl, Vermiculated Screech-Owl, Bearded Screech-Owl, and Horned Owl.
Most of the birds arrived with malnutrition problems due to the wrong feeding provided by their rescuers. Several of them also arrived with injuries to their bodies. The owls are not easy to recover, but we continue to do our best to do so, and eventually reintegrate them into their natural habitat. Two are the biggest challenges we have with this group of birds: 1) their diet is very special because they are carnivores, and because they are young, they demand a large amount of food, which makes their maintenance and management very expensive. And 2) the rehabilitation process is slow, because they first need to grow, to have an adequate age and plumage to be able to fly. Additionally, they need a complex training process in the field, until the birds have strong flight muscles and have learned to hunt wild food (mice, small birds, insects and other invertebrates).
Although we have already released several owls, we are still in the process of rehabilitating half of them, waiting for favorable health and nutritional conditions, favorable weather conditions, and enough financial resources for relocation and training in the field, to finally let them fly. Thus, that they can continue to provide us with that important role of population control of small species that could become harmful pests without control.
THANK YOU for your support to return these mythical owls to the wild!