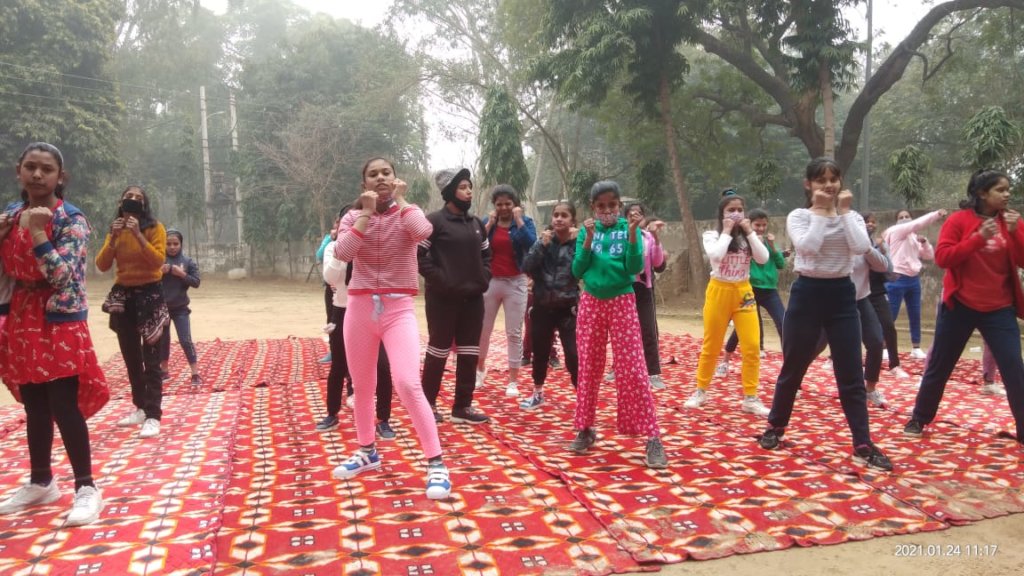 Aarushi Children's Home is run by Salaam Baalak Trust (SBT) for girls in need of care and protection. Located in Gurgaon, Haryana,The home provides residential services which includes a safe environment, education, food, health care, skill development, Vocational Training, Career Counseling, Mental Health Support, Job placement and Rehabilitation.
Activities:
Health and hygiene-
During this period 59 girls were provided three hot cooked meal, fruits, eggs, milk, nuts etc. They are also being provided with various supplements like vitamin C, Iron , calcium etc. 12 girls were diagnosed with some physical and mental health issues were provided with an extra nutritious diet. Extra hygiene is being maintained through regular cleaning and sanitization of the premises especially during these difficult times.
Education-
Education plays an important role in a child's growth. Considering this importance all the girls who can be part of formal schooling are enrolled in school, so 28 girls are continuing their education through schools. Five girls are studying through NIOS and 26 girls were provided classes through Non Formal Education in the home itself with our trained teachers and staff.
Vocational Training and Rehabilitation-
During the Pandemic most of the vocational training institutes have been closed. But keeping in mind that the girls after a certain age need to be rehabilitated. We have been able to enrolled one girl in computer classes, and another girl was enrolled in a beauty culture course. One girl received job training in a cosmetics company and one has done a month's bakery course. Girls go to different institutes to do their courses.
Maintenance and Repair-
Aarushi's structure is big and we need to get regular maintenance and repair work of the building - So the girls can have a safe and clean space to live in. During this period all the required repairs were done. Although is has been difficult since all the children were at the shelter due to the pandemic.
Regular electricity and clean water is available at the centre.
Security at the home
24*7 security is required to ensure the safety of the girls residing in the premises. Two guards are appointed in 2 shifts. They control all the movements to ensure proper safety inside the centre.
Staff ensures that during these hard times , everyone is engaged in various activities which boost their energy and helps them in their mental health. During this period girls were engaged in activities like computer classes, vedicMaths, Debate, quiz, dance, painting , and meditation etc. All conducted in house