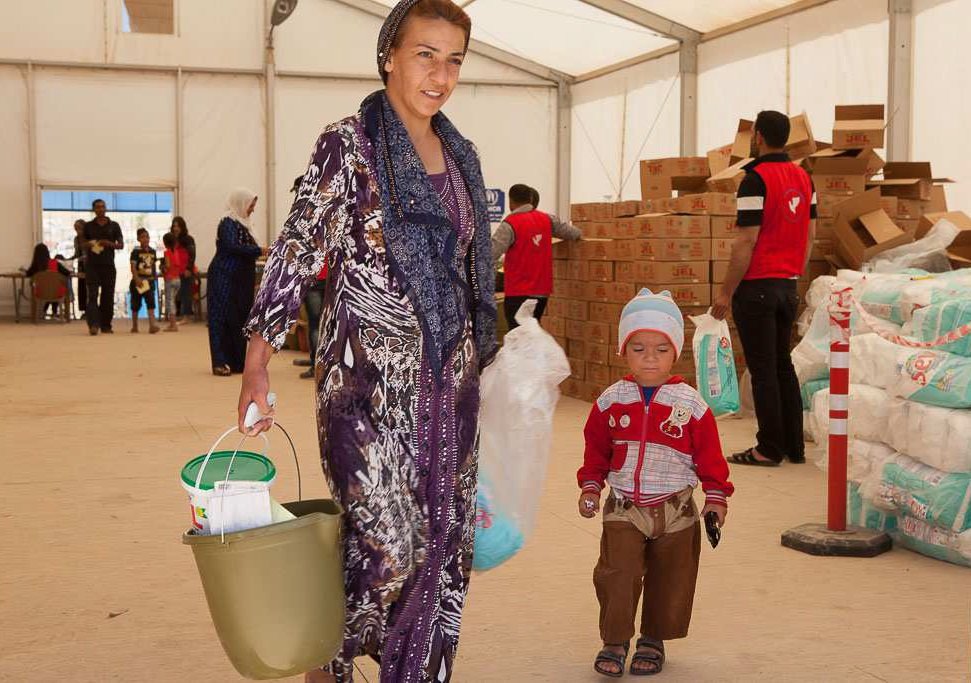 Thanks to your support, RED International's partner in Iraq, Operation Mercy (OPM) conducted 6 hygiene kit distributions over a period of 8 months in camp Domiz 2. They wanted to improve the hygiene conditions of the 1895 families (8531 individuals) who find themselves displaced in Northern Iraq. On average 1799 families showed up for each distribution.
Many beneficiaries shared with OPM that the project helped them as their meagre income is supplemented by these hygiene products. One mother shared that receiving toothbrushes on every distribution helped her to regularly change the toothbrushes for her children, which she otherwise wouldn't have done.
Zahra* comes from Hasakeh and fled Syria all by herself and got married in Iraq. She is living with her husband now in Domiz 2 and dreams of becoming a teacher at a primary school. She expressed her gratefulness to OPM as now that she receives the hygiene products she is able to spend her money on other needed items.
There were four objectives to the project:
1) To meet urgent material needs to contribute to an improvement of the hygiene conditions. The target was that 90% of the families would receive six times out of the six distributions. The distributions were spread out over eight months. The camp is divided into three sections: Adar, Gulan and Harem. Of Adar 86%, of Gulan 88% and of Harem 60% of the families received all the six distributions.
There are several reasons why the target hasn't been reached. Families were not always informed well by the leaders of the camp that a distribution was happening, many mentioned that they were not present because of medical appointments and travels, in Harem many houses were vacant at the beginning of the project and lastly many families were moving in and out the camp.
2) To empower the community by involving the community in the distribution process.
Before OPM started the distribution several women and men from the camp were asked about their situation, what their needs are, and which services they would receive. Then they were consulted about which hygiene products were most needed. Based on their outcome nine products were chosen. During the second distribution OPM conducted a product survey with 58 women and based on this the number of some of the products distributed was changed. Halfway the project 42 families were visited in their homes to get their feedback about the distribution in general.
3 & 4) To employ local staff for distributions with the aim to build their capacity in multiple ways, like increasing their skills in organizing distribution systems, increasing their monitoring and evaluation skills and growing their acceptance of other people groups.
OPM employed two extra local staff to help the two Project Coordinators and invested in those four employees through basic training in order to improve the skills needed for the project. They were debriefed after the first 3 distributions. Furthermore, OPM conducted a leadership training and started mentoring them. Unfortunately, two of the distribution staff left OPM during the project. OPM employed day-labourers that assisted with packaging, registration and distribution from the camp itself. In total 126 different men and women were employed at least once and around one third of them was employed multiple times. Fifteen day-labourers that assisted during the distribution days, received a training in registration and OPM values.
OPM conducted two other projects in Domiz 2, one on mobility and another on women's empowerment. The layering of these projects in the same location enhanced the touches with the local community and had a larger impact on several individuals.
Many beneficiaries shared they were treated with respect and kindness by OPM staff on distribution days. Quite a few people specifically mentioned on the evaluation that they were welcomed by many smiles.
Fatma* is married and has two daughters. She loves her family but her life isn't easy. Like all her neighbours she is a refugee, but on top of that, her husband has a handicap and can hardly walk. This means she needs to provide for her family on top of caring for her family and household. She was always asking God "Why me? Why do I need to suffer this much?" And she kept comparing herself with others. Then one day, OPM asked her to come work for them during the distributions. Without hesitation, she started to work. Although it was not much work, it still supplied some income. Simultaneously the OPM mobility started to visit her husband to see how his life could be improved. A few months later she became part of the OPM Shine project where she was told she is valuable, no matter who you are and what your circumstances are. During this program, her self-perspective changed completely; she has been comparing herself way less with others and started to believe that she is valuable. OPM staff that work with her during the distributions can tell she has changed by just looking at her face.
Due to the success of the distribution in Domiz 2 between February to September 2017 and ongoing need for hygiene kits, Operation Mercy has decided to continue the project for another 6 months.
*names changed
Sadly, RED International will cease operations from the end of 2017. However, Operation Mercy successfully completed the process of joining GlobalGiving in September and now have their own project pages.
The Northern Iraq Relief Project will move Over to Operation Mercy and the RED International page will close. We are very grateful for all the support you have giving to this project over the last three years. The needs in Northern Iraq are still increadibly great and so we would encourage you to please consider continuing to support the work done by the Operation Mercy team there in Northern Iraq especially in December.
To continue to support the relief work in the refugee camps please follow the link below.
https://www.globalgiving.org/projects/relief-for-1900-displaced-families-northern-iraq
Thank you so much for helping this individuals and families to find hope and a way forward in such challenging circumstances. Please do continue to follow their progress through the new link to the project.
You can see all of Operation Mercy's Projects with GlobalGiving here https://www.globalgiving.org/donate/42851/operation-mercy/
RED International owes the greatest debt of gratitude to all those individuals and organisations who have supported projects over the last 12 years through donations and sponsored events. The funds which have been given to support many different projects have made a lasting impact on transforming lives and communities among the poor and marginalised. RED International and our partners want to thank all those who have joined with us to make this possible.
Thank you for your faithful support of this project through RED International over the last few years. Please continue to support the project through the new Operation Mercy Project Page and also share this with your friends and networks and encourage them to give before the end of 2017.
https://www.globalgiving.org/projects/relief-for-1900-displaced-families-northern-iraq