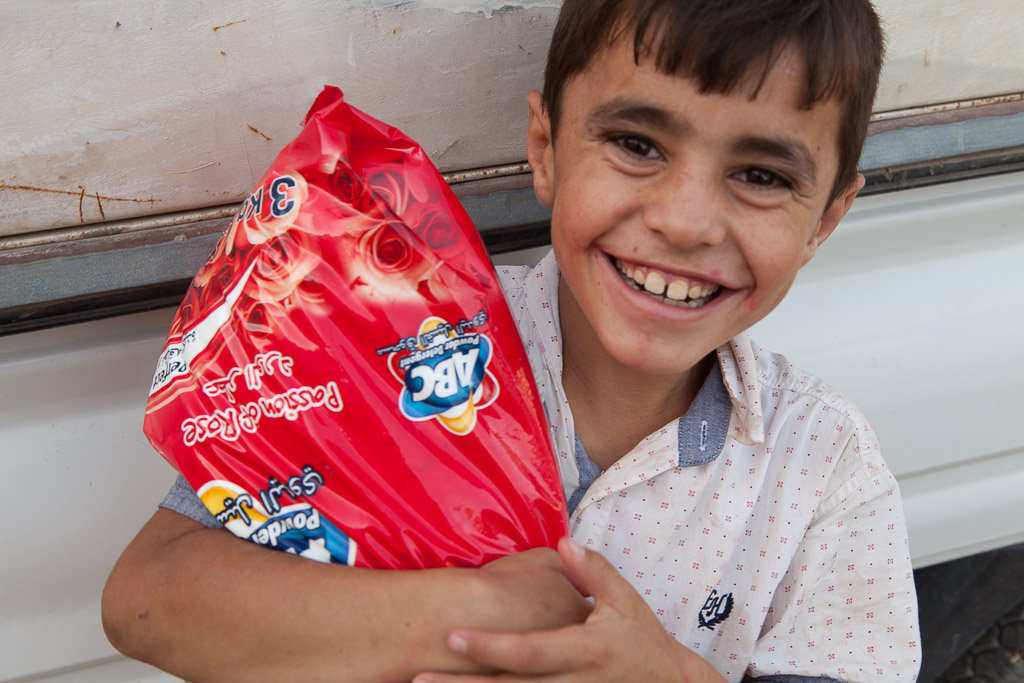 Thanks to your support RED International's partners in Iraq were able to successfully complete phase two of the food and hygiene distribution project that began in May and ended in October 2016.

During the last 6 months, Operation Mercy (OPM) conducted a total of 6 distributions in different locations. The project was started as phase 2 of the food and hygiene distribution project in Var City which was conducted from December 2015 to March 2016. However, because OPM had to change partner halfway through the project this also meant a change of location as well.

In consultation with the World Food Program (WFP) and Zalal Life, a local NGO, seven other locations were chosen: six villages around Sharia and a targeted group in Domiz Camp. Overall OPM has served 3852 families / 19098 individuals. This report will cover the different locations separately.

Var City
Located about 20 kilometres outside of Dohuk, Var City is currently home to around 1505 families. Of these families, 925 are Syrian refugee families and 580 are internally displaced Iraqi families from and around Mosul. Many of the Syrians fled Syria after the start of the civil war in March 2011. Others, like the internally displaced people (IDPs)from Mosul, fled from ISIS's brutal invasion during the summer of 2014. There was also a number of IDPs that moved to Var City between April and June 2016.

"Var City" is not an official camp, but an apartment complex that is mainly rented by Syrian refugees and Iraqi IDPs. Because it is not a formal camp setting, it has received little attention and assistance from the UN and the international community. Due to lack of funding, WFP had to stop providing food rations in September 2015. The pressure to meet their basic needs is one of the factors which caused an estimated 200 Syrian refugee families to attempt migration from Var City to Europe in search of hope. Our partner organization, HOME, was one of the few organizations continuously providing health services and English classes. Var City was chosen in part because our partner organization shares OPM's long-term vision to see a transformational impact through empowering, training, and mentoring relationships in the community.

Operation Mercy (OPM) conducted 2 distributions in Var City in May and June 2016 (both food pack distributions) and served 1505 families / 6550 individuals. Unfortunately, HOME had to close down their activities in June 2016.

The villages around Sharia
South of Dohuk lies the town Sharia in the heart of a valley. Around this town several villages are situated against the slopes of two mountain ranges. Yezidi IDP's have moved into the mostly unfinished houses that make up these villages. OPM decided to distribute food and hygiene kits in these villages in order to build the capacity of Zalal Life, their local partner which works in this area.

All the people living in these villages are Yezidis. The Yezidi people group are an ethnoreligious group of less than one million people who live primarily in Iraq's northern Ninewa province.

They are ethnically Kurdish, speaking the Kurmanji dialect of Kurdish, as well as Arabic in some villages. Throughout their history they have been targets of ethnic violence over 70 times, and in the summer of 2014 they were once again targeted as the Islamic State attacked their heartland in Sinjar. An estimated 5,000 men were killed and 5,000-7,000 women captured for use as slaves and brides for ISIS fighters. The people residing in the villages around Sharia have managed to flee and were able to settle in this valley. Many families have no regular income and live off their savings and distributions by NGOs.

In total six villages were served with one hygiene kit and three food pack distributions: Rekava (211 families), Gre Pane (199 families), Shekhedre (135 families), Kharshany (197 families), Galy Badre (177 families) and Sharia Keven (338 families). In total 1257 families / 7134 individuals were served in these villages.

One of the recipients in Sharia Keven, Omar, lives in a small brick house that he built himself with the help of other NGOs. He comes from Qahtaniya, a village close to Sinjar, and fled up the mountains when ISIS was coming close. He has 8 children, of whom six are blind. He had to carry those six up the mountain one by one. He would walk 100 meters with one of his children on his back and walk back to get the next one. All the while ISIS was getting closer. They stayed on the mountain for 7 days in the soaring sun without food and hardly any water. They had a chance to get to Sharia and were able to settle in Sharia Keven. However, other Yezidi families arrived before him and had already occupied all the empty buildings. For two extra nights he and his family had to sleep outside. Then they received a tent from an NGO.

Now, two years later, he has managed to build a simple home. Omar mentions that no-one is helping him or his family. His wife became sick and needs treatment. He has got no job and no money, but has to provide for his family and his sister. He was very grateful for the OPM food and hygiene kits, as without these kits they would not have enough food.

Domiz Camp
World Food Program (WFP) in coordination with the local government was looking for an NGO to help out distributing food kits in Domiz Camp. This camp is one of the oldest camps in Dohuk province and was established in April 2012 to host Syrian Kurds. The majority of Domiz's refugee population comes from Hassakeh and Damascus.

Although the camp has 31,000 people, WFP and the local government presented a list of around 500 families for every distribution. These families were targeted as the most vulnerable families of the camp.

Zalal Life works in this camp as well and therefore partnered with OPM during the distributions. For each distribution a different list was provided. Although many families received a food or hygiene kit 2 or 3 times, there were only 33 families which received a kit in all four of the distributions. Altogether OPM served 1090 families / 5414 individuals in total.

Some of the families served were very poor. One of the families, visited by OPM in their tent, had just arrived from Syria. All they had for food for the coming days was one bag of rice and a crate of rotten tomatoes. Families like these were overly thankful for receiving the food pack from OPM.

Employment
One of the objectives for the project was to employ 80 men and women from the communities as day labourers in order to provide them with extra income. In total, 152 men and have been employed for a day's work; 50 of these men and women have been employed multiple times.

Thank you for helping make this phase of the project so successful.
The Current Situation and plans for the coming months.
The current situation on the ground is that there are 2,400 new IDPs (around 450 families) from Mosul who have come to the region where Operation Mercy is working. They have been placed in Zilikan IDP camp, where around 17 NGOs are currently operating. According to the assistant governor of Dohuk, there is a lot of support from these NGOs to provide for the new arrivals in the reception centres and in Zilikan.
This has meant that some of the existing IDPs are still struggling to survive. There provision has been made for large numbers of IPDs to come into this region and there are stockpiles of supplies for new arrivals. In general NGOs are scaling back their support for existing IDPs and refugees.
Operation Mercy will continue to focus on existing IDP's and refugees and will look for gaps in the IDP and refugee community where the next main focus of their relief work will take place. Providing assistance to new arrivals will depend on how the situation in Mosul develops and when more IDPs come this region. Operation Mercy is currently looking at the possibility of supplying medical equipment for a hospital which will serve IDPs, including new arrivals from Mosul.
50% Matched Funding Opportunity on 29th November 2016 #GivingTuesday
We would be grateful if you would encourage others to support this project on 29th November 2016 which is designated #GivingTuesday. All donations of up to $1000 will be increased by 50% with matched funding while the funds last. Please consider sharing this project with your friends, colleagues and wider networks. GlobalGiving US have an incredible $500,000 of matching funds available. Donations can be made from 00:00:01 EST on Tuesday 29th November 2016.

GlobalGiving UK also have a 50% matched funding opportunity on 29th November with £20,000 of matching funds on donations up to £600.