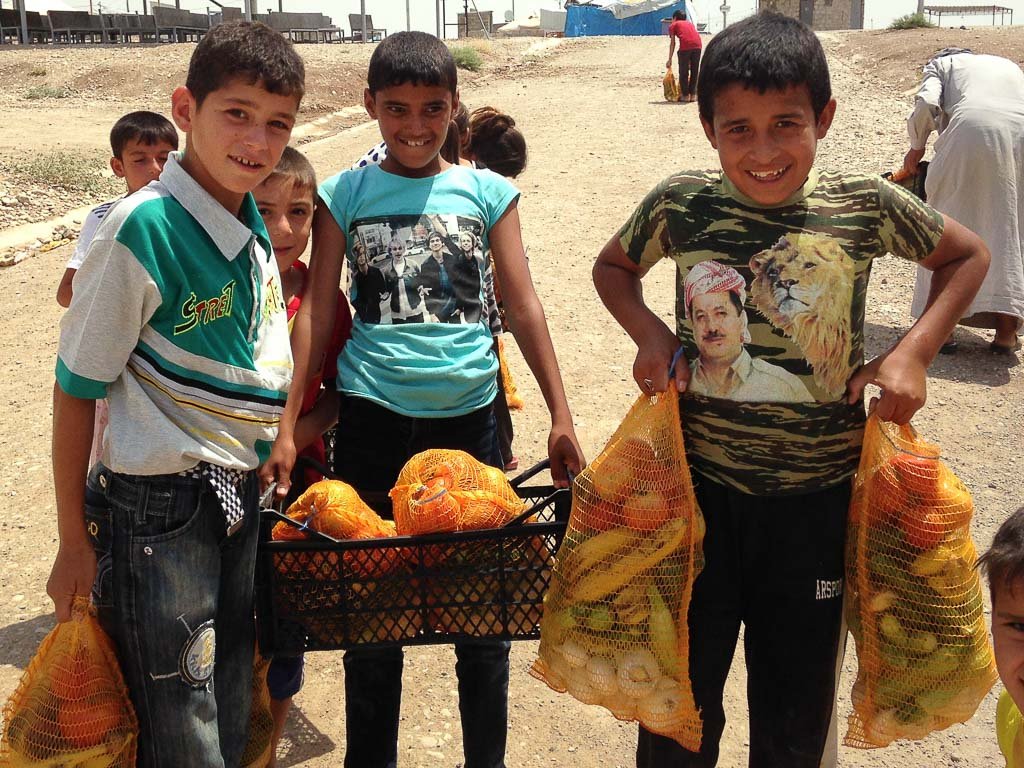 Bozan Produce Project
Our partner Operation Mercy met the urgent need of food in the village of Bozan by providing 6 kg of nutritious fruit and vegetables to 701 families in Bozan, once a week, for 8 weeks. The project met a need which became a higher priority as the World Food Program drastically cut the out-of-camp food distributions in half, due to lack of funding. The food provisions added nutritional content to their diet that they wouldn't have been able to obtain otherwise. For IDP's who are struggling to provide for their family, the produce distributions alleviated some of that burden for those who didn't know where their next meal was coming from.
Garmawa Produce Project
Our partner began the Garmawa Fresh Produce Project at the recommendation of the World Food Program, UNHCR and the Governorate of Dohuk. The World Food Program wanted to see more diverse food distributions in Garmawa to supplement the dry goods they provided. UNHCR advised OPM that Garmawa camp's security restrictions hindered the food security of residents, and Dohuk Governate was looking for iNGO partners in Garmawa camp, Ninewa province, calling it the region's most underserved camp. Operation Mercy distributed fruit and vegetables once a week, for 13 weeks in Garmawa. In total, 307 families were served by a total distribution of approximately 21 tons of fresh produce.
Medical Clinic Partnership
Several ancient churches in Dohuk run the Mar Narsai Charity Health Clinic for Refugees, providing free, high-quality healthcare regardless of religious or ethnic background. Operation Mercy partnered with this clinic by contributing towards the purchase of a high-quality ultrasound machine enabling specialists to administer free, on-the-spot tests needed for accurate diagnoses.
Gymnastics Camp
Operation Mercy facilitated a gymnastics camp for 50 children between the ages of 7-12 in Waar City in the Dohuk Governorate of Iraq. The project accomplished its goal of offering Syrian refugee children an active and creative outlet to relieve stress and interact positively with their peers. The majority of the current members of the Waar City community are refugees from Syria. A partner organization happily told OPM that the attendance at the local school increased during the week of the gymnastics project.
Further Support for the Project
We are very grateful to the Isle of Man Government's International Development Committee for a second grant for the relief work in Northern Iraq. Operation Mercy will use these funds for the provision of food packs and hygiene supplies and if required Non-food items for Winterization to Internally Displaced People (IDP) and refugees in urgent need. The situation is constantly changing with some resources provided through the UN. The actual needs on the ground will be assessed by meeting with community leaders in the area where this project will be focused.
This project is in a new location where there are 800 Syrian Families and 400 IDP families. The aim is to meet the most relevant and felt needs of this community by doing three distributions of food packets and hygiene kits. This location was identified after an informal needs assessment done through a medical clinic and people that work there. The initial goal would be to do a distribution each month at the end of November, December, and January.
Thank you to all who have supported this project so far your donations have been very much appreciated. As Northern Iraq heads towards winter the need is still very urgent to support families there and provide them with items which will help them to remain in the region. Please share this report with others and encourage them to consider supporting the project as we head towards the end of 2015.