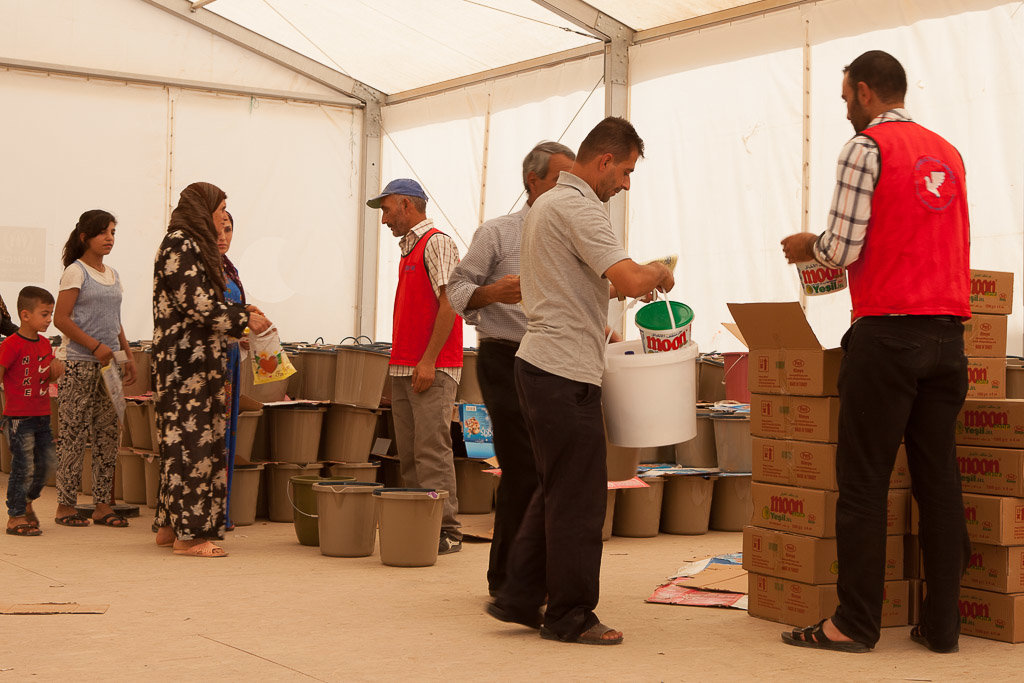 Operation Mercy has conducted 9 hygiene kit distributions over a period of one year in camp Domiz 2 in order to contribute to an improvement of the hygiene conditions of the beneficiaries. The total number of beneficiary families that OPM has served through these distributions is 1895 families (8531 individuals). OPM also employed day-laborers that assisted with packaging, registration and distribution from the camp itself. In total more than 140 different men and women have been employed at least once. Some of the day-laborers that assisted during the distributions received several trainings.
Zahra is married and has two daughters. She loves her family but her life isn't easy. Like all her neighbors she is a refugee, but on top of that, her husband has a disability and can hardly walk. This means she needs to provide for her family on top of caring for her family and household. She was always asking God "Why me? Why do I need to suffer this much?" And she kept comparing herself with others. Then one day, OPM asked her to come work for them during the distributions. Without hesitation she started to work. Although it was not fulltime employment, it still supplied some income. Simultaneously the OPM mobility started to visit her husband in order to see how his life could be improved. A few months later she became part of the OPM Shine project where she was told she is valuable, no matter who she is and what her circumstances are. During this program her self-perspective changed completely; she has been comparing herself way less with others and started to believe that she is valuable. OPM staff that work with her during the distributions can tell she has changed by just looking at her face.
The Hygiene Kit distribution programme has now come to an end and Operation Mercy has closed this project.
We are grateful to all the partners who have faithfully supported the relief work in Northern Iraq since the project was launched in 2015. Operation Mercy will now focus on an area where the have developed expertise over many years in other countries through their mobility project which will serve refugees and other affected by the Syrian Conflict who are living with disabilities. According to the UNHCR there are currenlty 230,836 Syrian Refugees who are now in Iraq.
Operation Mercy has also been working with the Yezidi people group, an ethnoreligious group that have been the victims of over 70 past genocides, were once again targeted as the Islamic State attacked their heartland in Sinjar in 2014.
For both Syrians and Yezidi's one of the hardest places to live is in a refugee camp. Some of the most vulnerable and neglected are families who have a family member with disabilities. While visiting these camps Operation Mercy (OPM) realized that they couldn't leave the most vulnerable without trying to see a tangible difference in their lives.
OPM has been operating a mobility project in Kabarto I & II camps since 2015 which was then expanded to include Domiz II camp in 2017 and just started to expand the project in Khanke camp in May 2018.
This project has had the following goals for the participants and their families:
To increase the physical quality of life
To build emotional resiliency returning dignity and restoring hope
To empower those affected by disability in order that they would feel free to make decisions about their future, and to become agents of change within their communities.
We would be grateful if you would consider supporting this project and especially on Wednesday 20th June, World Refugee Day when GlobalGiving will have $100,000 of matching funds available with 100% matched funding on donations up to $2,500. Please also consider sharing about this project with your family, friends and colleagues.
You can find the new project at this link: Northern Iraq - Serving refugees living with disabilities
Thanks you again for your support in enabling the Operation Mercy Teams in Northern Iraq to help families who have been displaced by the conflict in Syria.