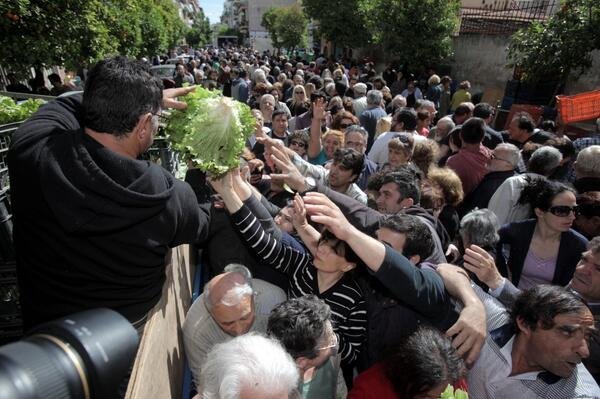 Greeks suffer. Children in Greece lack basic goods. Even Greek people who have a job are unable to cover their basic needs. The citizens with a small but stable income, were until last year those you have retired, with unemployment having reached more than 70% in most occupations. Last year, the retired were those who maintained families who had not been included in our deliveries. Even the retired people are being extinguished in Greece.
Youths were the only ones we hoped to have a basic support from the government and hundreds of big organizations that exist in our country which are only interested in fundrasing and then they disappear. We experience hard times which are used for fundraising by foreign multinational organizations without giving us their support.
Education in Greece, universities and schools, are for free, but they cannot function in a way that ensures the basics for the children's lives. There are no school meals in Greek schools or universities. The student dorms are extinct. There are only 7 student dormitories that cannot function properly due to lack of staff. Anyone can enter the student halls. Only 8 people work in the dorms. Four years ago, there were 57 people working and taking care of the students in the dormitories.
The health sector in Greece, the thousands of uninsured citizens and the thousands of uninsured refugees in the hospitals that have been left with very few staff. Almost half of the number of hospitals are in operation with very few beds available, failing to even help those who have an insurance and are employeed. Hospitals are full of uninsured. There is no unit in Greece responsible for mental illnesses of kids with suicidal behaviour or self-harming because we never had such phenomena before the financial crisis.
We are struggling to defeat the deaths in childhood and adolescence, but also in young adulthood who, although succeed in university, they stop attending the lectures, because no one can pay for the rent, but they themselves have no chance of finding a job. Even big multinational companies reduce their staff. Small companies that have not closed are now in the process of closing. Only the sector of tourism and Greek charities are helping our country this year.
Until this year we could separate categories of people who can be identified as vulnerable groups. Today, 85% of people living in Greece are now poor or deprived of the tax system and the desperate decline in wages and pensions. Employees work extra hours and are paid half of their salary. Young people attempt suicide. We do not know hoe many people we will need to help. The citizens' financial capacities have been exhausted. No one can offer. We need far more volunteers to help us compared to last year.
Please help us taccommodate students for free
Please help us complete H.U.G. to treat self-harming as nobody has the knowledge to face it in Greece and provide medication to childrenwho turn them into permanent bipolar patients
Please help us urgently
Please help children and young people. In September when schools and universities open, hopefully you will help us at "Kid & Family" and H.U.G. Project (Humans United Globaly), to offer food and mental therapy to children, beds and rooms to students.
Please help us keep children away from death and be their supporters in life by giving them the right to study and stay alive.
Urge your family, friends, and colleagues ...
In peace and solidariy,
Humans United Globally for "Kid & Family's" efforts