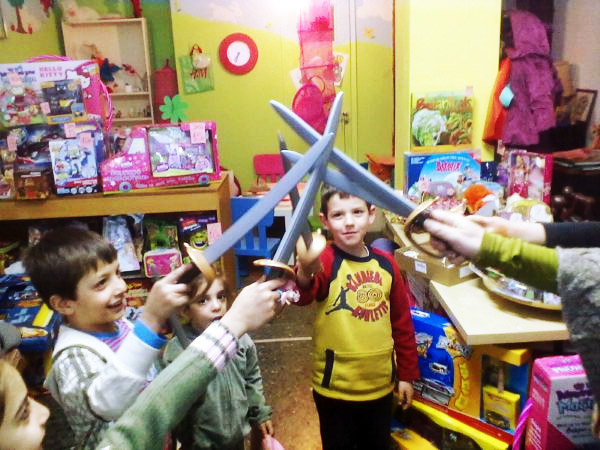 Dear friends and supporters,
"Children need to learn to transcend reality, not just serve it.
By adapting the child our own reality, we kill his ability to dream".
by Eugene Trivizas, one of the best writers of books for children.
We are very much concerned about you and your families. Hope you remain safe at home. In peace and solidarity, we will gain this fight for life together, supporting each other with care and patience.
Please remember there are kids during C19 umprotected from the virus, evern worst from hunger and winter cold, as there is no roof over their head.
There is no doubt that the financial crisis had an immense effect to all. As economic growth declined, many people suddenly found out that their financial situation was as precarious as someone unemployed or in a low paid job. Families with low incomes were the worst affected by the crisis. Many people still suffer from redundancies, house repossessions, and credit card debt. Most struggle to pay monthly household bills. When household income is lost, there is a significant social impact as well.
This crisis is increasingly putting at risk the basic needs of families in terms of financial resources, availability of quality services and provision of adequate time arrangements. Unfortunately, poverty and social exclusion of families will continue to rise. Undoubtedly, crisis is having a heavy impact on the daily lives of millions of families, children and young people. The basic "characteristics" of this reality are feelings of insecurity (economic and social), feelings of vulnerability and lack of trust in institutions, phobia and suspicion in everyday life and uncertainty for the future. In fact, crisis' effects appear even more extended from the moment that it "threatens" people's lives, their mental balance, their personal and family relationships, social cohesion and peace.
Kid & Family helps these families to survive. We offer on-site medical care, psychological assistance, medicines, food supplements, food, clothing, schoolbooks, toys, detergents and personal hygiene items. The organization also organizes activities for children and provides social support. It also develops solidarity and public awareness actions. It offers free hairdressing, free private lessons for kids who need it.
We need your support, in order to relief these families.Social solidarity functions in multiple levels, since it cultivates human sympathy and sensitivity, cares for vulnerable people and strengthens their dignity, contributes to the creation of just social structures and promotes the common good of society.
Kids & Family, during this enormously difficult period for kids and youngsters, undertakes initiatives in order to protect their life as well as their well being.
We take the risk to remain on families side during Corona Virus. Volunteering as you realize in every country, is almost impossible, The fear of C19 made many people to quit volunteering. We remain on the ground, only with a small force of people, so we decided to offer to all big cities restaurant tickets, so they can order or buy themselves. So we are able to fulfill the needs of villages or small towns with the rest of volunteers still remaining on duty! .
Kid & Family is not just an alternative. It is more than obvious that the state alone and the private sector individually fail to provide the necessary environment for societies to survive. That is where the need for a social solidarity society comes in, where all members should contribute by creating a healthy society, capable of defending itself against challenges and able to give its citizens the basic means of survival as well as the opportunity to dream and make their dreams come true.
They say that children are our future. We say that children can only change the future if adults act responsible now. So, future is NOW.
Kid & Family will remain on the ground. We will not abandon distributions. Restaurant tickets will fulfill the plate of the kids during Christmas, during Covid, as we made with your precious support the BEST HUG OF CARE!
Humans United Glovally. This is our H.U.G. for Christmas
Our message to you
And to all the pain, hunger and fear we all face from a different point of view each one.
This Christmas spread this H.U.G. as a message and action of a NEW LIFE COMING.
with your help can provide food, medicines, doctors and essencials, because your donations and supportert can save the kids and the community even the moment we struggle for volunteers.
WAYS YOU CAN HELP from home
◊ Ηelp us buy 1.000 bottles of cod liver oil to help kids with poor nutrition during Covid
◊ Buy restaurant tickets and feed directly a kid, or a family (SEE attach: table of costs "SOS MEALS"

◊ Become a distant-volunteer by posting our GlobalGiving projects on your social media or group pages :
goto.gg/1520 Kids & Families in hunger, in Greece
goto.gg/28123 Kids with mental disorders
goto.gg/22577 Refugee kids & families
goto.gg/34750 Families, victims of natural disasters.
◊. Dedicate this years' Festive Days to our causes. A stable though small help such as a reccurring donation, gives security of a meal /day for a month! Buy our restaurant tickets forkids & families in need.
◊. Dedicate a dinner or any festive day with your families to our causes, invite friends to support these efforts on social media and OPEN yout H.U.G. with us, on GlobalGiving.
Please stay by our side! support our efforts on the ground during C19, by creating a strong network of supporters and donators for the people in need.
United we can face all disasters.
"The more difficult the social conditions, the stronger the need to envision a brighter future". Eugene Trivizas
Thank you in advance for your support!
Enjoy the rest of the days at home, as soon everything will turn to normal.
Please be confident to life and solidarity.
We warmly wish you to experience this Christmas, the fulfilness our hearts experience on distributions for kids. Stay tide with precious friends and neighbours.
Let us share with you our H.U.G this Christmas
Humans United Globally is our gift and our with to you and to your beloved ones
Warm thanks for all of your support and Merry Cristmas !