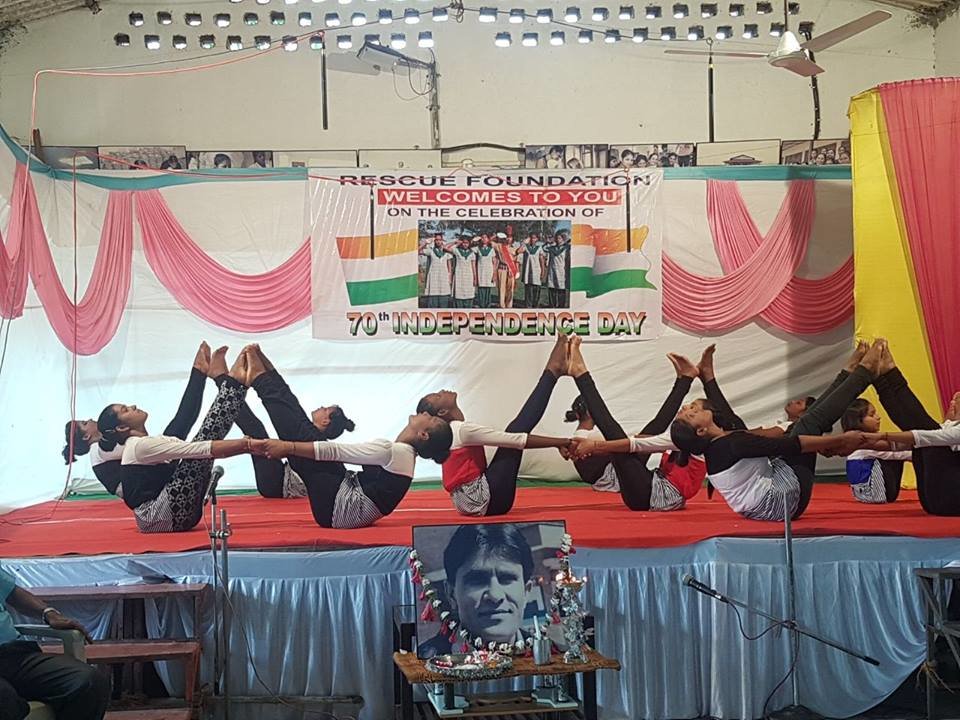 She makes the world bright, but still struggles to see light.
Rescue foundation was established to accelerate the progress on meeting needs of victims of human trafficking for sexual exploitation. During rehabilitation we stand behind survivors enabling equal participation in all aspects of their lives. Focusing on priority areas enhancing knowledge, providing formal and informal education, helping them to upgrade their health, strength to face the world with legal aid program, self-realization, counseling to build a new confidence and economically sustaining them through vocational training and providing jobs.
Our three protective homes are actually homes for them where they grow, achieve capacities and strength to cope and face the world. We not only help them to learn how to face and fight under critical circumstances but also how to nurture own self and live in harmony hence after.
In the face of Challenges of identification, such as attacks on our Investigators by perpetrators we are still optimistic and strive to save innocent lives. It also strengthens us to develop more and more effective strategies to attain our goal of rendering humanitarian services to more and more girls and help them regain their human rights.
With best regards,
Triveni Acharya
President, Rescue Foundation
Mission: to prevent and protect children and young adults from trafficking for sexual exploitation, our mission is to reinstate human rights to victims of human trafficking, trafficked from Bangladesh, Nepal and India who are sexually abused and are sold for forced prostitution.
Project Description
Rescue, Rehabilitation and Repatriation of victim girls/women/children of Human Trafficking who are sold for forced prostitution.
Regular Activities
Investigation and Identification.
Rescue.
Rehabilitation.
Health care.
Legal aid.
Vocational training.
Psycho-social training.
Repatriation.
Staff
Currently Rescue Foundation has a Staff of about 87 members, including the president, a Project Executive, Advocates, Probation Officers, Counselors, Doctors and other administrative staff.
Beneficiaries
The beneficiaries are girls /women /children who are victims of Human Trafficking and are sold for forced prostitution. They have lost all faith on mankind due to the physical & mental Torture in the Brothels as well as intricate brain wash. They are underprivileged and most of them are illiterate.
Statistics from 15th August to 31st October 2017:
Number of Investigations: 21
Number of Rescue Raids: 03
Number of Rescued Girls: 08
Admitted to our Three Home (includes victim transferred from government homes / or by police): 75+10 (child)
Repatriation of Victims (handover to Parents or Native Ngo): 73 +3 (Child)
Total Number of Girls Provided with Medical treatment/Checkups:
General Check up : 76
T. B Check up : 08
S.T.I (sexually transmitted Infection) : 02
H.I.V : 00
Hospital Visit : 37
Total no. of girls provided Vocational Training are as under:
Informal Education :09
Yoga class : 78
Craft & Painting : 10
Tailoring class : 12
Beauty Parlor : 07
Computer class : 11
Achievements:
Rescue Foundation observed the 70th Indian Independence Day on 15th August. It was a good time to remind the girls why we continue to celebrate the day especially as all the them have lost their freedom and have been in bondage for long not knowing when and how they would live a life they desired. Our President (Mummy) along with the girls, staff and the local police department of Boisar Phalghar District hoisted the Indian Flag amidst the greenery of the Boisar Shelter Home. The girls performed dances which echoed their free and soaring spirit of the Day
Mumbai (Kandivali) Ashwini (Name Changed) one of our Survivor girls has completed her nursing course and doing her job at one of the reputed hospital in Mumbai since last 3 years, In September 2017 she got her passport would be soon visiting to Canada.
All the 3 Homes of Rescue Foundation observed the 9 days of Navratri with loads of fun and dancing. Some of the girls in the Kandivali Home got to dance with their favorite TV Stars in Mumbai. Such activities always bring added joy in the lives of the survivors.
Repatriation of Girls from Thailand: 9 girls have been repatriated to Thailand after a month-long discussions, verifications, permission and visits from the Thai Embassy. The girls have safely reached and we have an acknowledgment from the Thai Officials
Beauty for Freedom: Beauty for Freedom is an innovative sustainable platform offering empowerment programming and initiatives to the survivors and youth that we serve. Their team conducted art workshops with the girls at both the homes. The long-term plan showcase the paintings made by the girls will be utilized to Create awareness on the issue of human trafficking.
On 17.10.2017, at Kandivali Shelter Home Vipassana Meditation was arranged for shelter home girls. Vipassana meditation is the personal purification of the mind. It is the highest form of awareness—the total perception of the mind-matter phenomena in its true nature. It is the choice less observation of things as they are.
Recommendations
We shall also appreciate your recommending Rescue Foundation to other donors in U.S.A and abroad to strengthen our fund-raising efforts.
We request that you kindly visit us. Your visit will enable you to assess our Progress first hand and visualize the opportunities Rescue Foundation has for achieving an enviable position in the field of anti-human trafficking and forced prostitution.