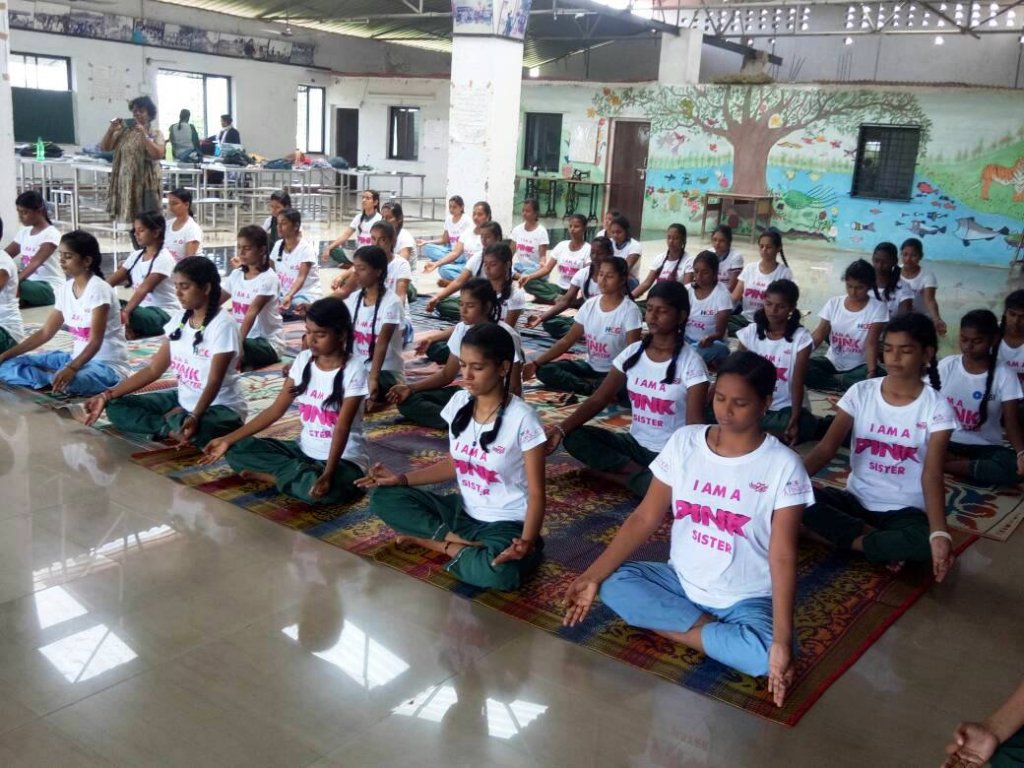 She makes the world bright, but still struggles to see light.
Rescue foundation was established to accelerate the progress on meeting needs of victims of human trafficking for sexual exploitation. During rehabilitation we stand behind survivors enabling equal participation in all aspects of their lives. Focusing on priority areas enhancing knowledge, providing formal and informal education, helping them to upgrade their health, strength to face the world with legal aid program, self-realization, counseling to build a new confidence and economically sustaining them through vocational training and providing jobs.
Our three protective homes are actually homes for them where they grow, achieve capacities and strength to cope and face the world. We not only help them to learn how to face and fight under critical circumstances but also how to nurture own self and live in harmony hence after.
In the face of Challenges of identification, such as attacks on our Investigators by perpetrators we are still optimistic and strive to save innocent lives. . It also strengthen us to develop more and more effective strategies to attain our goal of rendering humanitarian services to more and more girls and help them regain their human rights.
With best regards,
Triveni Acharya
President, Rescue Foundation
Mission: to prevent and protect children and young adults from trafficking for sexual exploitation, our mission is to reinstate human rights to victims of human trafficking, trafficked from Bangladesh, Nepal and India who are sexually abused and are sold for forced prostitution.
Project Description
Rescue, Rehabilitation and Repatriation of victim girls/women/children of Human Trafficking who are sold for forced prostitution.
Regular Activities
Investigation and Identification.
Rescue.
Rehabilitation.
Health care.
Legal aid.
Vocational training.
Psycho-social training.
Repatriation.
Staff
Currently Rescue Foundation has a Staff of about 89 members, including the president, a Project Executive, Advocates, Probation Officers, Counselors, Doctors and other administrative staff.
Beneficiaries
The beneficiaries are girls /women /children who are victims of Human Trafficking and are sold for forced prostitution. They have lost all faith on mankind due to the physical & mental Torture in the Brothels as well as intricate brain wash. They are underprivileged and most of them are illiterate.
Statistics from 19th May to 14th August 2017:
Number of Investigations: 36
Number of Rescue Raids: 05
Number of Rescued Girls: 09
Admitted to our Three Home (includes victim transferred from government homes / or by police): 89+6 (child)
Repatriation of Victims (handover to Parents or Native Ngo): 100 +6 (Child)
Total Number of Girls Provided with Medical treatment/Checkups:
General Check up : 86
T. B Check up : 12
S.T.I (sexually transmitted Infection) : 04
H.I.V : 00
Hospital Visit : 43
Total no. of girls provided Vocational Training are as under:
Informal Education :12
Yoga class : 87
Craft & Painting : 12
Tailoring class : 13
Beauty Parlor : 11
Computer class : 19
Achievements:
Good health is peace, courage & joy: International Yoga celebrated at our shelter home. Yoga is an invaluable gift to the world. It embodies unity of mind and body thought and action restraint and fulfillment harmony between humans and nature. A holistic approach to health and well-being. It is not about exercise but to discover the sense of oneness with you.
In the midst of May's melting heat, our 49 girls from Rescue foundation Kandivali were taken to a picnic to a water resort. With swimming pools, water slides and rain dances, the girls left no stone unturned and had a great fun.
Jewelry class at Kandivali: A new batch of jewelry making course has started at Kandivali Shelter home by I Sanctuary. 20 girls have participated in the course. They all will be trained at the start and they will be able to earn through it.
Life skills Training at Boisar Shelter Home: In partnering with Justice and Care NGO that works against Human Trafficking too, life skill training is run in our shelter home. Life skill training Teacher shared that till now whatever is being taught to our girls, like basic English, reading and writing cursive writing etc. In mathematics addition, subtraction etc. How in the beginning girls found it hard to learn and cope up with, but now how there is improvement which has taken place in our girls was shown through the presentation.
28 daughters of RF Repatriated to Bangladesh, One of the most emotional moments for all of us when 28 of our girls got their visa permits to enter Bangladesh. Most of the girls were forcefully bough to India and sold to brothel. From past 3-4 yrs they have learnt various skills and got their basic education. We are hopeful this will help them earn money with dignity. We wish them good health & prosperous future.
Where there is a will there is a way. The start of the May month was quite happening as a girl from our Pune shelter home wrote a letter to the honorable Prime Minister, Mr. Narendra Modi, asking her old notes to be changed by the new notes. Rescue Foundation was overwhelmed by the tremendous support that poured in for her. She could go home with a smile on her face as she was leaving with more money, thanks to all the kind people who supported for the same.
10 grade with flying numbers: One of our girl Swati (name changed) got 71 % in her 10th grade, for any teen this exam is a big hurdle and kids are under tremendous pressure. Swati (Name Changed) is an orphan and has HIV, she was recently shifted from another shelter home to our Kandivali home. When asked does she want to study further, she said 'YES' and since then our staff worked tirelessly to ensure she gets admission in the college. We salute her for her strength & Commitment. She indeed is an inspiration to all of us. Seeing her performance 7 other girls who are appearing for 10th grade are super encouraged and charged.
Group Counselling: A course of Cognitive Behavioral Therapy was conducted for a small group and 6 of these girls completed the course and received their certificates from our NGO Partner who conducted it. This is a 6 months course conducted for all girls to cope with their trauma. It has a syllabus of 9 stages wherein we gather information about the girls to understand them better. The course has techniques to help them to deal with their feelings of anger, stress, fears, and anxiety suicidal thoughts and helps them to relax. It is conducted in small groups for better participation.
Operational Difficulties
Delhi has a very large influx of minor and major girls trafficked from Nepal, Bangladesh and other parts of India. Delhi, which is Capital of India. A large number of tourists are visiting Delhi. Hence there is good demand of visitors, migrants and local people for sex tourism. This has presented an opportunity to perpetrators to supply minor girls trafficked from other areas, we have now started only investigation & rescue activities at Delhi on a moderate scale to begin with. We are in need to establish a protective home at Delhi as the condition and facilities in Government Homes are not good.
Recommendations
We shall also appreciate your recommending Rescue Foundation to other donors in U.S.A and abroad to strengthen our fund raising efforts.
We request that you kindly visit us. Your visit will enable you to assess our Progress first hand and visualize the opportunities Rescue Foundation has for achieving an enviable position in the field of anti human trafficking and forced prostitution.