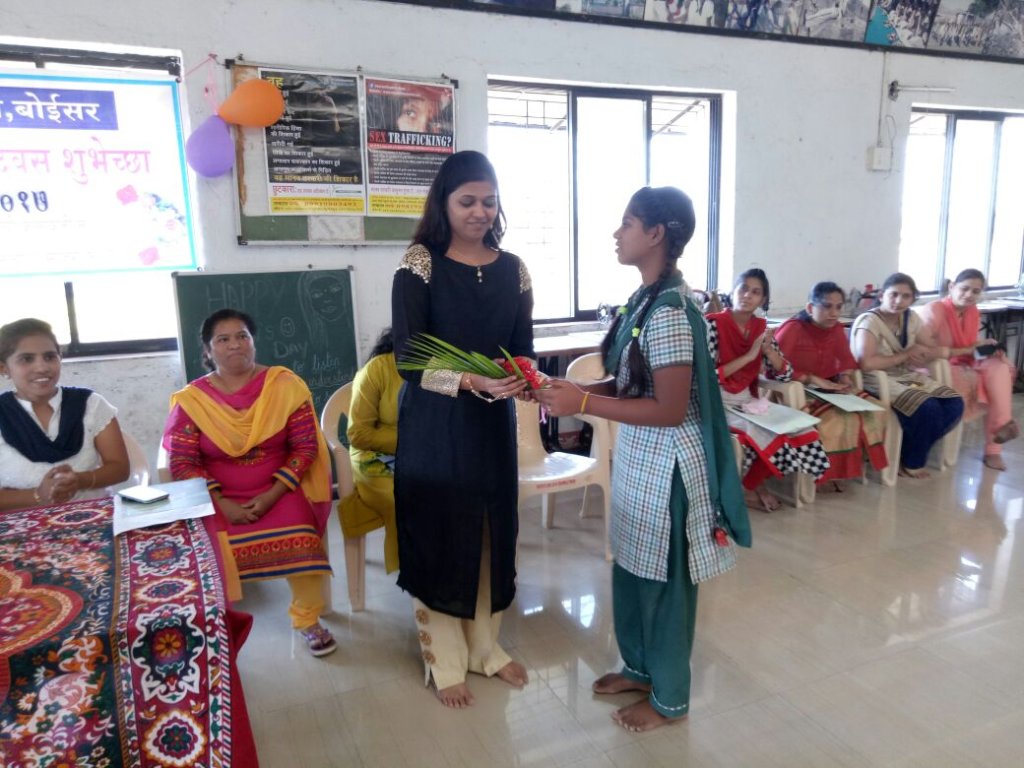 She makes the world bright, but still struggles to see light.
Rescue foundation was established to accelerate the progress on meeting needs of survivors. While rehabilitation we stand behind survivors equal participation in all aspects of their lives, focusing on five priority areas: enhance knowledge by providing formal and informal education, help them to upgrade their healthy, increase strength to face the world with legal aid program, self-realization and actualization by counseling and build a new confidence and economically sustainability by vocational training and providing jobs.
Our three protective homes is an actual home for them where they grow, achieve energy and strength to cope and face with the world. We not only help them to learn how to face and fight under critical circumstances but also we they learn how to nurture own self and live in harmony hence after.
Besides Challenge of identification of our investigators in the brothel or Attacks of perpetrators on us, we are still optimistic toward any risk to save innocent lives from the clutches of evil. It also strengthen us to develop more and more effective strategies to attain our goal of rendering humanitarian lives to more and more girls and help them regain their human rights.
With best regards,
Triveni Acharya
President, Rescue Foundation
Mission: to prevent and protect children and young adults from trafficking for sexual exploitation, our mission is to reinstate human rights to victims of human trafficking, trafficked from Bangladesh, Nepal and India who are sexually abused and are sold for forced prostitution.
Project Description
Rescue, Rehabilitation and Repatriation of victim girls/women/children of Human Trafficking who are sold for forced prostitution.
Regular Activities
Investigation and Identification.
Rescue.
Rehabilitation.
Health care.
Legal aid.
Vocational training.
Psycho-social training.
Repatriation.
Staff
Currently Rescue Foundation has a Staff of about 87 members, including the president, a Project Executive, Advocates, Probation Officers, Counselors, Doctors and other administrative staff.
Beneficiaries
The beneficiaries are girls /women /children who are victims of Human Trafficking and are sold for forced prostitution. They have lost all faith on mankind due to the physical & mental Torture in the Brothels as well as intricate brain wash. They are underprivileged and most of them are illiterate.
Statistics from 22nd February 2017 to 18th May 2017:
Number of Investigations: 25
Number of Rescue Raids: 7
Number of Rescued Girls: 53
Admitted to our Three Home (includes victim transferred from government homes / or by police): 61+3 (child)
Repatriation of Victims (handover to Parents or Native Ngo): 68 +2 (Child)
Total Number of Girls Provided with Medical treatment/Checkups:
General Check up : 114
T. B Check up : 11
S.T.I (sexually transmitted Infection) : 12
H.I.V : 00
Hospital Visit : 37
Total no. of girls provided Vocational Training are as under:
Informal Education :23
Yoga class : 81
Craft & Painting : 15
Tailoring class : 15
Beauty Parlor : 10
Computer class : 24
Festival Celebration:
Holi was celebrated in a colorful and a joyous way in all our shelter homes. The positive and happy vibes of Holi echoed through all the homes and the girls enjoyed their hearts out. The happy faces of these girls are always a great sight. It inspires us all to keep going and gives us the strength to rescue more girls and bring them to the brighter side of life. The colors brought a colorful atmosphere in all our shelter homes as the girls enjoyed the festival whole-heartedly.
Achievements:
Women's Day at Boisar: Galaxy Company celebrated Women's day with our girls at Boisar. They interacted with the girls, gave them pretty gifts and also played some fun games with them. There is nothing more satisfying and joyous than watching our girls have fun. We are very grateful to Galaxy Company to have filled our Boisar Shelter home with smiles, laughter and happiness.
A nature retreat: Every year we take our girls to a place where they can heal in the arms of nature. This year our girls are travelling to "Ooty" (South India) for an exciting week-long journey with games and adventure. Campfire, hills and a great weather around are just a tiny glimpse of the fun these girls had. While leaving, their smiles conveyed us all about their joy and excitement!
Computer Training: Computer training started at our Kandivali Shelter home in the month of April for around 50 girls in two different Batches. All the girls are so excited to learn new things about computer and we will be taking regular tests to ensure their progress.
English learning and speaking: English is a global language and it is the need of the hour to know it. Our girls have started the English learning and speaking courses. With 6 different batches based on their knowledge, we have begun a course which will be in process for 3 months.
Medical Camp: Medical camps are regularly arranged in all our shelter homes. Dental, eye, bone density and many other different kinds of checkups are done to ensure the proper growth and nourishment of our girls.
Learn and Earn: The girls at Pune Shelter home have now started taking vouchers and receiving money for the hard work they have been doing to make jewelry. This is their first step on the path to be independent and self-reliant.
No more Biting Nails: A 5 days nail art course was conducted for our beautiful girls at Kandivali Shelter home. They learned different types of nail art techniques and practiced on each other's nails. Girls were excited and took interest doing an amazing job at the end of the day.
Happy Departure: On February 25th , 9 of our girls were repatriated to their home situated in the state of Rajasthan. Happy faces filled our Kandivali Shelter home with smiles and happiness and a sense of departure that was merrier and joyous.
Repatriation: 4 of our girls have been repatriated to Nepal and will reunite with their families. Thank you for all of your support that allows such beautiful moments. For us this is an achievement! We wish the girls all the luck and happiness in the world!
Operational Difficulties
Delhi has a very large influx of minor and major girls trafficked from Nepal, Bangladesh and other parts of India. Delhi, which is Capital of India. A large number of tourists are visiting Delhi. Hence there is good demand of visitors, migrants and local people for sex tourism. This has presented an opportunity to perpetrators to supply minor girls trafficked from other areas, we have now started only investigation & rescue activities at Delhi on a moderate scale to begin with. We are in need to establish a protective home at Delhi as the condition and facilities in Government Homes are not good.
Recommendations
We shall also appreciate your recommending Rescue Foundation to other donors in U.S.A and abroad to strengthen our fund raising efforts.
We request that you kindly visit us. Your visit will enable you to assess our Progress first hand and visualize the opportunities Rescue Foundation has for achieving an enviable position in the field of anti human trafficking and forced prostitution.