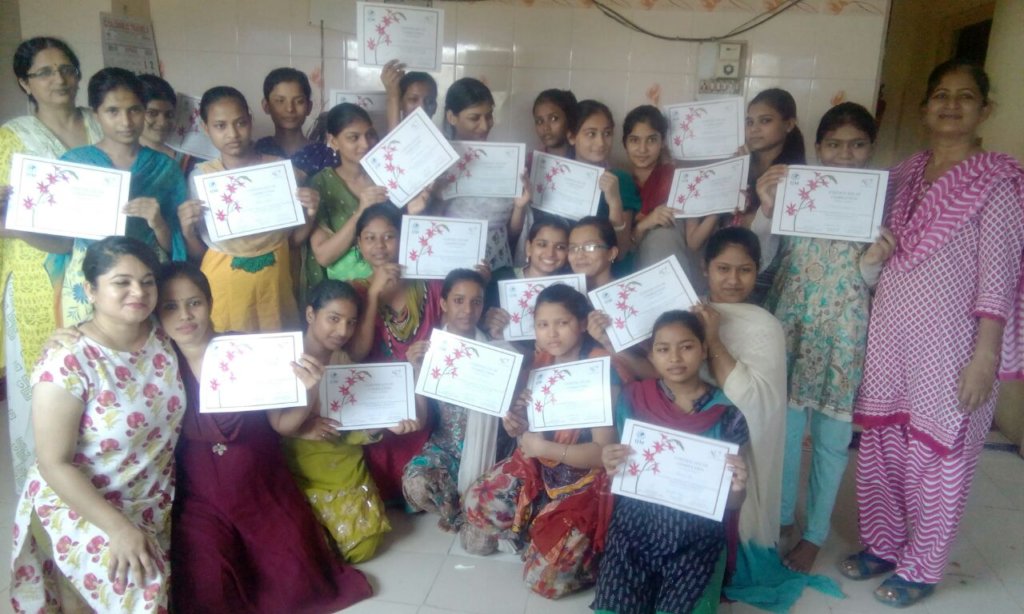 She makes the world bright, but still struggles to see light.
Every time I rescue a child or a young girl from prostitution, I die a thousand deaths, reliving what these innocent souls have lost. Helplessly wondering how much could be regained... reaffirming my own conviction that as long as I live I will fight.
We at Rescue Foundation in our own small way are fighting this battle against sex trafficking. We need all your support to create a support system where victims can regain their dignity, their hope in humanity.
Rescue foundation was established to accelerate the progress on meeting needs of survivors. While rehabilitation we stand behind survivors equal participation in all aspects of their lives, focusing on five priority areas: enhance knowledge by providing formal and informal education, help them to upgrade their healthy, increase strength to face the world with legal aid program, self-realization and actualization by counseling and build a new confidence and economically sustainability by vocational training and providing jobs.
As Rescue Foundation is South Asia biggest organization for trafficked children/girls and women, working with different countries like mainly with Nepal, Bangladesh. Also saved girls belong to Burma, Russia and Uzbekistan etc.
Our three protective homes is an actual home for them where they grow, achieve energy and strength to cope and face with the world. We not only help them to learn how to face and fight under critical circumstances but also we they learn how to nurture own self and live in harmony hence after.
Besides Challenge of identification of our investigators in the brothel or Attacks of perpetrators on us, we are still optimistic toward any risk to save innocent lives from the clutches of evil. It also strengthen us to develop more and more effective strategies to attain our goal of rendering humanitarian lives to more and more girls and help them regain their human rights.
With best regards,
Triveni Acharya
President, Rescue Foundation
Mission: To prevent and protect children and young adults from trafficking for sexual exploitation, our mission is to reinstate human rights to victims of human trafficking, trafficked from Bangladesh, Nepal and India who are sexually abused and are sold for forced prostitution.
Project Description
Rescue, Rehabilitation and Repatriation of victim girls/women/children of Human Trafficking who are sold for forced prostitution.
Regular Activities
Investigation and Identification.
Rescue.
Rehabilitation.
Health care.
Legal aid.
Vocational training.
Psycho-social training.
Repatriation.
Staff
Currently Rescue Foundation has a Staff of about 88 members, including the president, a Project Executive, Advocates, Probation Officers, Counselors, Doctors and other administrative staff.
Beneficiaries
The beneficiaries are girls /women /children who are victims of Human Trafficking and are sold for forced prostitution. They have lost all faith on mankind due to the physical & mental Torture in the Brothels as well as intricate brain wash. They are underprivileged and most of them are illiterate.
Statistics from 18th March to 7th June 2016:
Number of Investigations: 44
Number of Rescue Raids: 05
Number of Rescued Girls: 17
Admitted to our Three Home (includes victim transferred from government homes / or by police): 107 + 2 (Child)
Repatriation of Victims (handover to Parents or Native Ngo): 104+2
Total Number of Girls Provided with Medical treatment/Checkups:
General Check up : 109
T. B Check up : 31
S.T.I (sexually transmitted Infection) : 22
H.I.V : 07
Hospital Visit : 53
Total no. of girls provided Vocational Training are as under:
Informal Education :157
Yoga class : 125
Craft & Painting : 48
Tailoring class : 52
Beauty Parlour : 44
Computer class : 27
Achievements:
One of our Partnering Ngo invites our organization to participate in Adventure camp at Bangalore. The camp is expressly designed for girls who are survivors of sex-trafficking (PITA). Every year the camps provide exciting opportunities and many unforgettable experiences for every girl and staff counselor. It's a fantastic chance to give the girls in our home a trip they will remember for a lifetime. Whether recently rescued or rescued years ago, these camps offer hope, encouragement and inspiration to the girls, as they make friends with other girls from the same background. From Rescue Foundation Ms. Leena with 13 girls attend the above said camp.
Health & Hygiene Program
On 27th March, Medical counseling was done by Dr. Khytna, to all the girls of Boisar Home and this was very effective and useful information they received for their overall health. On this same day at Boisar Home, 'Gayatri Yagna' was arranged to be conducted in worship of Goddess Gayatri. This is a Hindu holy ritual. The Gayatri Yagna has the ability to rejuvenate the dead energies and enlighten one's brains to sharpen up one's intellect levels and make one an intelligent person. This ensures long and healthy life and improvement in the intelligence quotient of the person. Benefits: For intelligence, wisdom and righteous living among members, for materialistic comforts and spiritual growth and for self-confidence, self worth and self-advancement.
This special camp "Health and Hygiene" was organized by Diya team on 14th April. Four volunteers carried it forward. Doctors who actively contributed in the camp & it was organized keeping in mind our girls hygiene issues and problems. Special thanks to Dr. Avinash, who has helped us in organizing discussing the problems of our girls with doctors.
On dated 24.05.2016, there was General medical checkup camp arranged at Kandivali Shelter Home. The Camp was arranging with the help of Justice and Care Organization. Dr. Suson with assistance of Sister Payal & Priya done the checkup. Our shelter homes all most all girls i.e. approx. 70 girls took benefit of the camp. They also provide medicine to our girls.
Dance Movement Therapy (DMT) Program
Dance has proven to be a vehicle for learning necessary life-skills, renewing a healthy mind-body relationship, addressing psychosocial issues, and developing new community bonds. Dance as a resource for such personal and community development has yielded impactful positive results as individuals create their own paths to empowerment and freedom. For this purpose, On 12th April Dance Movement Therapy program was conducted. M/s. Sohini she was present in the program. The Dance movement therapy was started from August 2015 to March 2016. Our 12 girls performed in the Dance Movement Therapy program. They distributed certificates to the girls those who have successfully completed it. After Kolkata 'Sanved's eight months Dance Movement Therapy process these girls shared their experience with other girls. They realized that how their attitude and their habits changed in a very positive way.
The Dance movement therapy was also started for Pune girls for all the benefits it offers. The volunteer is giving the dance therapy in Pune Home.
Group session
This whole syllabus was base on cognitive sinario. By the Group session called TFCBT.
It was started from 04.11.2015 this was the first day where counselor introduce with 10 girls and 12 girls in two groups. There were total 22 lesson in each group, where counselor doing activities with the girls. And on the last day we celebrate by giving Certificates .
In this syllabus – interactive games; it's about their family relation, society relation, Personality development, bodily changes, healthy sexuality, Relaxation, feelings, thinking, sharing & Self-esteem and trust etc. This counseling session developed self-development within girls & also reduced their guilt depression.
Holi Celebrations:
'Holi' is a spring festival in India and Nepal, also known as the festival of colors or the festival of sharing love. It is an ancient Hindu religious festival. Holi celebrations start on the night before Holi with a Holika bonfire where people gather, do religious rituals in front of the bonfire, and pray that their internal evil should be destroyed as the bonfire starts. The next morning is celebrated as Rangwali Holi - a free-for-all carnival of colors, where participants play, chase and color each other with dry powder and colored water, with some carrying water guns and colored water-filled balloons for their water fight and the girls in all the three homes, with lots of fun and excitement. Everyone enjoyed meeting, greeting and coloring each other with Holi colors making not only the occasion… but also the people literally colorful!
Mother's Day Celebration
On Dt.10/5/2016 we have celebrated Mother's Day in Rescue foundation Boisar. Our main purpose for celebrating Mother's Day was that to motivate them of caretakers and house mothers who are at present looking after them as their own mothers. So that may also respect them and there may be a healthy atmosphere around. 126 girls were present for the programme. The programme started at 11.30 am. All girls were in pretty dresses. They all were looking very sweet. Our Minor girl Zoya (name changed) was anchoring the programme. At the beginning she gave introduction about Mother's day. Hena (name changed)Sung a song related to mother. The girls performed two group dances. Two Bangladeshi girls sang a song on mother in Bangali language. Then Nasima (name changed) explained the meaning of the song in Hindi. After some girls expressed about their mother's love and care, also hearted towards their mothers, for some time they were emotional too. Some of the girls performed comedy act. All the girls enjoyed the day. Then we cut the cake in remembrance of mother. At the end we distributed snacks and chocolates to all, everybody enjoyed the day.
Taking children out for picnics or other recreational activities, For providing outdoor entertainment to survivors, a picnic was arranged by our Kandivali, Mumbai home on 31st May 2016. The picnic was arranged at Green Hill Resort, Nalasopara which was attended by 50 survivors accompanied by 19 staff members. Such outings are very essential for the mental development of survivors who have undergone severe trauma in their past life.
Cleanliness awareness at Boisar:
The superintendent of Boisar conducted a very informative session with all the girls on maintaining high level of cleanliness and hygiene in their rooms and surrounding areas. This session was named 'Positive Reinforcement' and the girls learned a lot from it. Following the session, a Room Cleaning Competition was rolled out between all the girls where the cleanest room occupants would win the competition and would be entitled for a prize.
Life Skill Programs by Aadi Shakti Foundation in our Pune shelter home is aimed at equipping the girls to face the real world. This is an ongoing programme by the organizers and will cover various important topics, for the girls' future. All these are taught by various life stories of people and various activities and workshops.
Some of the trainings in these workshops are:
Value education: Values like honesty, trust, generosity, love, respect
How to build up relationships and how to get along with others
Power of Positive thinking
How to overcome obstacles & learn from mistakes
How to deal with various emotions like fear, anger, shame and sadness
To realize one's own talents, abilities and potentials
Practical activities for building character
How to open an A/C in Bank, how to save money, how to spend money etc
How to make emergency phone call
How to be silent
Learning when to say 'Yes' & 'No'
Use of medicines
Computer skills
How to start a small business
Operational Difficulties
Delhi has a very large influx of minor and major girls trafficked from Nepal, Bangladesh and other parts of India. Delhi, which is Capital of India. A large number of tourists are visiting Delhi. Hence there is good demand of visitors, migrants and local people for sex tourism. This has presented an opportunity to perpetrators to supply minor girls trafficked from other areas, we have now started only investigation & rescue activities at Delhi on a moderate scale to begin with. We are in need to establish a protective home at Delhi as the condition and facilitie