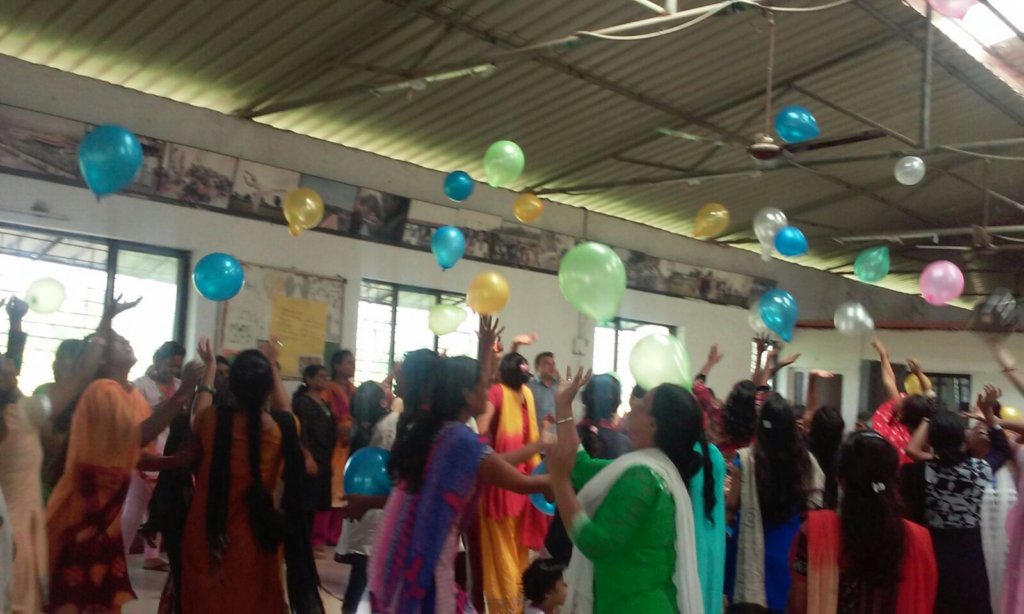 Every child deserves a better tomorrow, Togethor Lets make it happen.
Every time I rescue a child or a young girl from prostitution, I die a thousand deaths, reliving what these innocent souls have lost. Helplessly wondering how much could be regained... reaffirming my own conviction that as long as I live I will fight.
We at Rescue Foundation in our own small way are fighting this battle against sex trafficking. We need all your support to create a support system where victims can regain their dignity, their hope in humanity.
Rescue foundation was established to accelerate the progress on meeting needs of survivors. While rehabilitation we stand behind survivors equal participation in all aspects of their lives, focusing on five priority areas: enhance knowledge by providing formal and informal education, help them to upgrade their healthy, increase strength to face the world with legal aid program, self-realization and actualization by counseling and build a new confidence and economically sustainability by vocational training and providing jobs.
As Rescue Foundation is South Asia biggest organization for trafficked children/girls and women, working with different countries like mainly with Nepal, Bangladesh. Also saved girls belong to Burma, Russia and Uzbekistan etc.
Our three protective homes is an actual home for them where they grow, achieve energy and strength to cope and face with the world. We not only help them to learn how to face and fight under critical circumstances but also we they learn how to nurture own self and live in harmony hence after.
Besides Challenge of identification of our investigators in the brothel or Attacks of perpetrators on us, we are still optimistic toward any risk to save innocent lives from the clutches of evil. It also strengthen us to develop more and more effective strategies to attain our goal of rendering humanitarian lives to more and more girls and help them regain their human rights.
With best regards,
Triveni Acharya
President, Rescue Foundation
Mission: To prevent and protect children and young adults from trafficking for sexual exploitation, our mission is to reinstate human rights to victims of human trafficking, trafficked from Bangladesh, Nepal and India who are sexually abused and are sold for forced prostitution.
Project Description
Rescue, Rehabilitation and Repatriation of victim girls/women/children of Human Trafficking who are sold for forced prostitution.
Regular Activities
Investigation and Identification.
Rescue.
Rehabilitation.
Health care.
Legal aid.
Vocational training.
Psycho-social training.
Repatriation.
Staff
Currently Rescue Foundation has a Staff of about 89 members, including the president, a Project Executive, Advocates, Probation Officers, Counselors, Doctors and other administrative staff.
Beneficiaries
The beneficiaries are girls /women /children who are victims of Human Trafficking and are sold for forced prostitution. They have lost all faith on mankind due to the physical & mental Torture in the Brothels as well as intricate brain wash. They are underprivileged and most of them are illiterate.
Statistics from 1st October to 23rd December 2015:
Number of Investigations: 56
Number of Rescue Raids: 07
Number of Rescued Girls: 22
Admitted to our Three Home (includes victim transferred from government homes / or by police): 103 + 4 (Child)
Repatriation of Victims (handover to Parents or Native Ngo): 65 + 2 (child)
Total Number of Girls Provided with Medical treatment/Checkups:
General Check up : 125
T. B Check up : 19
S.T.I (sexually transmitted Infection) : 18
H.I.V : 04
Hospital Visit : 49
Total no. of girls provided Vocational Training are as under:
Formal Education :12
Yoga class : 126
Craft & Painting : 29
Tailoring class : 43
Beauty Parlour : 39
Computer class : 21
Achievements:
An HIV camp, for RF's girls, was conducted ON 16th October, with the help of 'Maharashtra State Aids Control Society' (MSACS), at Rural health centre's Integrated Counseling & Testing centre), In this camp, 51 girls were tested for HIV and the good thing is that all the girls tested negative for HIV. Even though this was good news, all girls were still given awareness and counseling about prevention and precautions about HIV. There were some girls who were not interested in getting tested for HIV, however, we managed to at least provide them with HIV related counseling so that they have a positive outlook about HIV.
Rescue foundation successfully registered 8 of our girls for the Voter' Card, for the girls to exercise their voting franchise rights. This was carried out at the Mother Teresa hall in Yerwada, Pune. This Voter's Card is also considered an important identity proof and this will be useful for our girls to have this official identity document.
On 31st October we arranged candles making workshop for a few girls, which were conducted by 'Padmini Group', where the participating girls made designer candles in the workshop. Also, 'Padmini Group' arranged a one day exhibition in Rescue Foundation premises where the candles which were made by our girls were also exhibited. The candles made by our girls got sold, giving the girls some money from the sales.
The auspicious festival of 'Dussehra' was celebrated with lots of fun as a programme was organized on 22nd October, with the help of 'IGM' team. There was a 'Street Play' competition held with different groups participating and competing. Here the girls could come out with their creativity and acting skills and enjoy at the same time. Exciting games like balloon breaking, magic game, etc. also made for some real fun moments. The games and competition winners won prizes which gave them a sense of achievement and the younger girls and children were given chocolates and a teddy bear. Finally, all the girls were given one bag each filled with cosmetics and some useful articles and a new dress. All these things and the goodies brought joy and smiles to the girls' faces. Thanks to the IGM team for their help and partnering in this event.
Also, for the Before Diwali season of lights, there was a function organized at Boisar home, with the help of the 'Prison ministry Group' Vasai, on 26th October, Exciting and interactive games, Rangoli competition and Skit competition was held where the girls happily participated in these different events. Also, spiritual songs were sung during the function. The girls explored and exhibited their art, skills, talent and creativity, by participating enthusiastically in all these activities. Sweets were also distributed to all the girls. Lastly, a talk was given by Fr. Jacob Kohli to the girls about good behavior towards elders and the staff. This was a very enlightening session, where the girls heard and learned something deeper that they could reflect on, to be positive and respectful and it would make a positive impact on their lives in these growing years.
Rescue Foundation organized it's first batch of Sanskar Bharti Rangoli classes for 6 girls, which was conducted by a professional & teacher. This was a 5 day workshop, starting November. In these classes, the girls learned the basics of making Rangoli art and also learned to make many basic designs, followed by higher level designs. With regular practice and creating newer intricate designs will make the girls proficient in this art, where they will be able to make beautiful rangoli in some festivals, traditional & religious functions, programmes & events. Once an expert, the girls can also earn some money by charging to make certain rangoli at weddings, religious events, festivals, etc. and this can be an additional financial benefit for them.
As part of RF's continual healthcare services for the girls, a Medical camp was organized on 6th November with the D Y Patil hospital. In this medical camp, 80 girls were provided with Skin & Gynecology check up. Some medicines were provided by the hospital medical team, while other medicines were prescribed and RF purchased and provided these prescribed medicines for the required girl's treatment. This medical camp was very beneficial for many girls in the diagnosis and treatment aspect and many of our girls benefitted from it.
Since embroidery is a stitching art that girls love to learn and then use to make beautiful designs and exhibits, Rescue foundation conducted a new batch of Embroidery classes in the Mumbai home. The classes were held on every Monday to Friday and 20 girls enthusiastically learned the art and practiced the embroidery well. The girls were happy to learn something new in the training programme and develop their art of Embroidery.
There was a one day programme organized by 'Deloitte' company, on 27th November. Various activities and programs were done by many girl employees from Deloitte on this day. They helped our girls make beautiful flowers from tissue papers and the girls loved making different types of flowers with tissues. To bring out the girl's craft skills, they were taught to also make attractive lamps & lanterns, which the girls made and also hung them in different places in the shelter home as decoration. The volunteer employees also involved our girls in doing fabric painting with beautiful designs and patterns. Then an interesting Group song competition was done with all our girls and the volunteer girls and this created a lot of fun among everybody. Many girls then danced to the tunes of catchy Bollywood songs and they had great fun. Finally, there was Cake cutting where the girls collectively cut some cakes and distributed cake pieces to all and this was indeed the 'Icing on the cake' in the day's event. There was fun and laughter everywhere. All these activities created a good friendship between our girls and the new volunteer girls from Deloitte Company and everyone loved the event very much.
The second training session on "Motivational Entrepreneurship" was conducted by a volunteering social worker Anil Shelke at their Boisar Rehabilitation Centre on 21st November. 58 of our Boisar girls attended this training. The girls took part in training very actively. The training started with a motivation session in which the speaker spoke about inspirational life of Oprah Winfrey, Sindhu Sakpal and Narayan Patricia. He also spoke about various aspects of entrepreneurship like idea generating, marketing, etc. Since it was an interactive and activity based training, the attending girls participated very enthusiastically. Some of them won chocolate bars for utilizing their computer-like brains to answer some difficult questions, in the various activities. At the end of the training, Happiness, Vision & Hope was visible on the faces of our girls and it was a very fruitful programme.
Rescue Foundation gave the opportunity for some of our girls to celebrate the emotional festival of 'Bhai-beej / Bhau-beej'. This is a festival celebrated on the last day of the five-day-long Diwali festival. It is an emotional festival signifying the love of brothers and sisters for each other. On this day, sisters pray for a long and happy life for their brothers. This festival was celebrated on 8th November, in association with 'Anam Prem' which is a Spiritual Order, which says that sprinkling love on the fellow souls is the only way of enlightened living. Several other children from different shelter homes and orphanages were also part of this festival programme, where the boys & girls, as brothers and sisters came together to celebrate this special day.
Operational Difficulties
Delhi has a very large influx of minor and major girls trafficked from Nepal, Bangladesh and other parts of India. Delhi, which is Capital of India. A large number of tourists are visiting Delhi. Hence there is good demand of visitors, migrants and local people for sex tourism. This has presented an opportunity to perpetrators to supply minor girls trafficked from other areas, we have now started only investigation & rescue activities at Delhi on a moderate scale to begin with. We are in need to establish a protective home at Delhi as the condition and facilities in Government Homes are not good.
Recommendations
We shall also appreciate your recommending Rescue Foundation to other donors in U.S.A and abroad to strengthen our fund raising efforts.
We request that you kindly visit us. Your visit will enable you to assess our Progress first hand and visualize the opportunities Rescue Foundation has for achieving an enviable position in the field of anti human trafficking and forced prostitution.