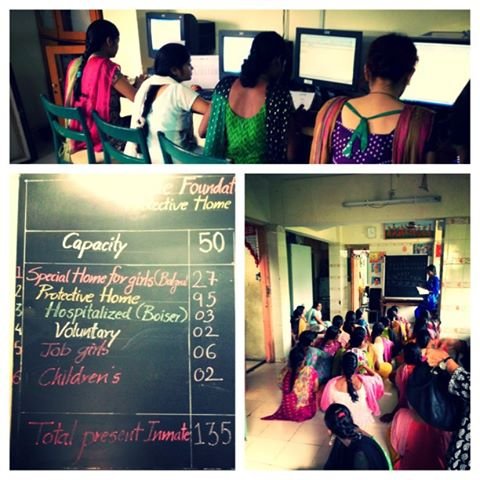 Dear Supporters & Well-Wishers,
Tremendous efforts lead to favorable outcomes when we deal with any situation in an humanitarian way. In 20 years of life I have seen many ups and downs with Rescue Foundation but every time you were there to hold my hand. Since years we are together observing, sharing girls joy, happiness.
Human progress is neither automatic nor inevitable. Every step toward the goal of justice requires sacrifice, suffering, and struggle, the tireless exertions and passionate concern of dedicated individuals. Every great dream begins with a dreamer. We have within us the strength, the patience, and the passion to reach for the stars to change the world.
Rescue Foundation as an organization is a home of transformation of many lives. Girls changed their lives and moved towards happiness due to your admiring support.
Earnest thanks to you for supporting us. Together we have formed a solitude to achieve Human Rights. Nevertheless encountering day-to-day challenges were not easy as we had to put our lives in danger to achieve the goal. At the same time, your valued contribution has made achievement of goal possible. Seeing smile and love on the faces of these tormented girls, all of us feel that our efforts have been rewarded well.
Our combined efforts of providing more resources and enlarging our endeavors in various different parts of our huge country shall make it possible for more girls to regain their dignity.
Yes we want to see smile, happiness, satisfaction and total change in lives of these unfortunate girls and children. For achieving such result we shall work in collective and effective way.
On one hand you will develop ways and means of raising resources by being creative in your approach and on the other hand we shall develop more and more effective strategies to attain our goal of rendering humanitarian lives to more and more girls and help them regain their human rights.
With best regards,
Triveni Acharya
President, Rescue Foundation
Our Organization
Our mission is to reinstate human rights to victims of human trafficking, trafficked from Bangladesh, Nepal and India who are sexually abused and are sold for forced prostitution.
Rescue Foundation, as the name suggests specializes in rescuing the unfortunate victims from the clutches of the anti-social elements in and around the country. We realized that merely rescuing them does not guarantee their reintegration in society. Our experienced investigators successfully manage to conduct in-brothel counseling to explain the benefits of enjoying human rights and obtain their consent to be rescued. But after rescue their trauma overburdens them and their negativity has to be converted to positive attitude so that they can sustain their lives with good health and reintegrate well in respectable society.
Providing necessary facilities, training & medical consultation to about 700 girls becomes a huge task for our organization. We carry out our duties with the help of 87 determinant and dedicated staff members spread over our three protective and rehabilitation homes and one office at Delhi for investigation and rescue.
The expertise gained in providing new lives to the young female generation has provided severe encouragement to us for extending our services to other cities like Delhi which have become attractive destinations for trafficking and forced prostitution.
The root of the success of Rescue Foundation is the combination of our grass root work and your support. Continuation of our combined efforts will surely go a long way towards the anti-trafficking measures needed by this region.
For the Safe Custody rehabilitation, we have established three protective homes and an office as under:
Mumbai for 100 girls.
Pune for 50 girls.
An office at Delhi for Investigation, Rescue, Counseling & Repatriation.
Thane (Boisar complex) for 150 girls established on 50 acre land consisting of facilities like Recovery Care Center for HIV positive girls, training center, bio gas & vermicompost production units and agriculture.
Regular Activities
Investigation
Rescue of girls & children from brothels.
Complete health care including HIV/AIDS, abortions, deliveries, hospitalization, operations
Vocational Training for sustainability & develop financial independence.
Legal Aid to prosecute & punish anti-social elements.
Psycho-social counseling at every stage
Repatriation including weddings wherever possible.
Healthy nutrition to all.
Aims & Objectives
The primary aim of the Protective Home is to provide a safe, temporary Shelter to victims of trafficking and to start rebuilding the lives of the victims of trafficking by instilling in them their lost confidence and to encourage them to make a new beginning in life. The victims can stay in the center until the Court Cases are over and the criminals have been sentenced. Contrary to the Government remand and protective homes the Rescue Foundation helps the victims with all their essential needs.
To verify the presence of the missing girl in the brothels.
To Rescue the girl along with all girls willing to be rescued.
To provide safe shelter and balanced nutrition to the girls
To provide complete health care including HIV treatment to the girls
To provide vocational training to the girls so that they can sustain themselves. This includes various education & training classes.
To provide legal aid to the girls so that antisocial elements are legally punished. This Includes filing suits in courts of law, counseling the girls, to produce the girls in court for testimony etc.
To repatriate the girls to join their families, be an earning member in the family and to be a part of respectable society.
To provide psycho-social counseling at every stage for regenerating their faith in mankind and increasing their will power.
Beneficiaries
The beneficiaries are girls /women /children who are victims of Human Trafficking and are sold for forced prostitution. They have lost all faith on mankind due to the physical & mental Torture in the Brothels as well as intricate brain wash. They are underprivileged and most of them are illiterate.
Statistics from January to December 2013:
Number of Investigations: 216
Number of Rescue Raids: 47
Number of Rescued Girls: 263
Admitted to our Three Home (includes victim transferred from government homes / or by police): 787
Repatriation of Survivors (handover to Parents or Native Ngo) 701
Total no. of girls provided Vocational Training are as under:
Formal Education : 181
Yoga class : 631
Craft & Painting : 259
Tailoring class : 176
Beauty Parlor : 220
Computer class : 112
Total Number of Girls Provided with Medical treatment/Checkups:
General Check up : 954
T. B Check up : 113
S.T.I (sexually transmitted Infection) : 67
H.I.V : 13
Hospital Visit : 223
Achievements of 2013
Awareness creation: We have conducted awareness workshops in West Bengal at 3 major districts where maximum number of trafficking take place. We coordinated with local NGOs/ CBOs and Panchayat (village authorities). As the result we came to a conclusion to create a holistic development program for the girls after repatriation and developed techniques to make them sustainable in the community.
RF took part in 3 grand exhibitions to market products made by the survivor girls. We participated in UBM exhibition, an event and exhibition held by colleges and also exhibition by community festival to create awareness and market products made by the survivor girls.
We also collaborated with 'ISIS SKILLS DEVELOPMENT' to provide training to the girls and achieving employments. Basically ISIS provides capacity building to the survivors and prepares them to face interviews and employ them with different outlets like, McDonalds, Coffee shops and retails related jobs.
For passing the S.S.C. examinations one has to complete the primary education in formal school. 8 girls have enrolled in nearby school.
Nursing is considered as a very noble profession. We at Rescue Foundation encourage girls to choose such profession so that they can serve the needy. 3 girls have chosen to be trained as future nurses.
Fashion Designing is an ever changing career. It presents novel ideas and designs for the changing times. 3 girls are being trained for Fashion Designing, by professional Fashion Designers.
2 girls are assisting Physiotherapists after completion of their proper training.
10 girls are employed in one of the most reputed Hospital of Mumbai, as housekeepers and for patient care.
1 girl works for a makeup man of reputed actors and actresses in Bollywood film Industry.
1 girl is assisting our doctor in the Recovery Care Center at (Boisar) complex.
Mass Repatriation of 105 girls from all three homes was done to Bangladesh in one batch of cross border repatriation.
Collaborated with Dristi Foundation, for creating business opportunities for survivors by providing them skillful training, how to market a product and prepare business plan.
Survivor's advisory committee: In Rescue Foundation we have formed a rotational advisory committee of the survivors which gives opportunity to each girl to monitor, supervise, discuss their needs and suggest about services. Every month we appoint 7 girls as advisors and they perform accordingly if they require help previous advisory group help them to proceed. They face meeting with the management end of the each month and also select one girl to facilitate the meeting.
It would be worth mentioning here that after Rescue Foundation Delhi started rescuing girls from G B Road, special initiative was taken by us and as a result court has ordered closer of 5 brothels in G. B. Road. Total 13 brothel houses have been sealed since Rescue Foundation Delhi Started its Operation from June 2011.
Rescue Foundation Delhi has successfully implemented The Protection of Children from Sexual Offences act, 2012 which was amended in February 2013 after (Nirbhaya rape case). Three cases have been filed under POCSO Act 2012 in Delhi Court & 2 POCSO cases have been registered in Bombay Sessions Court.
2 convictions received in the year 2013 from Bombay Jurisdiction and the accused are convicted in this case for the period of 3 years respectively under the provisions of ITPA & 10 years of Imprisonment for one of the Brothel managers in Delhi.
Rescue Foundation was the only NGO which got the opportunity of briefing the members of SAARC Nations on 20 November 2013 at AGRA regarding Rescue Restoration and repatriation of trafficked victims. Representative of all seven countries were present at the meeting.
In National Women Commission by Government of Maharashtra. It was an upgrading meeting with the protective homes/ NGOs and trafficked victims in Mumbai. Main objective of this meeting was to have an open interaction with victims and to discuss about their future plans. Here girls expressed their views and future plans about their jobs, education, even life style and ambitions.
Organizational Achievements
Rescue Foundation prominently participated in conferences conducted by Government of India to re-frame policies on anti-human trafficking in India. Where Rescue Foundation chaired with IPS (Indian Police Service) officers and authorities and shared experiences and placed strong recommendations.
Whenever rescue operation was conducted on a Saturday, girls had to be produced before the holiday court on Sunday as per the law. It was noticed by us that in most of the cases the girls above the age of 18 were released by the holiday court. As a matter of fact the law does not permit a holiday court to release any girl. This matter was strongly taken up by us and holiday courts have now been instructed to follow the law.
In future will collaborate with Bangladesh economic ministry to implement their law for girls. Like they should get land for building home.
Going to carry forward their rehabilitation plan to partnering NGOs in India, Bangladesh, Nepal so they can continue their rehabilitation program.
Global Freedom Exchange (Vital Voices): It was a grand conference consisting of 28 countries delegates who were representing their home countries social issues related to trafficked victims. Total 50 diligent participated. Mrs. Triveni Acharya was invited for the conference by the Vital Voices founded by Hilary Clinton. Mainly objective was to get all countries on one platform and give recommendation for further international policies for trafficking in persons. Rescue Foundation discussed on legal issues in India. In India trafficked victims are treated as victim but in other countries they have been treating as accused which is matter of concern.
Group home: Group homes are small, residential facilities located within a community and designed to serve trafficked survivors. First group home was started in 2013, 7 girls joint first group home with our partner NGO. Success of group home encouraged us to continue this initiative and give wings to the girls, n