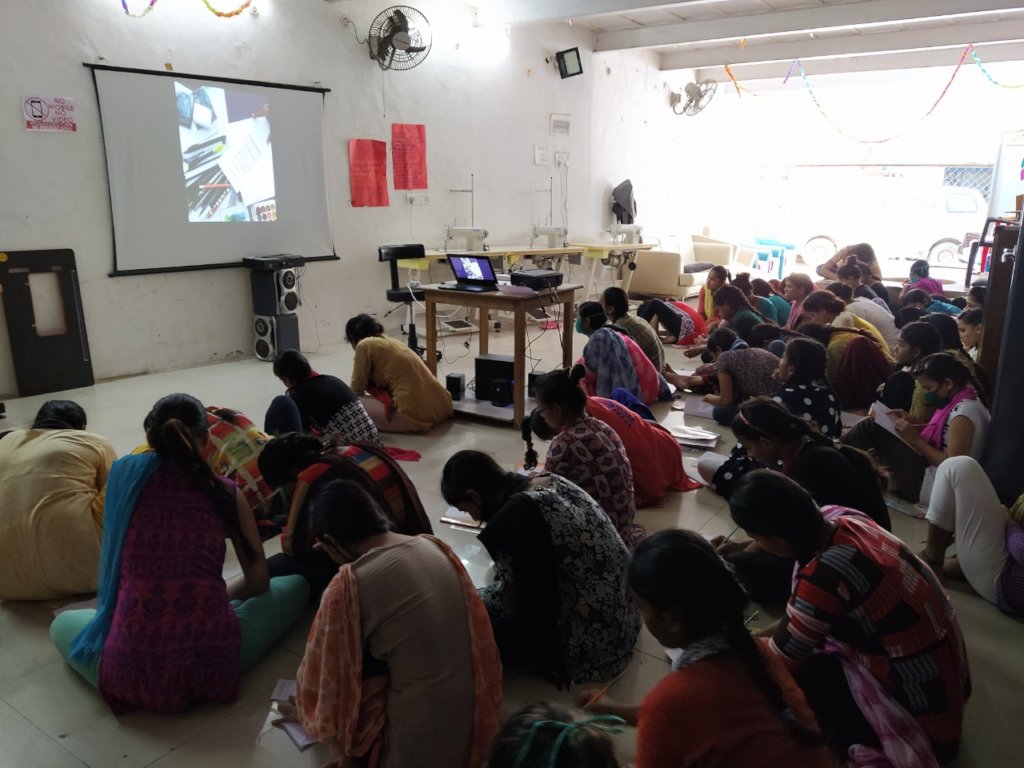 She makes the world bright, but still struggles to see light.
Rescue foundation was established to accelerate the progress on meeting needs of survivors. While rehabilitation we stand behind survivors equal participation in all aspects of their lives, focusing on five priority areas: enhance knowledge by providing formal and informal education, help them to upgrade their healthy, increase strength to face the world with legal aid program, self-realization and actualization by counseling and build a new confidence and economically sustainability by vocational training and providing jobs.
Our three protective homes is an actual home for them where they grow, achieve energy and strength to cope and face with the world. We not only help them to learn how to face and fight under critical circumstances but also we they learn how to nurture own self and live in harmony hence after.
Besides Challenge of identification of our investigators in the brothel or Attacks of perpetrators on us, we are still optimistic toward any risk to save innocent lives from the clutches of evil. It also strengthen us to develop more and more effective strategies to attain our goal of rendering humanitarian lives to more and more girls and help them regain their human rights.
With best regards,
Triveni Acharya
President, Rescue Foundation
Mission: to prevent and protect children and young adults from trafficking for sexual exploitation, our mission is to reinstate human rights to victims of human trafficking, trafficked from Bangladesh, Nepal and India who are sexually abused and are sold for forced prostitution.
Project Description
Rescue, Rehabilitation and Repatriation of victim girls/women/children of Human Trafficking who are sold for forced prostitution.
Regular Activities
Investigation and Identification.
Rescue.
Rehabilitation.
Health care.
Legal aid.
Vocational training.
Psycho-social training.
Repatriation.
Staff
Currently Rescue Foundation has a Staff of about 84 members, including the president, a Project Executive, Advocates, Probation Officers, Counselors, Doctors and other administrative staff.
Beneficiaries
The beneficiaries are girls /women /children who are victims of Human Trafficking and are sold for forced prostitution. They have lost all faith on mankind due to the physical & mental Torture in the Brothels as well as intricate brain wash. They are underprivileged and most of them are illiterate.
Statistics from 16th March to 30th June 2020 :
Number of Investigations: 10
Number of Rescue Raids: 05
Number of Rescued Girls: 26
Admitted to our Three Home (includes victim transferred from government homes / or by police): 41
Repatriation of Victims (handover to Parents or Native Ngo): 59
Total Number of Girls Provided with Medical treatment/Checkups:
General Checkup : 40
Hospital Visit : 29
With the outbreak of COVID-19 and nationwide lockdown laid down various challenges in front of us. Travel Restrictions lead to lack of staff, and thus keeping the girls engaged and occupied on a daily basis have become very important. Thus we started online Zumba Classes for our survivors. They love dancing on the beat of Bollywood music. We also received help from our partners who shared dance choreography with us and taught our survivors.
In the month of April, with the support of one of our partners Team Spreading Smiles, we organized online Mandala Art session. Volunteer from TSS shared a pre-recorded video of the session. The video was then shown to the survivors and they followed the steps.
As the COVID-19 lock down came into force we also decided to diversify our work during the period of this lockdown into COVID-19 relief work. We decided to support the migrant labor families that were fleeing cities like Mumbai and Delhi back to their families in rural India. We decided to focus on relief for women and children in prostitution districts in Mumbai and Delhi. We decided to focus our efforts on the most vulnerable communities around our protective homes affected by the lockdown.
As a direct result of our work in the past several weeks since the lockdown we have provided a month's worth of food and other necessities to the Red Light districts in Delhi and around Mumbai over 7000 Beneficiaries were supported. In addition, we have provided protective equipment to essential service workers such as the police in Mumbai.
Recommendations
We shall also appreciate your recommending Rescue Foundation to other donors in U.S.A and abroad to strengthen our fund raising efforts.
We request that you kindly visit us. Your visit will enable you to assess our Progress first hand and visualize the opportunities Rescue Foundation has for achieving an enviable position in the field of anti-human trafficking and forced prostitution.