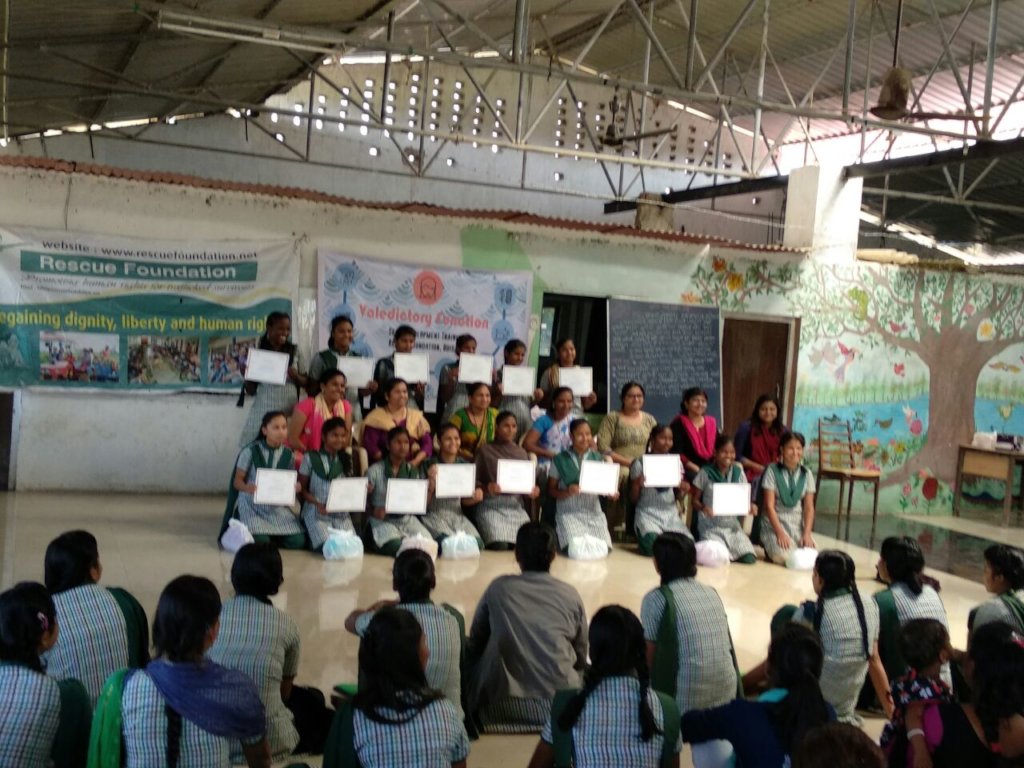 She makes the world bright, but still struggles to see light.
Rescue foundation was established to accelerate the progress on meeting needs of survivors. While rehabilitation we stand behind survivors equal participation in all aspects of their lives, focusing on five priority areas: enhance knowledge by providing formal and informal education, help them to upgrade their healthy, increase strength to face the world with legal aid program, self-realization and actualization by counseling and build a new confidence and economically sustainability by vocational training and providing jobs.
Our three protective homes is an actual home for them where they grow, achieve energy and strength to cope and face with the world. We not only help them to learn how to face and fight under critical circumstances but also we they learn how to nurture own self and live in harmony hence after.
Besides Challenge of identification of our investigators in the brothel or Attacks of perpetrators on us, we are still optimistic toward any risk to save innocent lives from the clutches of evil. It also strengthen us to develop more and more effective strategies to attain our goal of rendering humanitarian lives to more and more girls and help them regain their human rights.
With best regards,
Triveni Acharya
President, Rescue Foundation
Mission: to prevent and protect children and young adults from trafficking for sexual exploitation, our mission is to reinstate human rights to victims of human trafficking, trafficked from Bangladesh, Nepal and India who are sexually abused and are sold for forced prostitution.
Project Description
Rescue, Rehabilitation and Repatriation of victim girls/women/children of Human Trafficking who are sold for forced prostitution.
Regular Activities
Investigation and Identification.
Rescue.
Rehabilitation.
Health care.
Legal aid.
Vocational training.
Psycho-social training.
Repatriation.
Staff
Currently Rescue Foundation has a Staff of about 87 members, including the president, a Project Executive, Advocates, Probation Officers, Counselors, Doctors and other administrative staff.
Beneficiaries
The beneficiaries are girls /women /children who are victims of Human Trafficking and are sold for forced prostitution. They have lost all faith on mankind due to the physical & mental Torture in the Brothels as well as intricate brain wash. They are underprivileged and most of them are illiterate.
Statistics from 1st February 2018 to 7th May 2018:
Number of Investigations: 53
Number of Rescue Raids: 05
Number of Rescued Girls: 17
Admitted to our Three Home (includes victim transferred from government homes / or by police): 56+3 (child)
Repatriation of Victims (handover to Parents or Native Ngo): 96 +7 (Child)
Total Number of Girls Provided with Medical treatment/Checkups:
General Checkup : 56
T. B Checkup : 04
S.T.I (sexually transmitted Infection) : 03
H.I.V : 01
Hospital Visit : 51
Total no. of girls provided Vocational Training are as under:
Informal Education :18
Yoga class : 55
Craft & Painting : 18
Tailoring class : 17
Beauty Parlor : 16
Computer class : 10
A second Batch of 3 month Life Skill Training Program is being conducted for the 47 girls at Pune Shelter Home by conducted by our Partner NGo. Topics such as Self Awareness, Effective Communication, Problem Solving, Decision Making, Stress Management & Emotional Management, Empathy, Interpersonal relationship, Creative Thinking, Goal setting, Critical thinking, Negotiation Skills, Personal Care(hygiene, nutrition), Financial Awareness, and Women's Rights
National Skill Development Corporation of India had conducted a 12 month Skills Training Program for 21 Girls from Boisar Shelter Home. Daily sessions on Retail Sales Execution Course, Basic English Speaking, Reading, Writing, Behavior and Appearances of Girls were conducted for 21 Girls. In the month of February these 21 Girls received their Certificates of Course Completion in a Valedictory Ceremony felicitating them for their attendance and efforts at learning these skills. The follow up plan is that the organizers would enable these girls to be employed once they complete 18 years of age. Girls who would be released or repatriated if in future will also be followed up to enable them to engage in appropriate job placements.
ART of Living Workshop Kandivili: 3-Days Self Development workshop organized for 36 girls from Kandivili Shelter. In collaboration with Art of Living Foundation. Starting from 19th Feb to 21st Feb 2018. It was a time of meditation, relaxation and introspection for the girls who attend. Rescue Foundation believes in responding to the spiritual, emotional, and mental needs of the girls along with caring for their physical day to day needs.
International Women's Day 2018 was observed as in the past at all the Shelter Homes. All our girls and women who have been a part of our rehabilitation program are fully aware and empowered to know their rights and take decisions that matter to them. We are grateful for our partners who come along and celebrate this Day reiterating the importance, marking this day with awareness on issues such as Women's Rights, and supporting us with opportunities for their Livelihoods.
Beauty Parlor Classes at Kandivili Home: Final examination of the Kandivili Beauty Parlor Classes was held in month of March. Total of 16 girls participated in this batch gave their examination and 11 girls passed the examination. We ensure that quality education and training is imparted to girls. An assessment or examination also determines the level of their skills they have acquired for the future.
Repatriation: 2 Girls were repatriated to Nepal after nearly 4 months of struggle with the Child Welfare Committee in Delhi. They were handed over to our cross border partners Maiti Nepal. We were also able to repatriation of 2 Uzbekistan Girls from Pune. Girls sent back to Tashkent. We are proud of our Team along and cross border Partners who facilitated the Repatriation of 15 Girls and 1 child to Bangladesh. It gladdens our hearts to see such dedication from both the countries in enabling the survivors reach their homes and chart their future successfully.
Excelling at Studies All our School going girls in Mumbai Kandivili Shelter passed out in flying colors from their respective classes. It gives us extreme joy to see their happy faces getting prepared for future life. 11 of our school going girls and 4 college going girls at Kandivili completed their successfully their academic year in April.
Accessing Government Compensation: We have been able to access the government of Maharashtra"s financial compensation scheme namely Manodhairya for many of our Minor Girls who have been aped over the years. This month one our Minors who had applied received her compensation and the amount was credited to her bank account.
Recommendations
We shall also appreciate your recommending Rescue Foundation to other donors in U.S.A and abroad to strengthen our fund raising efforts.
We request that you kindly visit us. Your visit will enable you to assess our Progress first hand and visualize the opportunities Rescue Foundation has for achieving an enviable position in the field of anti-human trafficking and forced prostitution.