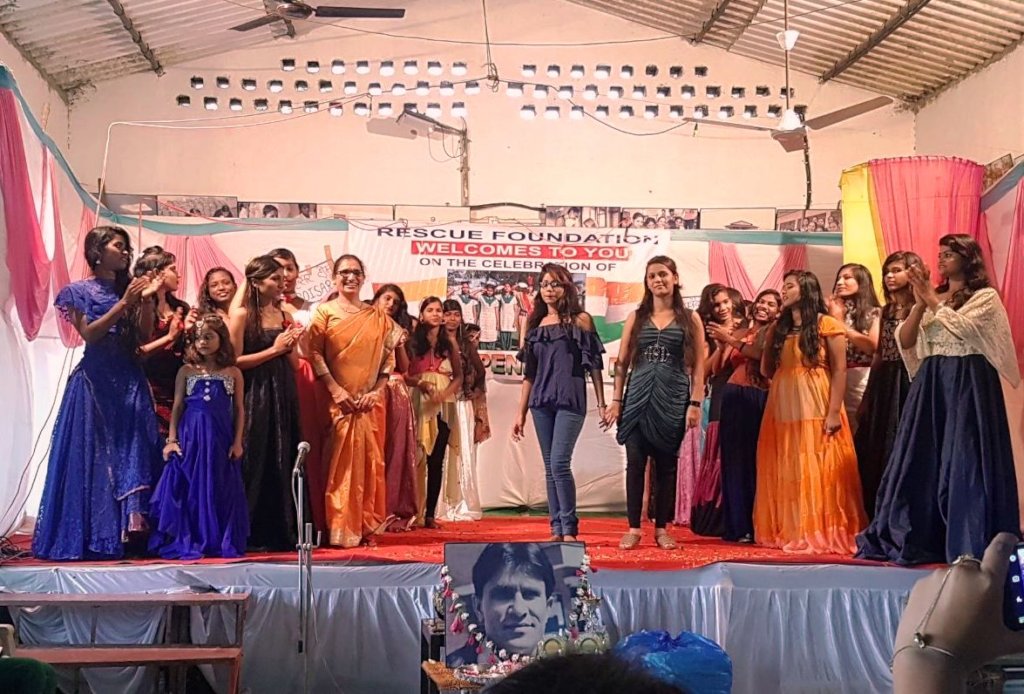 She makes the world bright, but still struggles to see light.
Rescue foundation was established to accelerate the progress on meeting needs of survivors. While rehabilitation we stand behind survivors equal participation in all aspects of their lives, focusing on five priority areas: enhance knowledge by providing formal and informal education, help them to upgrade their healthy, increase strength to face the world with legal aid program, self-realization and actualization by counseling and build a new confidence and economically sustainability by vocational training and providing jobs.
Our three protective homes is an actual home for them where they grow, achieve energy and strength to cope and face with the world. We not only help them to learn how to face and fight under critical circumstances but also we they learn how to nurture own self and live in harmony hence after.
Besides Challenge of identification of our investigators in the brothel or Attacks of perpetrators on us, we are still optimistic toward any risk to save innocent lives from the clutches of evil. It also strengthen us to develop more and more effective strategies to attain our goal of rendering humanitarian lives to more and more girls and help them regain their human rights.
With best regards,
Triveni Acharya
President, Rescue Foundation
Mission: to prevent and protect children and young adults from trafficking for sexual exploitation, our mission is to reinstate human rights to victims of human trafficking, trafficked from Bangladesh, Nepal and India who are sexually abused and are sold for forced prostitution.
Project Description
Rescue, Rehabilitation and Repatriation of victim girls/women/children of Human Trafficking who are sold for forced prostitution.
Regular Activities
Investigation and Identification.
Rescue.
Rehabilitation.
Health care.
Legal aid.
Vocational training.
Psycho-social training.
Repatriation.
Staff
Currently Rescue Foundation has a Staff of about 86 members, including the president, a Project Executive, Advocates, Probation Officers, Counselors, Doctors and other administrative staff.
Beneficiaries
The beneficiaries are girls /women /children who are victims of Human Trafficking and are sold for forced prostitution. They have lost all faith on mankind due to the physical & mental Torture in the Brothels as well as intricate brain wash. They are underprivileged and most of them are illiterate.
Statistics from 1st November 2017 to 31st January 2018:
Number of Investigations: 34
Number of Rescue Raids: 05
Number of Rescued Girls: 26
Admitted to our Three Home (includes victim transferred from government homes / or by police): 93+1 (child)
Repatriation of Victims (handover to Parents or Native Ngo): 64 +2 (Child)
Total Number of Girls Provided with Medical treatment/Checkups:
General Check up : 71
T. B Check up : 03
S.T.I (sexually transmitted Infection) : 06
H.I.V : 02
Hospital Visit : 39
Total no. of girls provided Vocational Training are as under:
Informal Education :16
Yoga class : 76
Craft & Painting : 13
Tailoring class : 11
Beauty Parlor : 15
Computer class : 10
Achievements:
Christmas is the most important festival of the Christians. Christmas is same for our Survivor girls what Diwali is for the Hindus' Idd for Muslims. It is celebrated on the 25th December every year with great pomp and show. Volunteers from our Partner organisation played with the girls & children, gave them presents, and set up Musical Show for entertainment, special lunch & Christmas decorations, around the floor.
This month 4 girls successfully completed their advanced training with an A grade on their certificates Chaim Foundation organized the training. The tailoring course prepared them in advanced stitching skills where they made complete dresses. They also received stipend during this 6 months skill training program.
An HIV awareness, counseling and testing camp was organized at Manor Primary Health Center on 15th Jan 2018 for 90 of our girls from Boisar Shelter Home. Two of the 90 girls tested were found to be positive for HIV infection. One of the girls is already released but the other girl was taken to Thane Civil Hospital a government Hospital to start her ART treatment.
One Medical Camp was conducted at Kandivali Shelter Home for diagnosis and treatment of skin infections among the girls. Rescue Foundation had approached few doctors who volunteered to conduct this camp. Total of 77 girls were tested and some of them treated for infections.
The Mumbai shelter home celebrated for the first time on 26th January our Republic Day with hoisting the flag and a dance performance by some of our girls and a speech . On 26th of January, at Friday 2018, India celebrated its 69th Republic Day. Each year the country celebrates this day with great pride. This year we celebrated the Republic Day at each of our 4 Shelter Homes. At Boisar Shelter Home the flag hoisting was done by a Police Inspector from Manor Police station. The guests and our President gave encouraging messages to the girls during their speech.
Our dream of opening a new shelter home at last came true. A gigantic and beautiful shelter home of Rescue Foundation was inaugurated in Kahjhawala, Delhi on 31st December 2017, which consisted of all the modern amenities and the facilities for the survivors who are rescued and rehabilitated. It's been our dream to rehabilitate girls rescued in and around Delhi and the Northern States of India into better facilities which were sorely lacking. We are so grateful to our donors who made this dream come true. We hope to be able to rescue and serve many more lives with the setting up of our Delhi Shelter Home.
Recommendations
We shall also appreciate your recommending Rescue Foundation to other donors in U.S.A and abroad to strengthen our fund raising efforts.
We request that you kindly visit us. Your visit will enable you to assess our Progress first hand and visualize the opportunities Rescue Foundation has for achieving an enviable position in the field of anti human trafficking and forced prostitution.