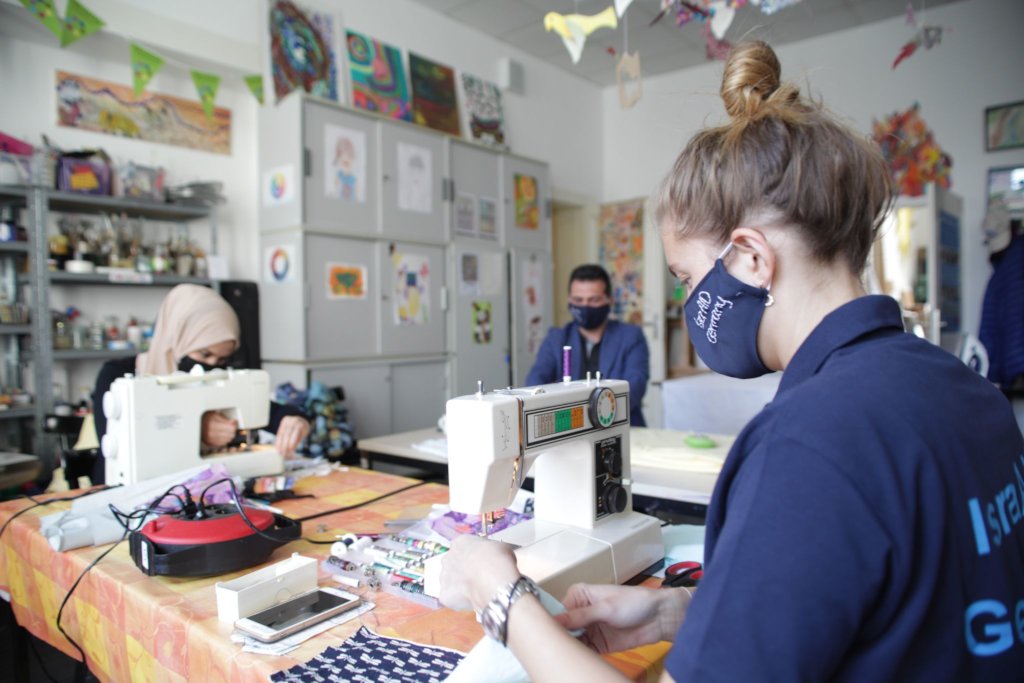 Communities around the world have been affected by the recent coronavirus pandemic, and the refugee community in Germany is no exception.
Prior to the pandemic, IsraAID Germany was operating multiple leadership groups through the Kompass program. Through these groups, members were able to create micro-communities of refugees from different countries and cultures, coming together to create a generation of refugee leaders who are engaged in the wider society and investing their future into the local communities. These groups took the lessons that they learned through their previous development sessions, to be leaders in a country-wide COVID-19 assistance project.
Members of the Kompass program have created and edited videos, which train other refugees involved with IsraAID how to create protective face masks. Following the creation of the video, work stations were put in place in Stuttgart, Berlin and Frankfurt, allowing for small teams of refugee volunteers to sew hundreds of protective face masks. These masks are being sent out to refugee shelters around the country, as well as Holocaust survivors, homeless people, and the elderly, making sure vulnerable people nationwide have access to protection. So far there have been 30 volunteers working on rotation, to ensure that we keep to social distancing guidelines. Recently the volunteers have been producing 150 masks a week, but soon this will be increased to 200. As the volunteers become more experienced and comfortable with the process, we are hoping the number of masks that the teams can produce will continue to increase steadily.
Whilst many services, shops, and community activities are temporarily shut, the IsraAID volunteers are not only able to use their time productively, but through producing the masks, they are providing access to society for so many other refugees. Masks have been made compulsory on public transport and in many stores, to help prevent the spread of COVID-19. By IsrAID's Kompass leaders providing access to masks for vulnerable people around the country, these individuals are able to enter the supermarket, attend a religious service, or take a bus to a medical appointment.
Thank you for your continued support of IsraAID.