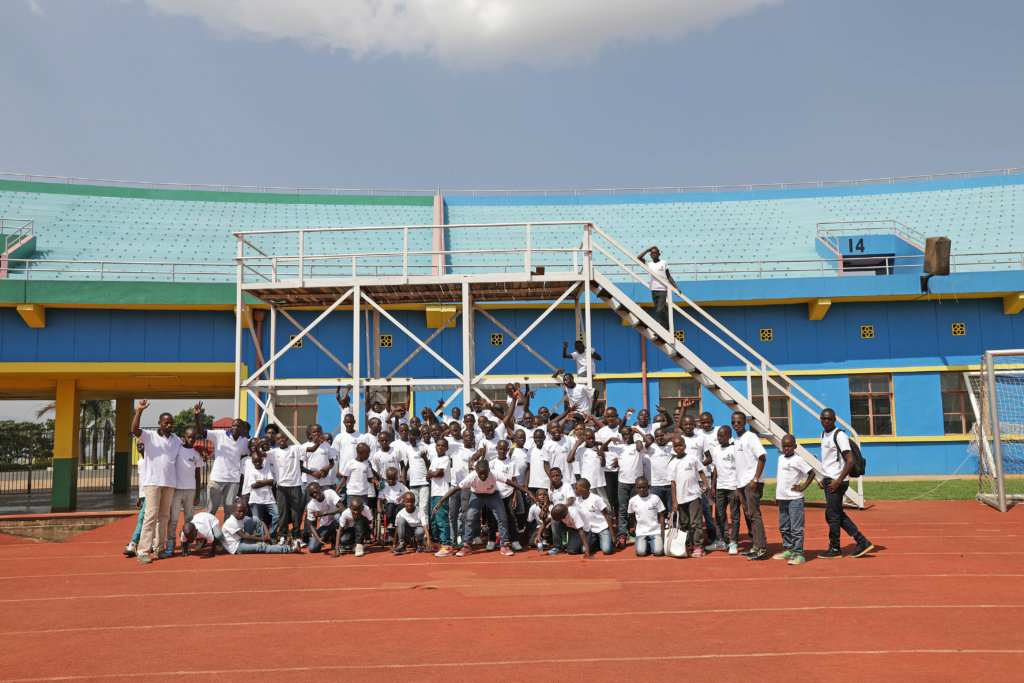 On this fourth report we will share with you the progress Les enfants de Dieu has made because of your kind Generosity in contributing in our last fundraising through GlobalGiving. We thank you very much from the bottom of our hearts. Your contribution helps us to fulfill our mission of transforming the lives of street children by meeting their basic and psycho-social needs, providing them with education and skills and then reintegrate them to become valuable members of society.
It's always a great privilege working with GlobalGiving; your support towards Les Enfants de Dieu is very much appreciated. The connection GlobalGiving created between us and the people around the world to support our cause, it install hopes in our hearts that there are still more humanitarian people in this world. With that support, we were able to rescue 27 children from street to join our program and now we have 104 children in total who are cared by Les Enfants de Dieu.
Education: in the words of one of the respected Man, Nelson Mandela said that *Education is the most powerful weapon which you can use to change the world* with your support, you give these children a chance to change their lives, communities, our country and the world by living their dreams because of your support, in this year, les enfants de Dieu were able to pay school fees and school materials for 202 children in different levels of education. We have 113 students in primary school, 72 in secondary or high school and 17 students in vocational trainings schools.
Health Care: every single child in the program (104 in Total) benefited from different practices in fighting and reducing diseases. We were able to prevent Malaria and other serious diseases on a high level rate of success by decreasing Malaria disease up to 50% comparing to last year. Les enfants de Dieu Center helped new comers to access the first pre-screening test on HIV/AIDS, and more treatments were preceded for infections such as skin diseases and worms where we reached up to 100% of all children recruited.
One of the testimony we could share to all the people who are interested and committed to support our work, It is a story of a boy called Frank, he used to take drugs (marijuana or cannabis drug) at a daily basis and become more addicted to the point he couldn't sleep without using them. He joined Les Enfants de Dieu two months ago. He spent three weeks taking drugs at the Center in night time or escapes the center to go out to find the drugs. The educators knew that he was still using drugs even when he was in the center. A counselor decided to work hard with him and help him to stop using them. At The end of the year he decided to stop using them, at that time he had some drugs in his bag. he brought himself to the counselor and confess about everything and burn them in front of people, so they can be the witness of his decision. He decided the new life of living without drugs even if it was hard for him, at the beginning he was feeling unstable or weak but after few days with a help of counselor, he become good boy and started to be involved in other hobbies like volleyball and reading books
Home affairs: We received around 27 children who were recruited in January from street and received the same facilities others (77) had. Like providing Shoes, Clothes, personal hygiene and cleanness to all children. The hygiene products are available for the refectory, dormitories, refectory and classes.
Reintegration: Our center helps children trace their families and reconcile both sides before we proceed with final reintegration. In the last 3 months children rejoined the community through that process and Receive follow-up while being sponsored for their education. The center will continually host new children as we reintegrate some into the community, which is the reason why the needs will keep increasing.
As we have received funding for 33% of the budget requested through global giving specifically on this project we are reporting on for covering the needs of the children, we still aim at raising the rest of this budget always relying on your huge heart and a helping hand.
With the laughter and joy your support produced, hope and Dreams you all created in our center… we Thank you from the bottom of our hearts!!!
We are looking forward to keep you posted on our ongoing activities.
Hazabintwali Charles
Executive Director