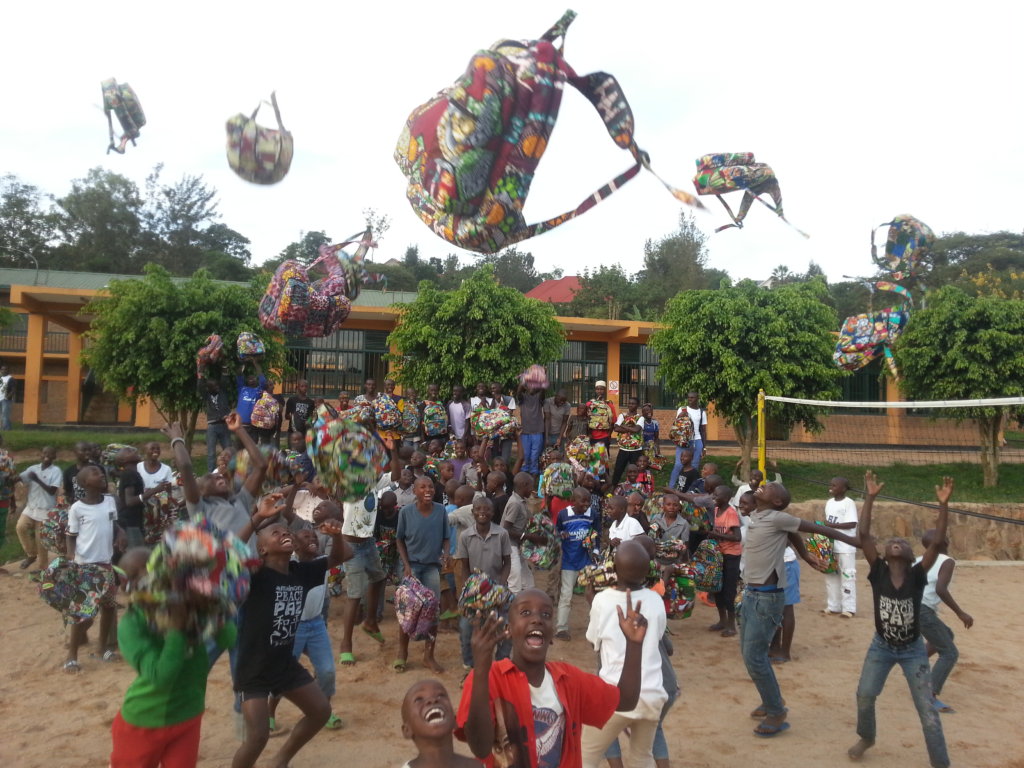 On our sixth report on Rehabilitation of 100 former street children, allow us to take you through our journey for the past 3 months in changing the lives of the former street children by meeting their basic needs and psycho-social needs and providing them with education and skills so that we can reintegrate them back in their families and become valuable members of society. we couldn't do this alone. your financial contribution played a big role in this restoring hope journey.
For the Love and support GlobalGiving Team, keep showing Les Enfants de Dieu Centre, The kids and staff of Les Enfants de Dieu can't thank you enough, For the connection you created between Les Enfants de Dieu and the humanitarians around the world in order to fund our projects expenses. As we stated on the last report that we were planning to rescue other kids on that friday May 5th 2017, we did rescue 16 kids from the street to join our program. And we reintegrated 25 kids back in their families from the month of may till today Thanks to your support and Love. at the moment, In Les Enfants de Dieu we have a total of 103 boys who are being taken care of.
Education: as Aristotle once said that: *The roots of education is bitter but the fruit is sweet* when you support these kids dreams of going to school, you become a ladder for them to harvest those sweet fruits for their future. There is no change in numbers from the last report we gave you, The number of kids we are paying for school fees is still 202 in Total in which we have 113 children in Primary school, 72 children in High school and 17 students in vocational trainings schools. And in General, They all did well in their second term
Health Care: every single child in the program benefited from different practices in fighting and reducing diseases. We were able to prevent Malaria and other serious diseases on a high level rate of success by decreasing Malaria disease up to 50% comparing to last year. Les enfants de Dieu Center helped new comers to access the first pre-screening test on HIV/AIDS, and more treatments were preceded for infections such as skin diseases and worms where we reached up to 100% of all children rescued.
Story: A story of a boy called David, he came in our Center in January 31st 2017, from a government transit center called Gitagata, That's where Police took him when they found him on the street. He spent 4 years there. our work started when he arrived in the center, David was that lonely kid, always alone, you can easily see anger in his eyes, he never Played with others. Usually when kids arrive in our center, they are happy because they have where to sleep, play, with 3 meals a day and people who care for them but for him he didn't care, so our counselor took him in charge and gave him most of her time, the first session didn't go well cause he wasn't free, but the second session he cried and opened up a little, and said why he run away from his family, he said that his stepfather used to beat him very often and one day he decided to go searching for his grandma and that's when the Police Caught him, he was only 9 years old. He couldn't explain himself, The reason behind his anger, loneliness is the fact that he didn't see his family for the past 4 years, our counselor asked him to gather enough information that can help social workers find his family, David made drawings about his siblings and Parents, on top of his drawings it was written, I MISS MY FAMILLY SOO MUCH!!! When they asked him the address of where he lived so that they can go to visit his family, he couldn't remember well, so he gave 3 addresses which are not even close from each other because a 9 years old who left his family 4 years ago, it's very possible that he couldn't remember it well. They visit all the places and he couldn't recognize those places, meanwhile we kept on searching for his family through social medias but nothing for more than 5 months, until they made another visit on 6th june this year and he remembered that place, but his family wasn't there. They were renting and they moved to another place which wasn't close to that place. And no one knew where they went, the social worker left his number in that neighbourhood so that they can call if there is something, and David was now smilling with hope that there is a small chance that he can be reunited with his family, David started Playing with other kids, after 5 months in our center, it was my first time to see his teeth! After one week of that visit his family called in our center and come to visit him. Below there is a picture of him and his mother, stepfather and his young bro whom he saw for the first time. Now David is being prepared for Reintegration
Home affairs: on the 5th of May this year, We were able to rescue 16 children from the street and they received the same facilities like the ones they found in the center. we provided Shoes to them, Clothes, personal hygiene and cleanness to all children. The hygiene products are available for the refectory, dormitories and classes.
Reintegration: Our center helps children to trace their families and reconcile both sides before we proceed with final reintegration. In the last 3 months children rejoined the community through that process and Receive follow-up while being sponsored for their education. The center will continue to host new children as we reintegrate others into the community, which is the reason why needs will keep increasing.
As we have received 38% funding for the budget requested through global giving specifically on this project, we are reporting on to cover the needs of the children, we still aim at raising the rest of this budget. We are always relying on your huge heart and a helping hand.
True story; It's very rare to see the tears of a man in Rwanda, when a Man cry in Public, he is Perceived as weak, not man enough, flagile… all kinds but we have witnessed men crying after seeing the change of their boys with a promising future, you may not understand the impact your money make but if it can make a grown man loose control of his feelings and tear up in public because of the work we do that you support!!! It means something big… so, on behalf of the Parents that got a chance to receive their kids changed and also kids who passed through this program and those who are still in this program that you support, We can't Thank you enough! Thank you THANK YOU!!!
We are looking forward to keep you posted on our ongoing activities.