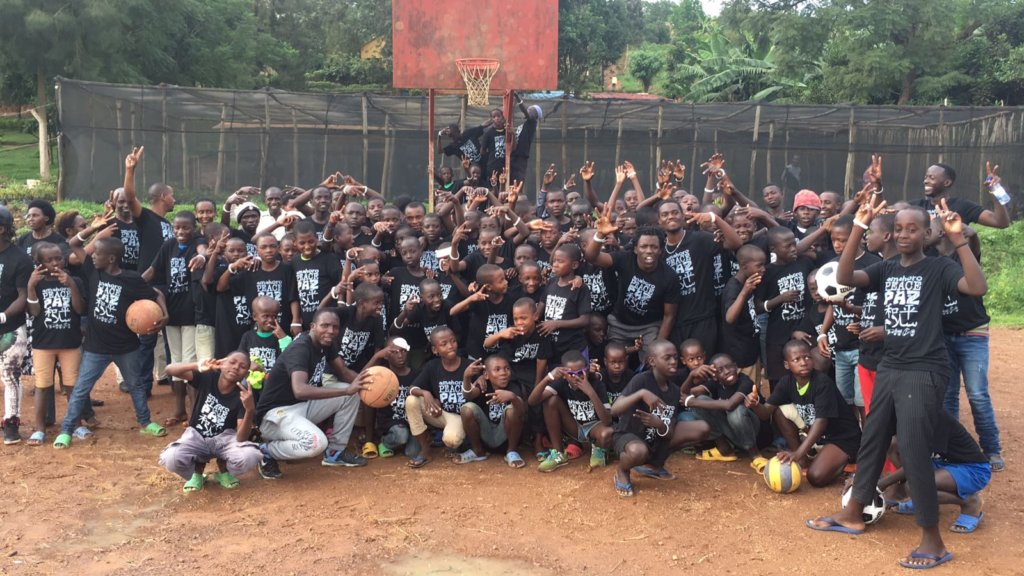 On our fifth report on Rehabilitation of 100 former street children, we will walk you through our journey in the last 3 months in changing the lives of these former street children by meeting their basic needs and psycho-social needs and providing them with education and skills so that we can reintegrate them back in their families and become valuable members of society. we couldn't do this alone. your financial contribution played a big role in this restoring hope journey. We are so grateful
To the GlobalGiving Team, Les Enfants de Dieu can't thank you enough for the support you keep giving us, The connection GlobalGiving Team created between Les Enfants de Dieu and the humanitarians around the world in order to fund our projects means a lot. Blessings all over you. in the middle of February, we were able to rescue 29 children from the street to join our program and Les Enfants de Dieu reintegrated 18 children back to their families in the past 2 months Thanks to you! now we have the Total of 94 children who are cared by Les Enfants de Dieu and on this Friday Les Enfants de Dieu is planning to rescue other kids from the streets.
Education: if I may Quote Malcolm x who once said that *Education is the passport to the future, for tomorrow belongs to those who prepare for it today* when you fund this project, you give a chance to brighten up the future of these children and change their lives through Education and stop being a burden to their families, community and also to our country. with your support, we were able to pay school fees and school materials for 202 children in different levels of education. We have 113 students in primary school, 72 in secondary or high school and 17 students in vocational trainings schools. And the highest percentage did well in class for the first term
Health Care: every single child in the program benefited from different practices in fighting and reducing diseases. We were able to prevent Malaria and other serious diseases on a high level rate of success by decreasing Malaria disease up to 50% comparing to last year. Les enfants de Dieu Center helped new comers to access the first pre-screening test on HIV/AIDS, and more treatments were preceded for infections such as skin diseases and worms where we reached up to 100% of all children rescued.
Story: One of the testimony we could share with you all who are committed to support our work, is a young boy called Eric who is 15 years old now whom we rescued from the street and when we asked him why he went to the street? in his words he said: *I don't have anywhere else to go. I witnessed My dad killing my mum! My dad is in jail now* we were all shocked! The story is shocking! Very shocking even!!! Then imagine a 13 years old witnessing such a horror act? But what shock and worried us the most… is the way he was telling the story, it didn't come from the heart! He didn't shade a single tear as if it was a normal thing to witness. which explains his stubbornness. he didn't want to stay at the center, he didn't want to be helped, he hated life, he had no hope for the future. all he wanted was to revenge to his dad. He had so much anger, you can never see him smiling, always alone. what our counselor and social workers did was to make him stable first and then they started to work on his anger management by convincing him that revenge doesn't solve problems or bring back his mum to life. And tried to explain to him that what he witness is a horror act and finally he was able to cry. It made him feel a bit better and since then he has started to understand what happened. its an ongoing case, which we are all trying to fill the hole in his heart caused by his dad by trying to be his family and now I can assure you that Eric is a changed boy who likes to study and now he smiles at everyone, he plays with other children and he loves the center because to him its now his home and he has started to appreciate life and his hope for the future has increased.
Home affairs: We have rescued 29 children from the street in the middle of February and they have received the same facilities like the ones they found in the center. we provide Shoes, Clothes, personal hygiene and cleanness to all children. The hygiene products are available for the refectory, dormitories and classes.
Reintegration: Our center helps children trace their families and reconcile both sides before we proceed with final reintegration. In the last 3 months children rejoined the community through that process and Receive follow-up while being sponsored for their education. The center will continue to host new children as we reintegrate others into the community, which is the reason why needs will keep increasing.
As we have received 36% funding for the budget requested through global giving specifically on this project, we are reporting on to cover the needs of the children, we still aim at raising the rest of this budget. We are always relying on your huge heart and a helping hand.
Always remember that you are special! Yeah YOU!!! I tell you why, you are special to a kid who was on the street that you just changed his future! Bless your Heart! Thank you so much
We are looking forward to keep you posted on our ongoing activities.