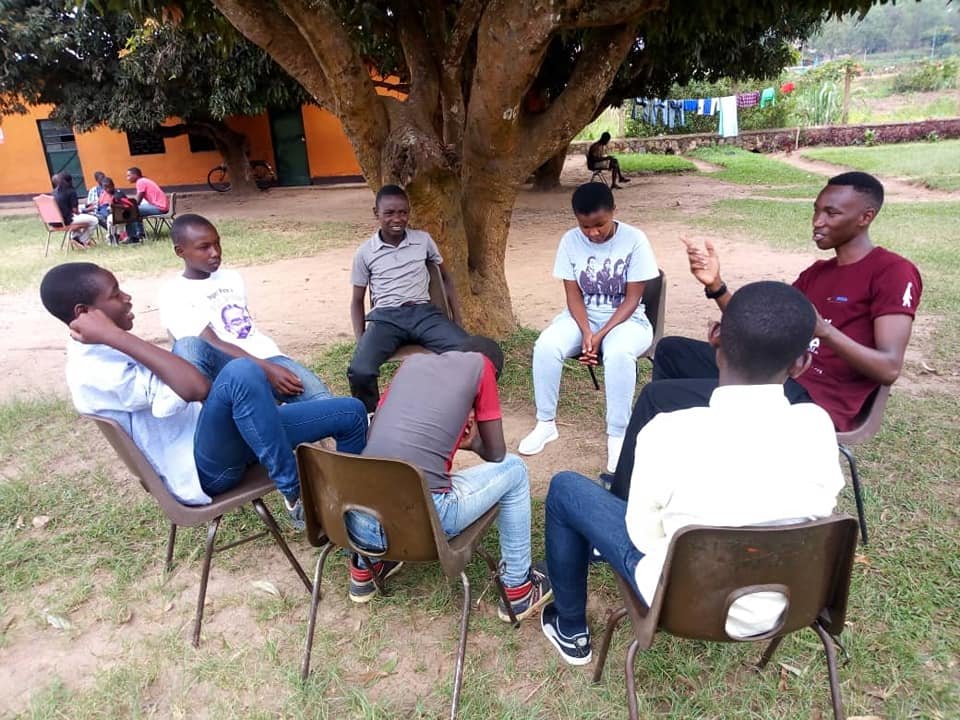 Les Enfants de Dieu (EDD) is pleased to again communicate with all of you, our partners ghrought globalgiving in this work of changing the life of street children in Rwanda into valuable members of society. We wish to update you on progress from January to March 2019 in all corners of EDD work. Les Enfants de Dieu (EDD) is always very pleased to have individuals, NGOs, cooperates who trust their work and provide their support throughout the 17 years of operation. thank so much so much globalgiving to be the chanel of all support from alover the workd . We are thankful to the paramount work we have reached together.
This 13th report serves to connect you more to the current operations so that you can still have impact into the life of street kids wherever you are on this globe. In 2018, Les Enfants de Dieu shared the design-thinking workshops conducted to learn ways EDD can continue to make impact in the life of street kids, while also aligning with public policies and changes of the country and world at large. All of those practices confirmed we are still needed to fight the street life for children in Rwanda, while also increasing more activities with parents as key factors of successful reintegration. Within three to six months, EDD will have a new curriculum that articulates these changes. Secondly we decided that we should make strong effort towards social businesses in the future by targeting to become financially independent within 5 years. We saw reliance on donations does not promise future growth, plus there has been disturbance in functionality of the center when the donors discontinue or reach maturity date of the support.
Education: Les Enfants de Dieu believes in education rehabilitation where education is considered as a key pillar in the future growth of former street kids. For those reasons, EDD is counting a high number of nearly 300 kids and youth in schools (Primary, Secondary, Vocational trainings and University) who are mostly depending on EDD budget. Because of changes made to align to policies, education remains an area of ongoing growth in numbers and budget demands in the near future. To respond to this challenge, Les Enfants de Dieu opened doors for partners where we started to discuss with Government and others on how we may form partnerships to sustain these needs for education. As we have just ended the first term of school, we will be sharing school results in our second newsletter 2019.
Health Affairs Since our last report, we have been so many efforts put in place to insure the safety and health of all children cared by the center. We are thankful that we managed to reduce malaria and reached 63% compared to the cases we had last year. We are counting 7 cases of malaria while we had 44 cases last year. Apart from malaria, our kids have been impacted with other diseases, like skin infections, flu or cold, and eye problems. In February, the center partnered with One Sights Organization to provide eye screening for all the children. It had positive results where 12 kids had small eye problems, requiring only simple medications, and one who had a serious case is now getting advanced treatment from the national eye hospital i. EDD family is heavily communicating a loss of one of our kids,, who passed away on 21 February. It is a sad story that we lost a child who came to us for life change and to become a better person. We were not able to find his family before and after his death. We thank the many people who supported him in different ways as he had special needs. Rest in peace, to our boy.
Psychological Support: This work of helping street kids includes addressing the different forms of hardship that brutalizes the kids and their families in various ways. All the work done by social workers, psychologists and the team generally concentrates on rebuilding hope into the life of kids and their families through formal and informal practices. Even though this is difficult work, we see evidence of hope being restored to kids and their families. We are expecting to work closely with parents and local leaders in the future so that we can be more effective after reintegration, as we have noticed that the parents play a significant role in effectively supporting a child. Some of the issues examined from children we have helped include trauma, panic, fear, stress, behavior problems, anger, disobedience, drug addiction, and bedwetting. These are some of the cases the team deals with daily today and we are proud to see ongoing changes.
Basic Daily Needs: The sheltered children were given clothing, three meals a day and all other material needs. We also thank the people who bring in-kind donations which make a difference. In January, we received support from one donor who helped EDD to be more environmentally-friendly by introducing a gas cooking system instead of using firewood. It is very impressive to see the multiple benefits especially on saving time, hygiene and a healthier environment. It is approximately 30% of the cost which is far less compared to benefits.
Family Visits, Reintegration and Follow up: The team concentrated on family visits where we visited 32 families for family preparation. Early in January we reintegrated 13 kids into their families, which were followed up by education reintegration. As stated before, this year we have a high number of students which takes time and cost to insure that they are all in school in different parts of country. We thank strongly the school and parents who care and update the center on students' progress.
Our financial year budget is $160,000 in 2019 where education fees and food take 60% of the total budget. EDD expects and has a promise of only 50% so far which appears discouraging. Yet, we have hope and trust in our partners who have supported us for over 17 years. We want to conclude this report by expressing our huge gratitude to all of our donors, friends, partners and globalgiving specifical in this important ongoing work of rehabilitating and reintegrating kids and youngsters back into their families, both socially and economically. We will continue updating you every three months as one way to stay in touch wherever you are in the world. Thank you again for you all the help you have given us, either in cash or in kind. It is all deeply appreciated. Please feel free to contact us at any time you. You are always very welcome and we are always happy to hear from you!