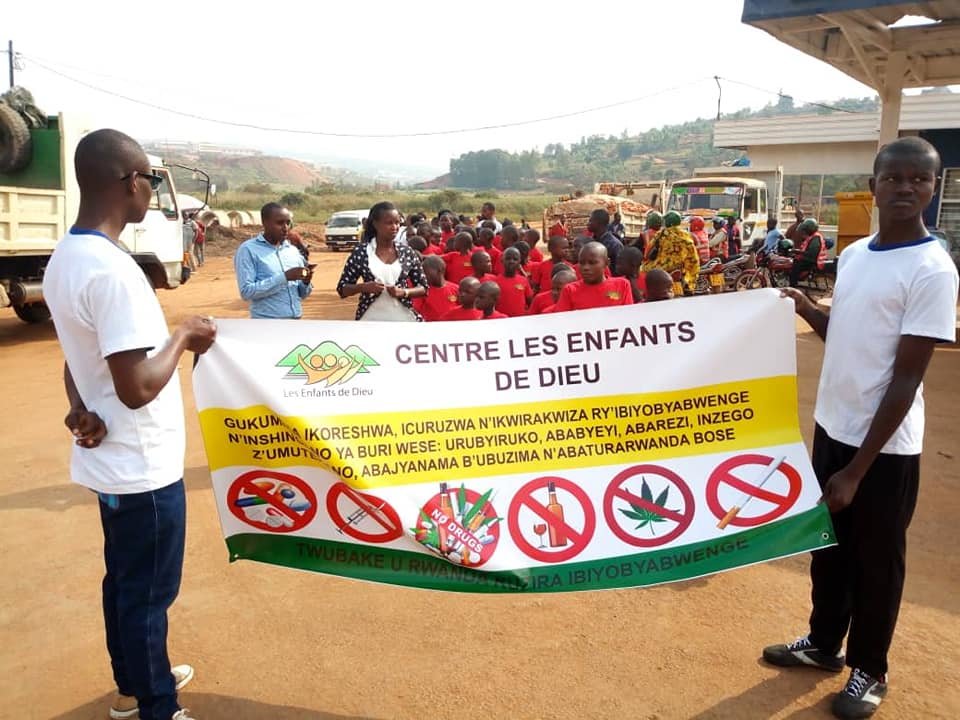 We will brief you on the process and progress of our programmes in education, health, reintegration, agriculture, etc, including the challenges and successes we have seen in past 3 months. Firstly, we thank all the people who see our challenges and commit to supporting us or advocating on our behalf in this period!
As you know from our last report, EDD has committed to make changes and develop our way of contributing to lives of street kids and their families as we continue to develop our understanding of how best we can serve street kids in the most effective ways. An extensive period of brainstorming workshops and joint reflection has concluded that we should continue helping street kids as we do and also add some important new components. We agreed to provide psychosocial support to families of children who come from the street and to provide support at the community level, in order to empower young people and youth and therefore help prevent children going onto the street. The third focus will be to work on self-funding training and social enterprise projects to support the future sustainability of EDD. We are building a three years strategic plan which will guide us into this important phase of our development. Over the next 3 years, we are going to improve and bring new energy to more effective rehabilitation where we will be considering both the children and their parents together. Other changes will be integrated according to the funding opportunities we have.
Kids participating in the community: EDD has continued to encourage the youngsters to join in community service activities, and especially Umuganda (the nationwide monthly community collaboration at village level) and other services requiring community participation. Being able to serve people who are in need, and being appreciated, gives our children a great deal of joy and satisfaction. At the end of September, EDD hosted a meeting with Ururembo Umudugugu leaders (our Village leaders) who appreciated the contribution of EDD children to Umuganda and special community services activities where they have played a significant role.
Education programme: Education is considered a pillar of the sustainable development of our children and youth. Students completed their second term in July and enjoyed 2 weeks holiday before resuming school in middle of August for the last term of the year. We are so grateful to be able to share the commitment and hard work of EDD students where a high percentage of them succeed at different levels even though they face different challenges in their studies. Students in primary level education currently accommodated at the centre succeeded with an average of 62% while reintegrated primary level students succeeded with an average attainment of 61%. Students in secondary or high school succeeded with an average of 57% and students who are in vocational training education attained 58%. The success levels are very encouraging as nearly to 90% of EDD boys are eligible to pass to the next level of their studies. While many students did well, we also experienced challenges where some children encountered difficulties in studying due to the circumstances they face in their family environment after reintegration. We are currently schooling 300 students at all levels of education (209 in Primary, 56 in Secondary, 24 in Vocational training and 11 at university). EDD paid for the school fees, school materials and transport for the youngsters from families who cannot afford them but only the registration fees for university students.
We are going to be extending our education provision to include further programmes like computer lab classes, a smart class providing digital learning, sewing classes for mature boys, more intensive use of the library to help develop a reading culture at EDD, guitar tuition, language classes,etc. This will equip the boys with different skills so that they have more choices open to them after leaving EDD. We would be delighted to partner with anyone who wants to help us improve these areas of learning while we, of course, continue to appreciate our current donors and collaborators in this field.
Health:
Good health is one of the major preoccupations of the life of the centre. We help all the children to understand disease prevention on a daily basis through good physical and environmental hygiene, and of course we buy and use all the necessary materials for disease prevention. After the concerted effort in malaria prevention reported in the last newsletter, we were able to further reduce malaria from 14 cases in last quarter to one case only within this 3rd quarter.
Also we reported three cases of serious illnesses: one a heart problem, another epilepsy and a third with significant trauma-induced mental health issues. We are delighted to inform you that all these boys are now doing very well after our significant investment of time, staff involvement and expertise, and financial outlay. EDD did awareness campaign in community July 2018 in older to fight the drugs in community and children were very excited to be part of that campaign.
Psychological support: EDD's focus within this quarter was on treating the children who joined the centre with different psychological issues. We would like to take this opportunity to thank everyone who supported us in this field as it is a sensitive area. Apart from our permanent psychologist, we appreciated the assistance of two local Rwandan volunteers and others who contributed to this work. We acknowledge the workshop provided by the Global Recovery Institute team for nearly 50 parents of children on the theme of domestic violence and their training for staff and ministers (our childrens' representatives) on self-care and anger management which helped to re-energise the team for their hard ongoing day to day work.
Basic needs of daily living: As usual EDD helped kids to get new clothes, 100 new mattresses were gifted to the centre, three meals a day were cooked and other domestic requirements were provided. Many people contributed to these things in different ways and we give our thanks for that special Layla and Anaiya who donated 100 mattresses and 104 jackets from IYF( International Youth Foundation)
Family visits and reintegration and follow up: Les Enfants de Dieu recruited 26 kids, did 25 family visits in different areas of the country and reintegrated 13 youngsters back into their families in August 2018. This all went well with the hard work and the contribution of all the kids, staff and parents involved. We have been held back in this work since the beginning of September because the EDD car is not in good condition and time has been lost waiting for it to be repaired and to get this year's permit to get it back on the road. We continue to hope for a solution to this ongoing obstacle and meanwhile we do our best to continue the work as we are approaching the end of year when we usually do a large number of reintegrations.
After reintegration, EDD helps the Alumni who have finished their studies with job seeking and guidance in how to start their own business. In this quarter we hosted three trainings: the first one was of interest to the Alumni network in relation to creating a cooperative business which could benefit several former EDD kids. This was provided by the Market Project who have promised to collaborate with EDD in any business plan which could employ our beneficiaries. Secondly EDD hosted a training provided by Business Development Funds (BDF), which informed our Alumni about the different ways in which young people can be eligible for a loan from BDF to help them start up a business. The last workshop was a painting and decorating training provided by Angels Paintersfrom the UK which equipped 12 of our Alumni with marketable skills.
Talents - sport, games, culture, arts and dance activities:
The extra-curricular and sports activities offered at EDD, including basketball, football, arts and handicrafts, traditional dance, break dancing, etc, all help to develop the children's skills and talents while also contributing to their mindset, building their strengths and life skills (discipline, co-ordination, team working, imagination etc) before they go back into their families. Each skill or activity has its own benefit in the lives of the children and we thank all the different supporters who have put time and energy into making these programmes go so well. It is amazing to see how skillful the kids are as well as a pleasure to see how much they enjoy these activities! In this period Pervez and Kate managed to come to Kigali and teach and perform live break dance with the EDD boys which was great fun for everyone!
One boy's story:
Here is the story of one of our boys, transcribed from his own words: I am Simeon, Artist and soon to be a student at the National University of Rwanda from October 2018. I was born in 1997, and I am not sure when my mum passed way but I was told it was when I was one year old. Our father remarried immediately and we were left alone as 6 brothers and sisters. Life was very hard and I started to experience street life when I was very young near to our home. After some time I came to Kigali but I have no idea exactly when that was. I think that I left the street around 2005 and joined a family in Kigali who gave me a job as a house boy even though I was so young. They didn't pay me but at least they gave me food and somewhere to live. After some time, I again rejoined life on the street at Gisimenti (Kigali) where a centre called Hope for Future recruited us and took us in and I started school again. I was mature and joined Primary 5 even though I didn't study P4. In 2011 the centre was not able to continue and so I was brought into Les Enfants de Dieu by Government leaders, where I continued in Primary 6. It was good to have a place which supported me but sometimes I considered running away because other children were calling me and advising me to go back to our closed centre. Because of being unstable I failed the National Exam and joined twelve years basic education. After that I started to work hard and started to get great results. EDD educators helped to find a boarding school when I was in Secondary S3 and I succeeded the National Exam in that year. After that high school upper level S4 went well and I studied geography, history and economics. I did well and the school noticed my hard work and I became eligible to be sponsored by the First Lady's Foundation (Imbuto Foundation). Whatsmore, with the further support of EDD, I was reintegrated in 2015 into my sister's family. After being reintegrated, EDD started offering Art classes in 2015 and called me to join the art programme specifically in the school holidays. I learned fast and started to make money out of my arts and became able to meet my own additional needs.
Art is my hobby and I also do it as a source of income. I plan to do art for the rest of my life in addition to the other studies I will be doing in university. I thank les Enfants de Dieu so much and I am planning to find ways of repaying the Centre for what they have done for me and passing on my skills to other children at Les Enfants de Dieu.
Our sustainability projects:
Previously we have had agriculture and arts as our sources of self-generated income, reaching 7% of our general annual budget. EDD is now planning to seriously develop this area of activity. There are many things that we can do to take this to the next level in the future, and our goal is to be able to raise 50% from our own activities within three years. Please do share any ideas that you may have to help us to reach this self-sustainability target.
As the EDD project is listed on Global Giving, we thank specifically to all the people who supported in this period as recurring donations or one time donations and much appreciated.
We want to conclude this newsletter by expressing our huge gratitude to all of our donors, friends and partners in this important ongoing work of rehabilitating and reintegrating kids and youngsters back into their families, both socially and economically. From now onwards, we will continue updating you every three months as one way to stay in touch wherever you are on the world. Thank you again for your all the help you have given us, be it material or in kind - it is all deeply appreciated. And please feel free to live a comment on our report so that we can continue to learn from all of you – you are always very welcome and we are always happy to hear from you!