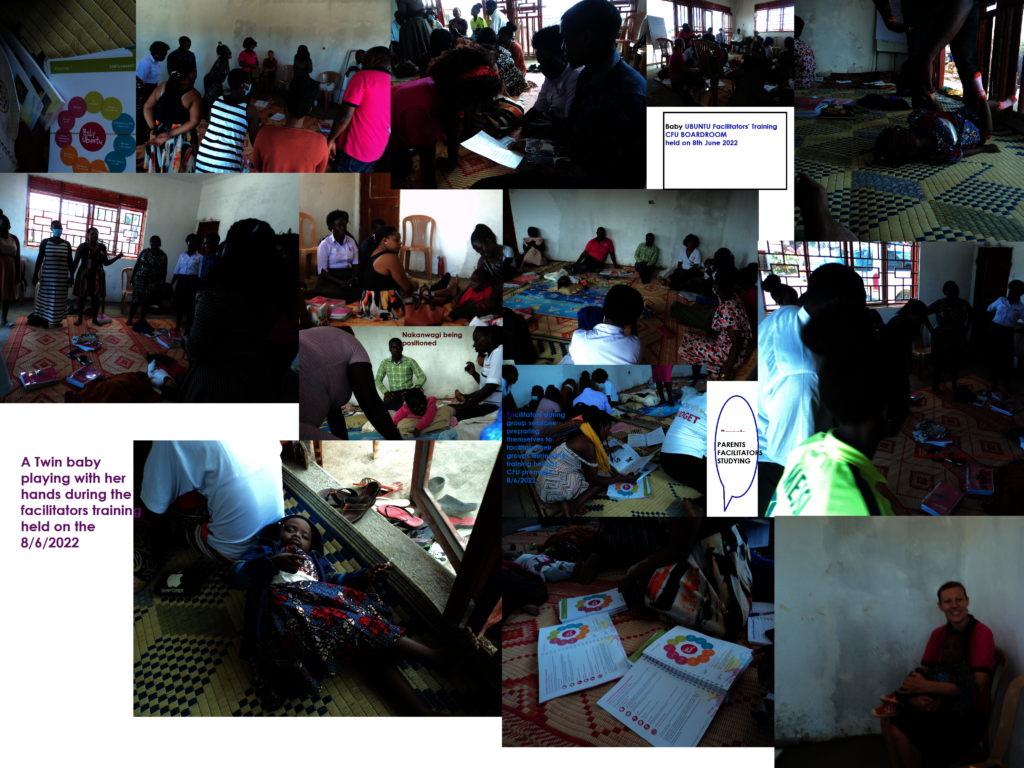 Child and Family Foundation in partnership with baby Ubuntu conducted five days of training on cerebral palsy targeting Caregivers, Village health teams, community leaders, and staff. The training commenced on the 6th of June and ended on the 10th of June, in attendance were 19 participants (14F/5M) conducted in CFU space. The training was fully officiated by the Ubuntu coordinator Racheal with a remarkable opening to the participants majorly giving a brief background of how Ubuntu evolved and why this training. During the training, the standard definition of early childhood intervention was disseminated to mean a process of providing specialist interventions and support services early in life after the onset of identifying a problem. It was shared that the first year of a cerebral palsy-affected child was a very sensitive development period for motor, skills, communication, and self-care. Due to early brain injury, we were advised to give timely support to the child and family immediately after identification in form of family support, counseling, therapy, positioning, feeding along with several other anticipated unknown challenges of childhood disability.
The major aim of this program training was to supplement the getting to know the cerebral palsy program to include children as young as 6 months. Through earlier interventions designed to enhance a child's development in the first few years after birth, we had greater opportunities to positively influence the caregiving environment and participation of the child's participation of the child in the family and community life as well as limit developmental and cognitive imparities.
Training content/modules
During the training, several modules were disseminated including Getting started (About the program, Running session, Conducting a home visit), Know your child, Positioning and carrying, Eating and drinking, Learning to move, Communicating, Play and stimulation, Everyday activities, Togetherness and belonging Our community.
Aims/Objectives of conducting the training
To increase the knowledge and confidence of caregivers regarding their children's condition and their needs
To encourage positive attitudes toward having a child with a disability within the family
To improve problem-solving and peer support amongst caregivers
To promote the inclusion of children within the family and community
To equip participants with skills to care for their children and promote optimum development and reduce further disability eg contracture, limb, deformities
To enable early identification and management of malnutrition
To support parents in identifying common health problems seizures and pain and assist them to treat them quickly.
The training approach Used for the training
Participatory approach
Specialized trainers from Baby Ubuntu
Training facilitator manuals
Case studies
Best practices as shared by caregivers and parents
Training Reflection
What went well during the training?
The togetherness of all participants (medical, program. caretakers VHT)
The participatory approach of the training
Use of sieve as a food preparation process for CP affected children's feeding
Ice breakers were brilliant
Being invited to attain the training was appreciated by the participants
Feeding training sessions
Encouragement and hope attained as training progressed showed caregiver had support and were not alone
Use of locally available materials to create play toys and role play
Feed backing session was very educative
Roll play despite differences in work and roles
Hands-on especially on the positioning of Cerebral palsy children
What did not go well during the training?/Challenges
Poor time management by participants
Language barriers especially when it came to role play
Luganda manuals in Luganda challenging for caregivers to read as much as they spoke and understood Luganda.
First-time use of kits for some caregivers to use during training
Inability to read for some of the community members or caregivers
Evaluation forms were challenging to answer and conceptualize
Module two is very challenging and the need or emphasis for further training on it specifically
Best practices shared and learned during training
Learned better ways of working with children living with Cerebral Palsy children
Learned better ways to handle stigma and fear of children living with Cerebral Palsy.
Learnt child protection guidelines specifically for children living with cerebral palsy
Attained positioning techniques for handling and caring for children with cerebral palsy
Practicing patient handling children with cerebral palsy
Attained skills in feeding and supporting techniques
Attained skill in capacitating communities to fight stigma
Created a team to support and handle cerebral palsy in the communities
Recommended applicable ways to implement the CP project
Use empowerment process where we build capacities of communities and caretakers for sustainability and continuity of the project.
Keep focused on children and families specifically leaving with the condition while using targeted needs-based assistance.
As an implementing organization takes positive and negative criticism as a learning and stepping stone to the growth of the project.
Staff attaining skills in basic counseling that are key in working and handling beneficiaries living and those affected by the condition.
Use of locally available materials that are readily available to implement cerebral palsy programming and create play materials for children
Pictorial representation of activity training conducted photos @ Dr harriet#.
All participants were given knowledge and guidance on how to use the training guide in relation to the attached training aid. We were also enlightened on the age bracket under consideration by Ubuntu which was 4 years below but still guidance was given that there was another packed program for children between 5 to17 years. Activities geared towards developmental milestones were disseminated. Pretest and posttest were taken and results are yet to be shared by the Ubuntu Team. Tips and resources were shared plus at the end of the training, we perused through what seemed to be working well, challenges that in turn would be used for building plans for monitoring and evaluation.