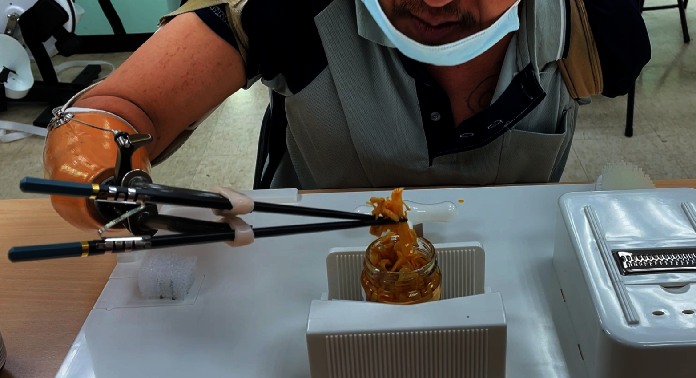 What do our therapists do when a burn survivor comes up and say: "I have a new challenge for you!" They say: "Bring it on!" because they know this means our burn survivor is motivated to get better and our therapists will do all that is possible to support their efforts.
One morning at our Taipei Rehabilitation Center, burn survivor A-Hsi came up to our occupational therapist Ching-Yuan with a challenge: to be able to open canned food and eat with chopsticks. This may sound like a normal step in the process of post-burn rehabilitation, but in the case of A-Hsi, the challenge comes from the fact that he is a bilateral amputee.
In 2021, A-Hsi sustained electrical burns over 25% of his body, resulting in the amputation below elbow of his right arm and amputation above elbow of his left arm. He has been fitted with a prosthetic right arm and although he is now training on how to use it, he still faces limitations in performing activities of daily living requiring fine motor skills. But A-Hsi has never given up and with each progress or breakthrough that he makes, he constantly strives to move forward, coming up with new challenges for himself and for his therapist.
To help A-Hsi achieve his goal of eating with chopsticks, our therapist thought of using special assistive device chopsticks and adding thermoplastic loops to fit the chopsticks on the hooks of the prosthetic arm. She then remembered seeing online some special tools to help people with poor hand functions open cans. They exchanged ideas, looked up information online and just like that, she and A-Hsi came up with a plan that brought him one step closer to functional independence.
Of his therapist, A-Hsi said: "There isn't a problem she hasn't been able to solve, so I'm now thinking of the next challenge we can overcome together."
Of A-Hsi, his therapists said: "By constantly coming up with new ideas and challenges, he motivates us to discover many new possibilities that we would never have thought about. The breakthroughs or innovations that we come up for him will definitely serve other burn survivors in the future."
Your donations are what allow burn survivors to look forward toward their future, and it's what allows us to accompanying them in this process and make their hopes a reality.
GlobalGiving's Bous Day will be held on July 20, 2022. During this event, $400,000 will be available in Matching Funds. While fund remains, your donation of up to $1,000 (per unique donor per organization) can be matched as follows:
30% match on donations from $100 - $499 (while funds remain)
40% match on donations from $500 - $749 (while funds remain)
50% match on donations from $750 - $1,000 (while funds remain)
We invite you to mark the date on your calendar and be sure to support us on that special to make your donation go even further!