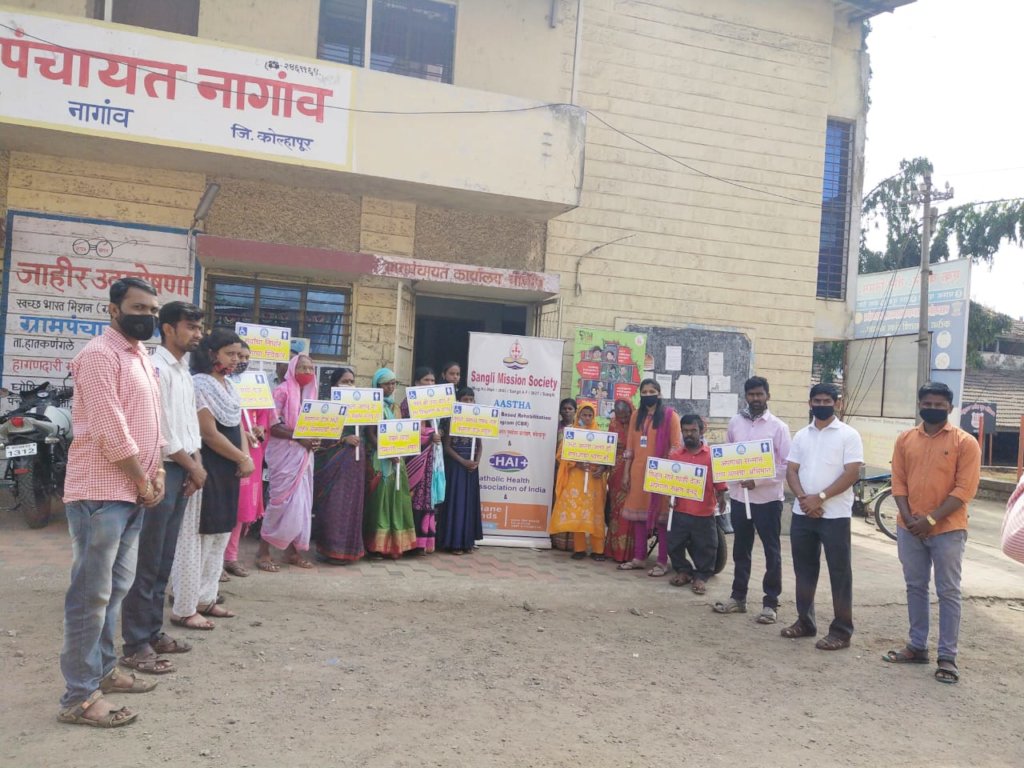 Hi…
I am very thankful to present our fifteeteenth report of the project - Rehabilitate 250 disabled children in India via GlobalGiving.
Aastha Kolhapur CBR
Training for CBR staff
In order to improve the efficiency and effectiveness of the staff, Aastha Kolhapur CBR conducted a training for 18 staff. The first half of the session was conducted by the project coordinator Ms Trupti Shinde who covered topics like the CBR matrix, ICF framework and functional rehabilitation, terms and types of body functions, etc. She also emphasized the importance of making groups of disabled people in the villages to address their issues. The second half of the training was conducted by Mr. Virsen Salokhe, took session on documentation, team work, reporting, personality development, etc. He made the session effective by giving activities and open discussion engaging everyone by discussing their field experiences and cleared their doubts.
Celebration of international day of Person with Disabilities (PWDs)
International day of persons with disabilities was celebrated on 3rd December 2020 at the new working village, Nagaon. The chief guests for the program were Mr. Arun Mali Sarpanch Nagaon village, Mr. Uttam Borchate clerk grampanchayat, Mr. Harale social worker, Fr Roshan Varghese – Director, Social & Development Action and Railway Childline Kolhapur team. Since it was our new working village, we introduced them about CBR project and its various services. This meeting allowed them to discuss the issues of PWDs and the need of promoting inclusion. It made the stakeholders to sensitize the issues of PWDs. By the end of the celebration the team of Railway Child line Kolhapur together with CBR team conducted a street play on the topic of "Apangatvavar Keli Maat (victory over disability)". The team promoted awareness of disability through placard, slogan and IEC material distribution. Apart from this, we also distributed supplementary food kits to 06 CWDs in our project.
Parents' awareness meeting
Parents' awareness meetings was conducted at Sajani village on 15 December 2020. The team discussed various topics such as disability and its types, importance of physiotherapy & speech therapy, govt. schemes for CWDs, prejudice on disability, school scholarship, government schemes and online process for Unique Disability Identity (UDID) Card and Sanjay Gandhi Niradhar Yojana (SGNY), formation and registration of DPO, etc. A total of 30 PWDs, CWDs and their parents participated the meeting.
SAKSHAM
Through the Saksham project, 15 new Self Help Groups (SHGs) have been formed in Sangli and Kolhapur districts during October-November 2020. A total of 181 women have newly joined in Self Help Groups (SHGs). Total 101 Self Help Groups (SHGs) from Sangli and Kolhapur districts have completed their balance sheets with the help of Out Reach Workers (ORWs). They have conducted 06 cluster meetings in Sangli and Kolhapur districts between October and November. Through cluster meeting, we try to empower few of the members and they will monitor their SHGs and it will slowly reduce the burden of staff. The ORW of each tehsil provided training on maintenance of SHG registers for its members. A total of 36 register training have been conducted in 20 villages in the last quarter.
Certificate distribution
The team have completed 02 batches of tailoring course in 02 villages such as Chinchani and Aasad of Sangli district. Course completion certificates have been distributed towards 20 participants. The team also started two new batches in Kharasing and Mohite Vadgaon of Sangli district.
NIVARA- home for the flood affected
Inauguration of four houses constructed for flood affected people in Hatkanagale tehsil of Kolhapur district was done on 19th November 2020 at Halondi and on 29th November at Ichalkaranji. Fr Jerry Vallomkunnel MCBS blessed the newly built house for Ms Suchitra Dhanawade, a child with Disability at Halondi and Mr. Dhairyasheel Mane, Member of Parliament inaugurated three houses at Ichalkaranji. The beneficiaries are Mr Dhondisingh Raghunath Rajput, Mrs Malubai Parasuram Jaitalkar and Mrs Sunita Parasuram Jaitalkar. Mrs Alka Swami Mayor Ichalkaranji Muncipality, Mr Ravindra Mane Corporator together with Fr San Jose MCBS, Fr Joby Njallyil, Fr Tom, Fr Thomas, Fr Shaji, Fr. Lijo, Fr Sebastian, Fr. Subin, Fr Saji, Fr Roshan were present in the inaugural ceremony. We would like to thank contribution from Paramprasad Charitable Trust, Ursuline Sisters Ratnagiri, Catholic Health Association of India and other benefactors who donated for the completion of dream house for the homeless.
CHILDLINE Kolhapur
CL Kolhapur organized different activities to create awareness and to identify child issues at different places in Kolhapur district during children week.
School Awareness
The team conducted school awareness program in 03 schools such as Kushire Ashram School, Nanasaheb Gadre Highschool,Torana Nagar,and Shri Ganesh Vidyalay Chikhali. A total of 590 children enthusiastically participated in the awareness program.
Mass Awareness
CL could reach 3800 people and 1500 children through conducting mass awareness at 04 different places. The awareness was based on social activities. CL used various IEC materials such as pamphlets, stickers and creative banners for the better understanding of people as well as children on the rights of children. Also, CL visited the stakeholders to discuss about the issues of children. The team could sensitize the people on child issues like begging, child labor and physical abuse.
Celebration of Childline Se Dosti Week
On the occasion of Children's day on November 14, 2020, the team organized the program of childline se dosti for providing awareness about Childline 1098 toll free number. The team conducted various activities with the children like children party, open house, road show, activity for children at care home, come and play, etc.
Childline Sangli
Poshan Mah 2020
As a part of Poshan Mah (nutrition month) 2020 celebration, the team conducted home visits and provided information about protein rich diet required for children, importance of cereals and pulses, soya bean, milk in diet, role of fruits and vegetables to increase immunity and role of kitchen garden for the family. Childline also conducted Poshan thali competition and distributed vegetable seeds for kitchen garden.
Swacchata Abhiyan
Sangli Childline could reach 117 people through the awareness program on Swacchata Abhiyan. The program conducted in 05 areas such as Sanjaynagar, Ahilyanagar, Shalininagar, Bamnoli and Navin Vasahat. The team explained the importance of cleanliness for children through sessions, street play and demonstration.
Childline Se Dosti Week
Childline Sangli conducted CSD week from 14/11/2020 to 20/11/2020. CL invited District women and Child Development Department, DCPU, CWC and other stakeholders for the program. The team also conducted various competitions such as, drawing competition, essay competition, 'rangoli' competition, 'mehandi' competition, 'sangeet khurchi' competition and signature campaign. Through this program the team reached around 189 children and 114 adults.
Human Rights Day
Childline Sangli celebrated Human Rights Day on 10/12/2020 in government shelter home. 13 Children and 17 adults presented for this program. Child Welfare Committe Chairman and members guided the participants with valuable thoughts.
All of us know, we are going through an exceptional crisis and your timely support is a great solace for us. Thank you very much for supporting our activities. Let us be together. Please feel free to visit the page-https://www.globalgiving.org/projects/rehabilitate-250-disabled-children-in-india/