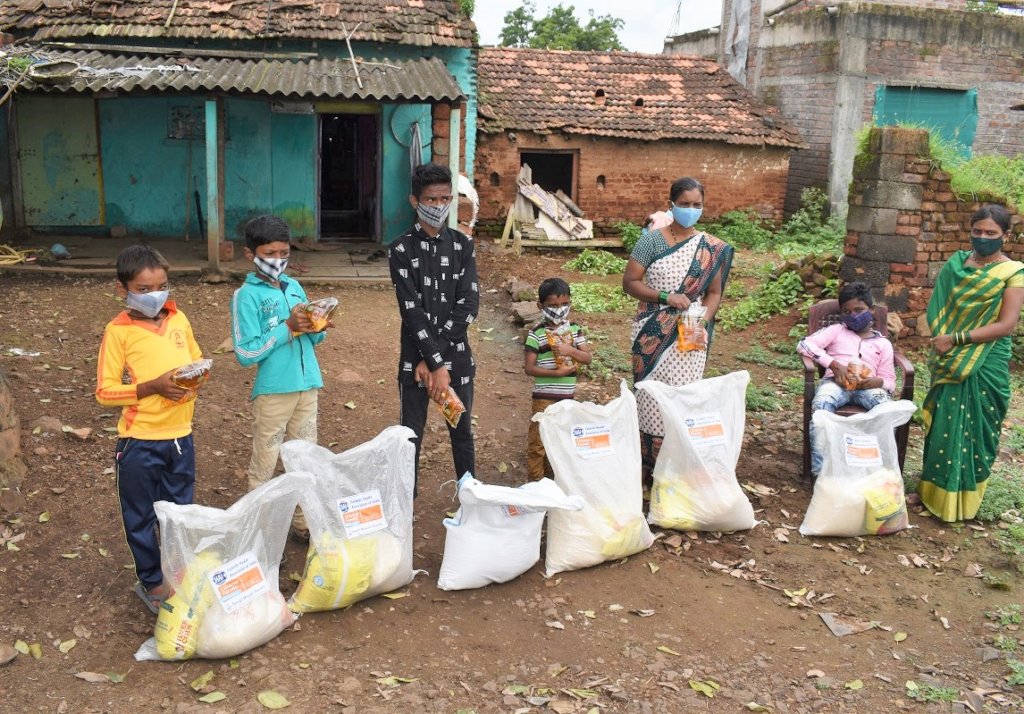 Hi…
I am very thankful to present our fourteenth report of the project - Rehabilitate 250 disabled children in India via GlobalGiving.
COVID-19 cases in India may touch fifty lakhs within couple of days from now and our state Maharashtra has crossed 10 lakhs infections (September 13, 2020). In the areas where we work, the COVID-19 cases are on surge.
Our formal schools, special schools and some of the project activities have gone online. It seems few more months may take to reopen the schools though students and parents are looking to come back to school campus asearly as possible.
I would like to bring into your notice, few of the activities we have done through different projects in the midst of the pandemic. Some of our staff dare to help the needy and vulnerable even if public exposure could be fatal to their health; but love supercedes everything.
Aastha CBR Kolhapur
Aastha Kolhapur has reached over 09 villages such as Herle, Halondi, Shiroli, Chokak, Bhendawade, Narande, Hatkanangale, Rukadi and Mangaon in Hatkanangale taluka of Kolhapur district to provide with food kits to 50 Children with Disabilities (CWDs) on the basis of their socio-economic condition. Awareness on COVID-19 was provided together with the distribution. We have conducted an advocacy meeting with Grampanchayt surpanch and Gramsevak of Narande village for asking about the sanctioning of the COVID response fund which is available for persons and children with disabilities. This distribution was with the help of Catholic Health Association of India and Liliane Fonds.
Vihaan Care & Support
Vihaan project has distributed food kit towards 40 Persons Living with HIV/AIDS (PLHIVs) in Gadhinglaj tehsil of Kolhapur district and did home delivery of ART medicines to 310 PLHIVs. A total of 2551 PLHIVs received counseling support.
Railway Childline Kolhapur
The team RCL provided training on hand wash through videos and conducted an activity called ek mutthi dhanya (handful of rice), the team asked 140 children for collecting handful of rice to help the poor people in their village. Apart from that, they distributed food kits to 58 families and sanitary napkins to 11 adolescent girls. They provided various activities like art therapy, mud therapy, storytelling, dance and recreational games for the school going children.
Aastha CBR Sangli
Distributed food kits to 107 people including migrants, CWDs, PWDs and economically backward people in various villages of Sangli Dt. like Bambawade, Belanki and Padmale. Due to the pandemic, home delivery of pension was provided by the bank officers and Gram Panchayath representatives. Distributed masks, handkerchiefs and sanitizers to the children and person with disabilities through 5% fund at Savarde village and at Kochi and Tung villages by the support of Gramsevak the 5% of fund was credited to the account of the disabled people.
Saksham Program
The team Saksham conducted awareness to 245 SHGs about the pandemic and 235 SHGs about government schemes and programs. The team also provided counseling to 41 COVID-19 patients after completing their quarantine.
Awareness on COVID-19
We are using social media platforms to give awareness on COVID-19 via WhatsApp, Facebook, Youtube, etc by sharing videos, pamphlets, images, write-ups, available schemes and provisions from the government, etc. We are providing this information mainly through the local language, Marathi for a better understanding. Also, we are always available for them through phone calls and based on the necessity, we are doing home visits too.
Sharing of Infrastructure
Alphonsa School Karanjoshi and Alphonsa School Ichalkaranji in Kolhapur district, Anugraha Special School Khed in Ratnagiri district; Jeevdan Special School Zarap and Santhome Ayurveda Arogya Kendra in Sindhudurg district are given for the purpose of quarantine or medical purposes to help the COVID-19 response.
Our special request-"small donation greater impact"
The September Little by Little Matching Campaign starts from September 21 to 25 is a week-long campaign designed to celebrate the power of the small donation by matching donations up to $50 at 50%. I know it is a difficult time for everyone but there will be someone who wants to share their part like a widow's mite in the time of adversity.
Thank you very one for your kind donations. During this pandemic, this is really our life source.
Please feel free to visit the page- https://www.globalgiving.org/projects/rehabilitate-250-disabled-children-in-india/