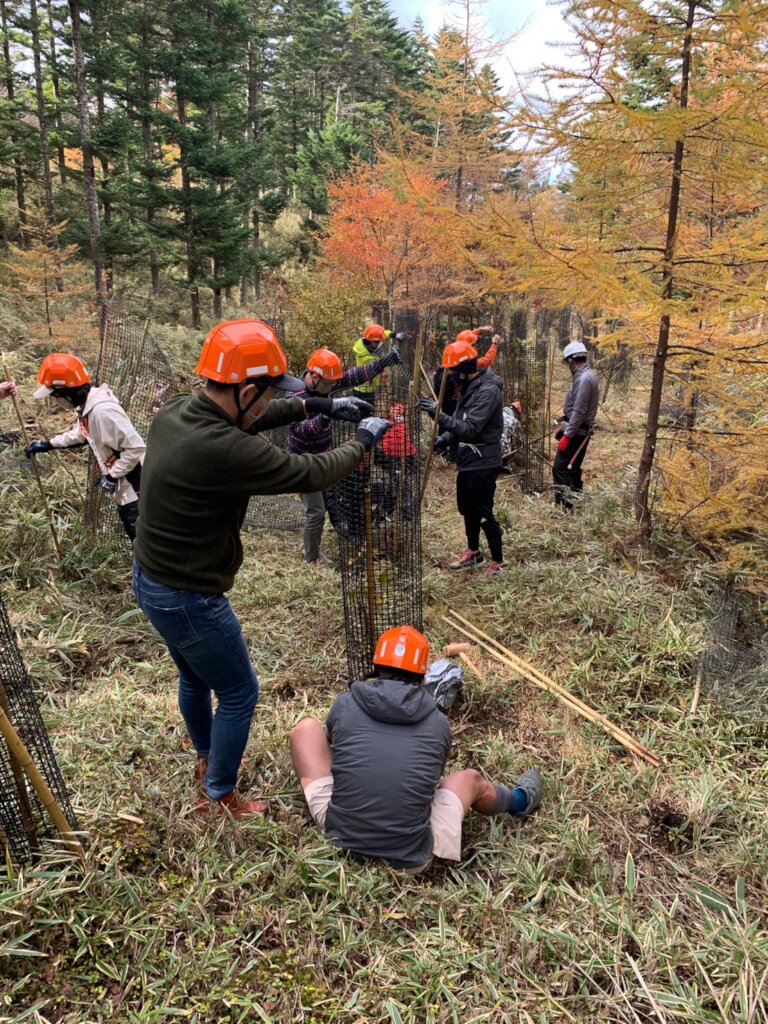 May we share with you the good news!
Temperature has gradually dropped and snow started to fall at the peak of Mt. Fuji since mid-October, which is a bit earlier than other mountains. Everybody may know that Mt. Fuji is beautiful all year round, but I think that it looks more beautiful and majestic when it is covered with snow.
The decline in the number of coronavirus infection across Japan since September enabled us to mobilize volunteers at our reforestation project site on Mt. Fuji. Under this circumstance, it was safer for us to resume forest conservation activities on Mt. Fuji while taking certain health protocol measures.
We have mobilized 62 people including volunteers, project stakeholders, and OISCA staff from October through second week of November. We were able to re-raise the fallen trees, replaced the rotting bamboo sticks, and reinstalled/replaced the nets to protect the planted trees from deer damage. These activities are crucial for the protection of our planted trees from the harsh winter. Our project site is located at an altitude of 1,400 meters. We were worried that the low temperature might hinder the smooth flow of volunteer work, but since we were blessed with a sunny weather, we were able to work in good conditions.
May I share a comment from one of the volunteers who participated in our activity.
Mt. Fuji in November was shiveringly cold, but it was very pleasant to work under the crisp autumn sunshine, surrounded by trees in their autumn colors. Among the saplings, I was in charge of repairing, there were some with beautifully colored leaves, and I strongly felt that they had become part of the nature that brought colors to the forest of Mt. Fuji. I hope that the planted trees that many people, including volunteers, were working on will continue to grow and show their magnificent autumn colors next year and beyond. I am hoping that I will still be given the opportunity to join next year and for the next coming years.
This year, all the activities scheduled from May to September were cancelled.
With COVID, we were worried that we would not be able to do any activities at all until the end of this year.
Even so, we feel fortunate that we managed to organize activities with the help of volunteers. This made us at least one step ahead in terms of the maintenance of our project site.
We hope that as the volunteers get involved into our project, they will be actively engaged in sustaining Japan`s forest.
Meanwhile, OISCA is subcontracting a local forestry company to cover the work that was supposed to be done by volunteers. The funds donated by everyone are being effectively used to promote forest conservation activities even though activities are restricted by corona pandemic.
Once again, I would like to thank everyone for your generous support.