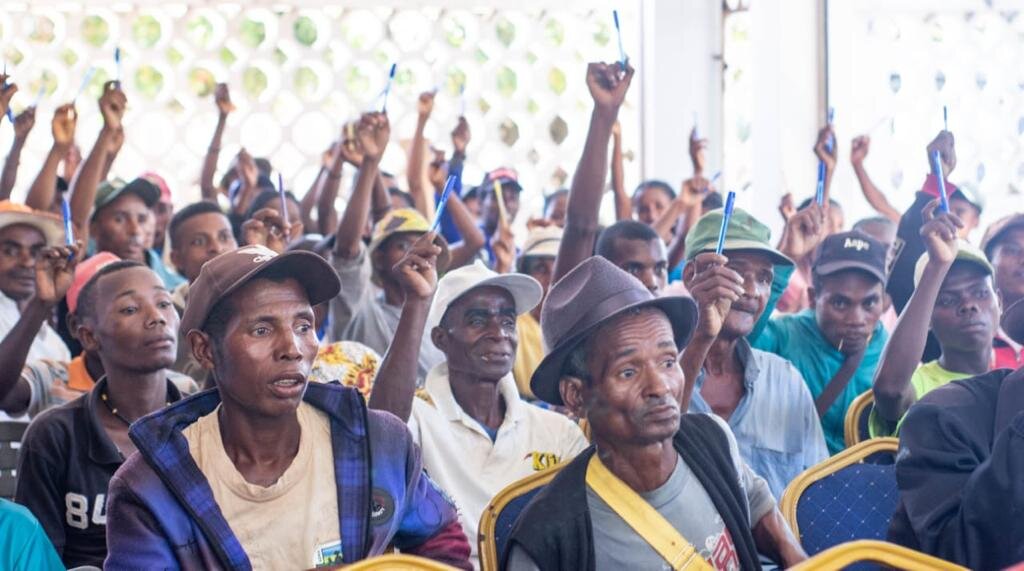 In February 2022, two severe cyclones battered Southeastern Madagascar over the course of two months. Cyclone season occurs every year in Madagascar, however, the frequency and severity of storms has increased over recent years due to the climate crisis.
The devastation resulted in destruction to homes and structures, especially in coastal villages located close to the Manombo Rainforest where HIH works alongside communities. Roads were blocked by fallen trees and flooding, which had to be cleared before aid could reach several communities. In response, HIH Madagascar held emergency Radical Listening sessions and provided support according to needs defined by the communities.
These emergency sessions included over seven hours of Radical Listening with 288 people (125 women and 163 men) in 26 villages. Communities shared the immediate need for food, water, and a plan to address damage done to structures and agricultural fields as soon as possible.
Health In Harmony responded by:
Distributing 11,800 kg of rice over three weeks to communities living in and around Manombo Rainforest
Distributing 150 kg of rice in Farafangana, which supported over 2,000 households
Donating drugs and diagnostic materials to the Madagascar Ministry of Health (MOH) to support the regional response
Distributing 130 hygiene kits
Repairing 8 seedling nurseries
Providing 1,077 people with seeds and tools for planting rice and vegetables
Supporting the reconstruction of homes, schools, and irrigation systems that were destroyed
Clearing roads of fallen trees and debris to access affected communities
Providing healthcare through mobile clinic rapid response to affected communities
Since the initial response, HIH Madagascar reached out and activated several regional partnerships to enable a coordinated response that could meet the range of community-requested services from food support to accessibility of medicine and clean water.
Preparing for the 2023 Cyclone Season
Learning from last year's cyclone season, HIH Madagascar has been preparing for the 2023 season by conducting extensive Radical Listening sessions with communities to better understand what their priorities are during cyclone shocks, and to get their perspectives on the HIH response and how it could be improved. Because of this, HIH focused on purchasing fuel, rice, medicine, hygiene kits, and sustainably harvested wood to rebuild homes. The team also purchased chainsaws to clear trees that fall and block roads during storms and created plans to ensure access to clean water.
The seedling nurseries that the team rebuilt have been constructed in a climate-smart fashion, making them more resilient to cyclones. Constructing a climate-smart seedling nursery costs about $6,000. Due to budget constraints, only one seedling nursery was able to be rebuilt in this fashion, and the rest have been strengthened to be more reinforced against cyclones. Seed stocks have also been prepared, so communities can immediately replant rice and vegetables to lessen food shortages following storms.
In addition to these cyclone preparations, ongoing community-designed programs continue to support healthy rainforests. In coastal communities, distributions of canoes and fishing nets allow local fishermen to provide for their families without picking up chainsaws. For communities dependent on farming, visits from the Ministry of Agriculture can strengthen partnerships and support agricultural initiatives. The Anivorano Women's Association also continues to be a hub of activity for the Anivorano Community – it was recently spotlighted at a national event for region-specific handicrafts!
Preparing for Cyclone Freddy - February 21, 2023
Over the weekend, the HIH Madagascar team conducted Radical Listening sessions with all of the villages living in and around the Manombo Rainforest. During these sessions, HIH identified and trained key informants from each village on how to best prepare for the cyclone and record the damage in their village following a standardized format.
These informants will be in contact with HIH during and immediately after the cyclone to report on all of the damage and needs, so the team can respond as quickly as possible.
These ongoing programs, along with special preparations for cyclones, allow the HIH Madagascar team to respond even more efficiently, and communities are able to build resilience in the face of natural disasters and climate shocks.
Thank you for supporting the team and the communities HIH Madagascar works alongside! Every donation truly makes a difference.