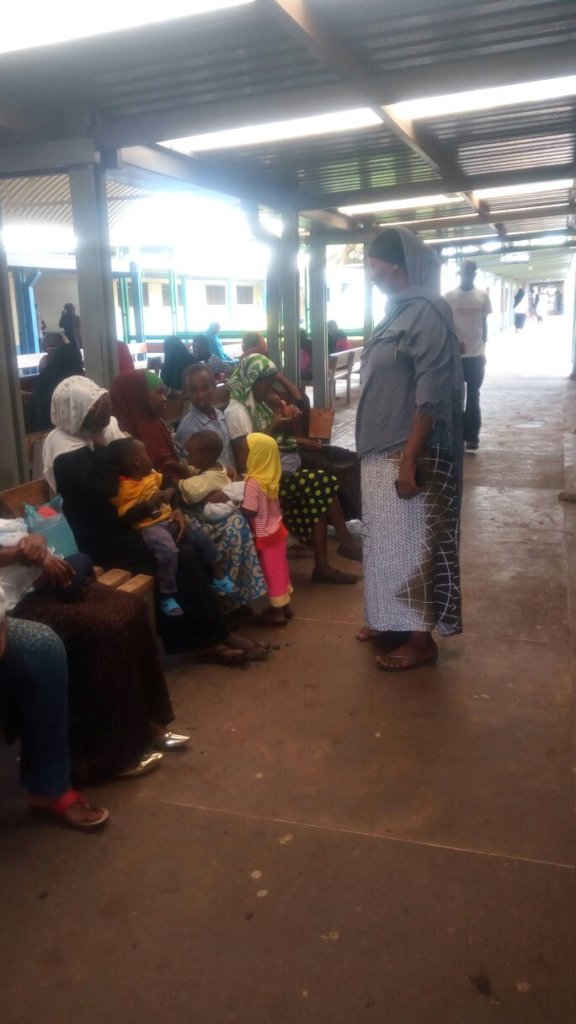 "Yei, I got it, I got it!!" sighed Halima* with joy at receiving a 3 years contraception protection method of family planning (FP), and having called Fatuma*- CHAT's partner and a Family Planning Community Own Resource Person (FPCORP) to report on the good news.
"My husband has finally accepted and I have visited Eremeti dispensary for my implant" Said Halima with uncontrollable tears of joy.
Halima's husband, Muhusin*, is a Madrisa teacher (one who teaches on Muslim doctrine), but with Fatuma's household health education that includes a strong referral system, Muhusin had become an 'enlightened' man and allowed his wife to visit the Eremeti health facility to access family planning services.
This Muslim community has very rigid religious belief. Women in this particular setting have very little or no say - their husbands making most of the decisions on their behalf.
It has been a challenging journey requiring enormous amounts sensitization sessions & patience breaking into these strong religious communities - but CHAT in collaboration with members of the community and the Kenya Government - ministry of health (MOH) identified Fatuma, a wife to the Mullah ( senior religious leader in a Mosque) to facilitate the gentle penetration to these relatively deeply religious communities.
CHAT's support to Fatuma's important work, has been well received - echoed by the Kenyan government, the MOH , where Muslim women's accessibility to fp services have increased tremendously from approximately 5% in 2014, to approximately 25% by October 2017.
Before Muslim women would not even walk to the health facility to seek for any health-related services without their husband's consent - let alone seek FP services - which is still a controversial issue within the Muslim faith.
However, Fatuma by using CHAT's innovative a door to door mobilization method of sensitization using a back packing strategy, most of these stringent cultural and religious barriers are slowly fading, paving a way for women to freely walk to the health facilities and seek for health care services – and most with a major focus on seeking for FP services!
This was pointed out during a field visit by CHAT's Project officer to facilities around Isiolo Town - by the GoK Medical Officer who commented that - "This county is very much impressed by the work done by Fatuma, the FPCORP that you are supporting - her mobilizing, counseling and referring within this very stigmatized group (Muslim women) about FP services" said Dr. Kiluva, the Medical Superintended Officer. "Were it not for the effort of Fatuma, the hospital would be reporting very poorly in these family planning/ Reproductive health key indicators," he added.
"Fatuma's contribution is highly felt in both Maternal Child Health and FP departments, where she is referring an average of 30 - 45 FP clients for long term contraception methods, and 15- 20 for short term contraception methods, on a monthly bases respectfully," noted Miss Halake – Isiolo County Gok MoH Nursing Officer & Reproductive Health Coordinator.
In the quarter under review, thanks to your donations- that contributed to helping CHAT reach 19,141 individuals with family planning/ ecological awareness information out of which 6,638 clients were able to access different FP contraception methods of their choice & 1,228 patients treated for different conditions.
"Woman has always been the chief sufferer under this merciless machinery of the statutory law. Humbly she has borne the weight of man-made laws, surrendering to their tyranny even her right over her own body.... Against the State, against religion, against the silence of the medical profession, against the whole machinery of dead institutions of the past, the woman of today arises.... If she must break the law to establish her right to voluntary motherhood, then the law shall be broken. ~Margaret Sanger, "Shall We Break This Law?" in The Birth Control Review, February 1917 [Referring to the Comstock Act. —tε¡·g]