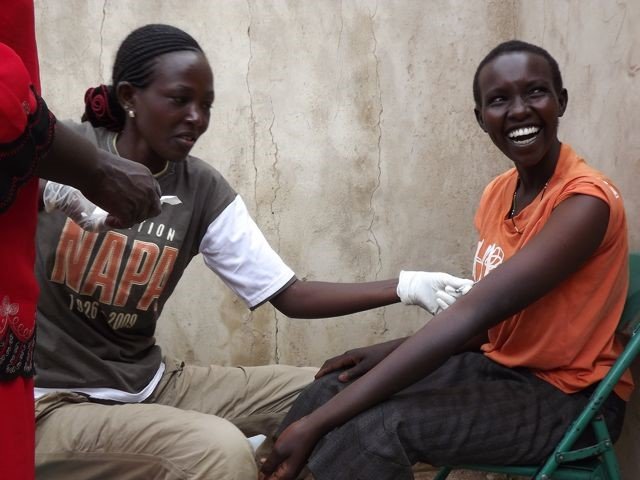 At the foot of Mt Kenya, Gatwiri,* is a 14 year old girl living in a Nanyuki town slum called Likii, since 2012
"I came to work for my aunt as a maid, earning a meager salary of Kes 1000/- a month (USD $ 10). It was rigorous and back-breaking work.
When my aunt approached me to accompany her to Nanyuki, I naively imagined that life would be rosy; but was soon puzzled as to why my 'dear auntie' began treating me the way she did after I complained to her about the enormous workload. My aunt, annoyed, then beat me unconscious, locking me in a room for two days without food/water.
I managed to run away to a friend who 'worked' in Nanyuki's 'red light' street.
Another chapter opened - I am now a prostitute!" Gatwiri smiled to an astonished CHAT nurse.
Gatwiri's friend introduced her to a new life of "money without sweat"' as she put it - a life where she makes money effortlessly, sometimes as much, or even more than what she was earning per month - in just one night!
"What with the big spending foreign soldiers and our own army soldiers, who number in thousands - and not forgetting that Nanyuki is a popular tourist destination - all good for 'businesses! And provides me with a much needed refuge away from that cruel harridan of an aunt!"
"I have perfected the art of prostitution. Sex work' is my permanent source of income - affording my own rent in the neighboring Majengo slum.
I was a timid innocent girl, but currently I am now a hardened night lady who not only will sell sex, but also indulge in drug abuse - and I have also terminated several pregnancies," Gatwiri comments.
"This way of life brings with it challenges such as being used without payment for my services by 'macho men' - being raped and dumped, often mostly late at night; being assaulted, or arrested for loitering by security personnel whose main motive is often to extort money from me, or give them free sex – sometimes in gangs! Nonetheless, there seems to be no turning back as much as I want to. I don't have another way of making money – and anyway, I feel like society would not accept me back to allow me to lead a normal life," she says.
"I can attest that Gatwiri detests being what she is today. She never dreamed she would end up like this – selling sex; but she does manage to feed, clothe herself and pay for her one shack " CHAT's mobiliser, Rosie, confirms.
"I learnt about CHAT services from a friend" says Gatwiri, "Out of curiosity, I visited Rosie, when she counseled me about the different FP options I realized a sense of freedom!
Rosie discussed risk factors associated with my lifestyle – STIs and HIV/AIDS. I thank God that I had not contracted HIV /AIDS (as far as I know) which my peers and I in this business regard so casually - that AIDS is "just another accident" but is actually serious concern causing fear and dread," Gatwiri laments.
And hey, this might surprise you but I am getting married and will invite CHAT team for my wedding - I feel I am here today because they opened my eyes so much -I really appreciate the knowledge and sensitivity they shared with me," Gatwiri smiles as she leaves the clinic.
CHAT reached 15,938 individuals with fp/ecological awareness information, of which a total of 1,609 patients were treated for different conditions; 7,448 women chose different FP contraception methods in 10 counties where CHAT operates in the last three(3) months.
Did you know Kenya has the highest unskilled abortion rate (46%) worldwide.