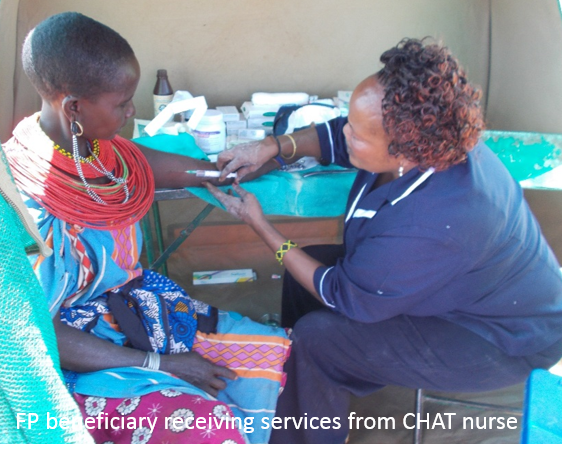 Naisherua* is a 29 years old lady and a mother of seven (7) children, with the youngest being one and a half years old. She lives in Lorubai and had to walk for hours to meet CHAT team to get family planning as she doesn't want any more children.
"I am the third wife and though my husband is always there, he recently married a young lady and doesn't provide for the family. He said that he had to marry as he can't walk with me since I look older than him, although in reality, am fifteen years younger. I am a class three dropout as I was forced by my father to get married so that he could have more wealth and now here I am with nothing but the burden of providing for that old full and his children with the little I get from selling goats milk." Naisherua narrates. I have come to for family planning services after Nteiyan (CHAT's FPCORP) came to our manyatta and informed provided us with information on the different FP methods they are offering and how they work, as am scared of having any more children. She further confirms that it's her first time to use family planning as she have been hearing that the the family planning methods provided have negative effect to human body, but then Nteiyan has counseled her and now want to try whichever will suit her best. CHAT nurse further counseled her and Naisherua chosen to get the 5 year implant.
"Most of women within my manyatta are as young as 13 years and have at least 3-4 kids and are still giving birth, I have accepted to try and use the five years FP method and I want to be one of the champions of family planning especially that I have 5 girls. I am trying my best to provide for them especially I am ensuring that they will have better education than I did and for those who will be married, I will ensure that they have information on Family planning so that they don't undergo the same punishment as mine." Naisherua further explains. "I am thankful to CHAT and the donors who have made it possible for my community and I to receive these precious services," Naisherua smiles as she heads back home.
Between Mar-May 2016, thanks to your donations- which contributed to helping CHAT reach 16,207 individuals with family planning/ ecological awareness information and a total of 8,328 women with different FP contraception methods of their choice.
"Contraceptives unlock one of the most dormant, but potentially powerful assets in development: women as decision-makers. When women have the power to make choices about their families, they tend to decide precisely what demographers, economists, and development experts recommend. They invest in the long-term human capital of their families," – Melinda Gates, Co-founder of the Bill & Melinda Gates Foundation