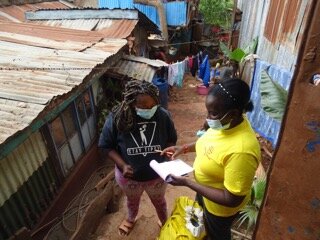 *Not their real names
"Five years ago a friend of mine- Muthoni*, died." CORP Rosie narrated. "She had a daughter called Makena* who was always tagging along with the mother every time she went to the market to restock for her small vegetable stand in Mungetho slum where they lived in Nanyuki. What Muthoni was not truthful about is that she used to sell 'illicit brew' (lethal homemade alcohol) as a side hustle to her veggie business. Often from time to time, she would get arrested and Makena had to bail her out. Being a 15-year-old and going through such things hardened her at an early age.
When Muthoni passed on, Makena took up her job but could not keep up. She later disappeared and it was speculated that she moved back to their rural home. A month ago, I decided to go to the market in the evening. I saw roasted maize being sold and decide to snack on it as I shopped. The seller had a familiar face but I could not place it but no sooner had she spoken than I realized it was Makena! She had a baby tagging on her dress as another one was on the back sound asleep. I wondered if they were hers. I asked her to visit my house for supper as we caught up.
She indeed showed up and was grateful for a good meal. Although she has a business, the little she was earning was really hard to sustain her family. She has 3 children. Soni* who is about to turn five, Nderu*, who is 3, and Kesha* who is just 6 months old. They were all born so close. They all had different fathers who had promised to marry her but left her as soon as she had conceived. It was a streak of bad luck with the men. It was just sad. She kept saying she now understood why her mother only had one child. It is easier and cheaper to bring one up I introduced her to the different family planning contraception methods. She was wowed by the idea that she could take a break and work toward making her life stable. She decided to go all out and take the five-year pregnancy protection implant that would go a long time – compared to other choices."
Thanks to GG support, in the past three months, CHAT was able to reach a total of 12,134 individuals with behaviour change information (bcc). Out of which, 3,912 became family planning clients receiving different contraception methods, of these 3,001 chose the long-term methods - 3/5-years protection against unwanted pregnancies.
"We view it (family planning) as an aspect of human freedom! In the same way, as we give people education so as to open wider horizons for them in the world, the same way as you provide a farmer with greater knowledge about the seed - this so the person cannot be restricted in his living by ignorance and know the means of spacing children," Mwai Kibaki – ex-President of Kenya