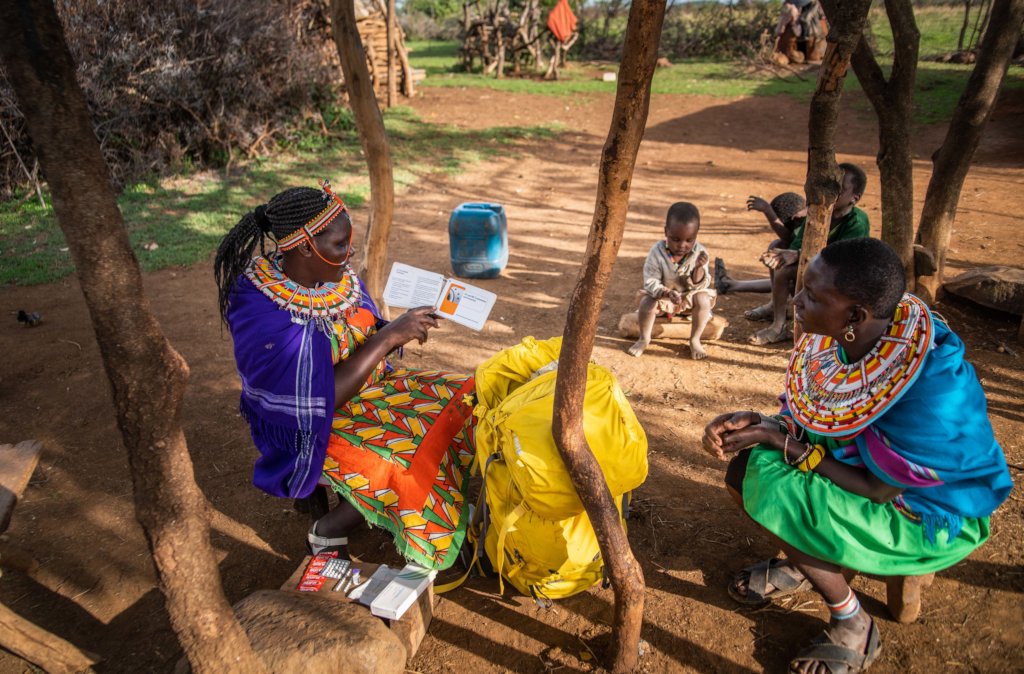 *not real name
"I was going door to door sensitizing the people and that is how I met Mama Louwai*. She was seated outside the manyatta with two of her daughters, one had an infant suckling and the other daughter was as heavily pregnant as her mother. This was just a weird situation but not uncommon. The family home had so many children running around and though it was all fun and games, it just did not seem right." CHAT's CORP partner, Kinoti, shared.
'Mama Louwai* had six daughters and all of them - except for one - had one or more children. They all lived together. She wished that they were a less number but since they were all there, there was nothing she could do about it. I was curious to know if they went to the facility to at least take their children for immunization or, at least, if they 'delivered' at the hospital and to my dismay, she actually laughed at me! She said she did not see the need of going to the hospital for whatever reason whatsoever, especially birth, since it was not an illness!
From this response I knew I had a huge task ahead of me to handle. Luckily, she had shared that she wished there were less children in the homestead. I used this to explain to her that if she wanted the children to always be healthy and for them to control the number of children that they had in their home, she had to visit the hospital to learn more as well as get services that would help them. I told her of the importance of delivering at the health facility since it meant that they will have their children immunized and then will have access to contraception when the right time comes.
She wanted to know if the contraception was going to ruin her body and make them infertile. She also thought that the health facility was a bit too far for them to be going for their antenatal visits. I explained to her that we could arrange that when I return for backpacking - with a nurse next time- that we could always pass by and offer the needed family planning (fp) services to them at home. As for hospital deliveries, she would have to be moving somewhere close to the hospital when she is almost due.
With that, the following week I went with a nurse and four of the ladies chose to take contraception, offer ANC to Mama Louwai and her pregnant daughter and immunize all the children since none of the children had ever been immunized
I am so happy when I see her family progressing on well. The children are healthier and the girls are no longer worried about unwanted pregnancies. This is the kind of work that makes me happy all the time".
In the past three months, with support from our GG donors - cost shared with others, we have been able to reach 34,192 individuals (both men and women) with Behavior change information about FP using a Population Health & Environment (PHE) approach, and 8,511 clients chose and were provided with different methods of contraception.
'By improving health, empowering women population growth comes down' Bill Gates