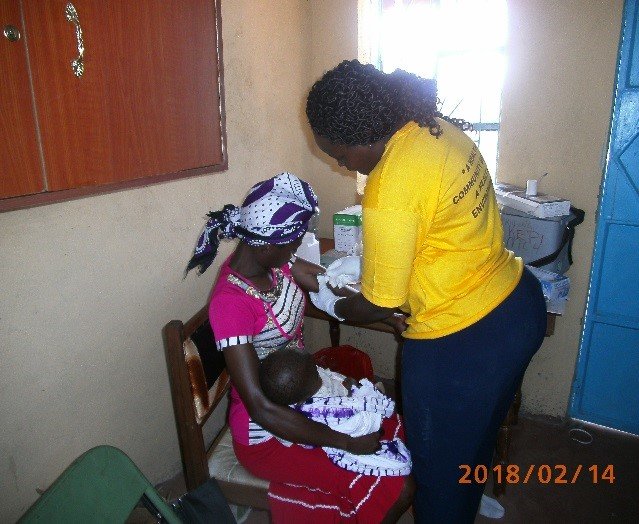 'Uuuui uuui mtoto nalia kwa choo! Saidia Mimi!' Mama Mwende* screamed. People thought the ever drunk old woman was being crazy as usual, but her endless screams prompted the nearby community members to go ascertain if really there was a baby in the pit latrine. True to her word an infant was relentlessly crying due to the harsh conditions down below in the toilet pit. People wondered where the baby could have come from, especially since Mama Mwende was too old to conceive let alone carry a pregnancy to term! From the cooperation of the sympathetic community members the child was retrieved. This was a shock especially since something like that had never happened here before. The biggest question was who was the mother? Soon enough a young girl confided in CORP Karimi her in Tharaka County.
The young girl told Karimi that when she, CORP Karimi, had visited earlier in the year she had chosen the three month injectable contraceptive protection and refused any other method, thinking it would be the most effective in terminating her pregnancy. She, the young girl, had lied saying that she was on her menses and went on to fake it so that she would not be tested for a pregnancy. Kathambi got her depo and went home thinking that now she would not deliver a child at nine months. When she got labor pains she did not understand why - especially since she was sure that when she got injected she had terminated the pregnancy.
When CORP Karimi learnt of this mountain of misunderstanding, she explained to Kathambi* (the young girl) that contraceptives do not terminate pregnancies.
Kathambi had decided to throw the child away and not inform anyone since she was hoping that her parents would take her back to school.
Kathambi was counselled on the use of long-term contraceptives and then choosing a method that would ensure no risk of pregnancy for the next five years.
Many girls around Gaceraka, in Tharaka South, drop out of school due to unwanted pregnancies. Kathambi was a good example that if the young girls were not counselled and their mothers sensitized on the importance of contraceptives it would lead to drastic fatalities.
'I wish she had told me that she was pregnant; we would have found a solution together. This is tragic- I don't know what to do!' Kathambis' mother regretted.
'There is a huge need for contraception in this community. The women here do not go to the hospital neither do they have adequate knowledge on the use of contraceptives. It will take a lot of intervention to ensure that they are aware of their right to contraception.' CHAT's CORP partner, Karimi explained, and she added "There is this wonderful quote, - "my goal is to know more today about the world than I knew yesterday and lessen the suffering of others"…. you'd be surprised how far that gets you." - I have known the suffering of the women here and I hope I will help in at least lessening it."

To support young girls, their mothers and the community in general, CHAT, this last quarter reached a total of 35,504 individuals with holistic Family Planning using a PHE approach, in which a total of 13,539 women chose different usually longer term contraceptive methods.
"The world today has 6.8 billion people. That's heading up to about nine billion. Now if we do a really great job on new vaccines, health care, & reproductive health services, we could lower that by perhaps 10 or 15 percent." Bill Gates