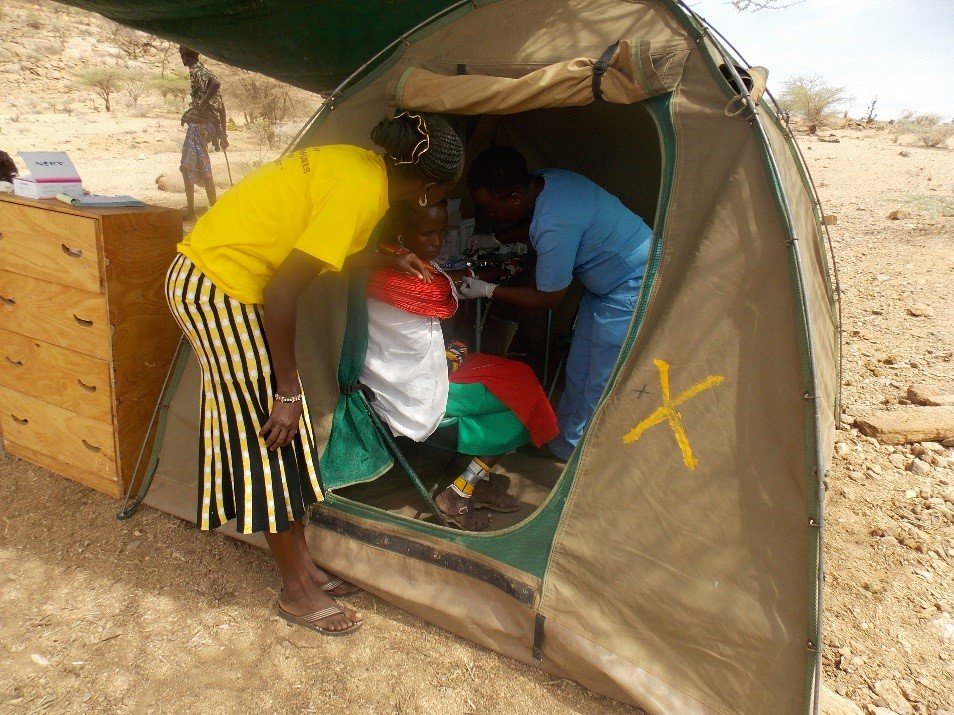 Today the motor- mobile clinic reached Bokish village, a remote village in Laikipia North sub-County whereby access to transport and communication is a challenge. The area seems like a lost village from the past. Children roam in the forest playing while also looking after goats and sheep. I get to understand that the mature men are the ones in-charge of herding cattle. An empty building stands as a school, but has no life going on – with neither teachers nor pupils.
We are welcomed by the village headman who is delighted about CHAT's health workers who can help his clan members who have been experiencing health problems. The village had been informed before by CHAT's partners, the CORPs prior to the team. After making camp for the clinic, the villagers start streaming in for services.
Lolima* who is 27 years old has six children - 4 girls and 2 boys. She got married off at a young age of sixteen by her stepmother, after her own mother died. She was in class 6 and would have liked to complete her education but her step-mother colluding with her father and decided to marry her off - so as access the bride price wealth for their family. She does not like the idea of adding more children to her already large family that include her husband and co-wives' children. After having consulted the CORP who was mobilizing in the village the previous days, she came prepared to choose and receive the 5-year contraception protection implant. She does not involve her husband because the decision on the number of the children one has is for the happiness of the husband - and the idea of pausing child birth will not augur well with him. She tells that she will discuss this later with him, and she is tired so she better receive first. She's enthusiastic about it and believes that after receiving the implant she will become stronger since she has escaped the tiresomeness brought about by constant pregnancies; she will have more strength to complete her daily chores such as collecting fire wood, water, milking and looking after the children.
Jackline, who is a CORP partnering CHAT, tells her that not only will she benefit from receiving the implant but her children as well as she will devote more time to taking care of them. She will also be able to improve her wellbing and have time to engage in income generating activities if she chooses to. She's so happy and tells CHAT that she will refer "others"
With your support (cost shared), within this past quarter under review, CHAT was able to reach a total of 25,347 individuals with Family Planning that encompassing ecological awareness information, of which a total of 86 ANC mothers were attended, 56 children immunised, 1,132 patients treated for different conditions and a total of 13,405 women chose and took different family planning methods.
"We're in business to relieve human suffering, to help feed the poor, to provide education and culture - but above all else, we're concerned with the relief of human suffering"-Jon Huntsman, Sr.