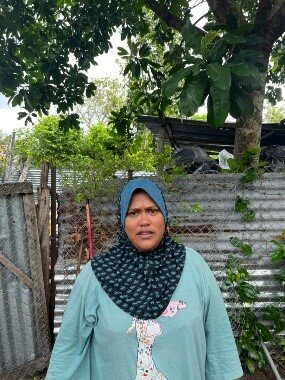 Mantanani Island is a beautiful island with white sandy beaches. However, the island is facing a big issue - there is no proper waste management system.
Realizing this, we at Reef Check Malaysia have taken it upon ourselves to ensure that something is done to solve this problem. Hence, the waste management programme was born. The waste management programme has been around for a while now but has it achieved what it set out to achieve or is it just another shot in the dark?
We asked some of the villagers and here's what they have to say.
"I am grateful for the existence of this waste management programme. Because of it, I am able to be employed. Due to the pandemic, my husband lost his job. This programme has helped us to survive."
"On top of that, we, the villagers, are able to enjoy a clean island as opposed to the uncontrollable trash situation before. Previously, the villagers were littering freely. They were throwing trash such as chips packaging, plastic bottles and food packaging into the ocean."
"My hope is that one day, all the villagers will wholeheartedly support programmes of this kind and realize the importance of keeping the island clean in order for it to flourish. I also hope that the programme will continue as I believe that it really helps the island to stay clean and provide a source of income for the villagers." - Rasimah
Another villager, Normala also thanked you, our supporters and donors!
"I am truly grateful and would like to thank all the donors and Reef Check Malaysia. Because of this waste management programme, I am able to work and pay for my children's education."
"We had an unstable income as my husband could not work due to several factors. I rely solely on my current income. I am actively involved in all the programmes that Reef Check Malaysia has organized as I would like to increase my knowledge. I, as an islander, feel truly lucky that the Reef Check Malaysia organization not only helps us keep the island clean but also gives us the opportunity to learn new things and gain experience. It is truly a priceless experience for me."
"Although I am disappointed that some villagers have yet to see the true value of this programme, I hope Reef Check Malaysia will continue their efforts and continue helping us."
We are elated to know that the programme is helping to improve the lives of the community. And this is only possible with your help and generous donations. Together, we can make a difference.