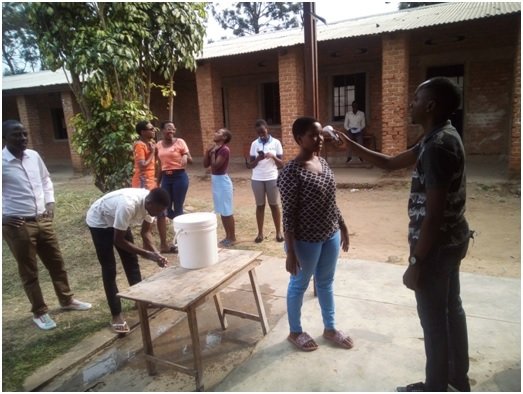 During last week's Litle by Little campaign, IPB received 7 donations, $350 in donations, and $175 in bonuses, for a total of $525. Thanks to those people who donated.
Context

Burundi finished the first month of the campaign to fight against the COVID 19 promulgated by the new government for a period of three months beginning on July 6, 2020. International and local organizations are involved today each one according its capacities. IPB-HROC is involved to in partnership with African Great Lakes Initiative, Catholic Relif Services and Quaker Peace Norway. The first picture shows items bought using a grant given by AGLI/FPT
As illustrated by the photo, a thermoflsh was also bought to take the temperature of any participant at IPB-HROC peace activities.
The campaign reached the national level and Burundi still officially with one case of death due to this chronic disease that had hit the patient.
At the political and diplomatic levels, the new government has progressed in reestablishing good relations
Brief description of need for workshop and that of participants
IPB-HROC got a call from one secondary school of Nyakabiga zone to conduct a htree days' HROC basic workshop for representatives of teachers and a group of students' volunteers of the Red Cross club. On July 27 till 29, 2020 9 teachers and 11 students were present. Among them 10 females and 10 males.
It's the first time to meet together students and teachers in a workshop. It's a new experience in trauma healing which was very amazing.
The Red cross volunteers team
Brief description of Nyakabiga zone
First of all, Nyakabiga is a zone which was negatively affected by the 2015 political crisis. Besides, facilitators were able to realize that many of the stories from the participants were about their fathers who were lost in different crises as they were soldiers from the National Army. Those losses caused complicated traumatic experiences as, often, the bodies of the deceased ones were not given back to their families for burial customs. It is, then, important to help the participants to release their anger and frustration.
Secondly, as the workshop met together teachers and students, it became a wonderful platform for them to discuss about issues that are trauma causes at their school. Also, they discussed about some good things which contributed to a harmonious atmosphere at the school. Generally speaking, the workshop was amazing.
Strengths
Firstly, teachers and students discussed deeply about issues that can cause trauma at their school. They also suggested some recommendations to both administrations of the school and other students. Secondly, the participants gained more knowledge about Corona Virus and the preventive measures such as hand washing, social distancing and mask wearing. This was done during the first 45 minutes of each day before the participants settled inside the workshop classroom. Also, the participants 'temperature was checked every day before the beginning of the workshop. Fortunately, everyone had a normal temperature all the three days.
Challenges
Some participants were not present on third day. This disrupted all the plans regarding logistics.
Following are testimonies from the the workshop
Joselyne

I lost my father whom I loved very much. I was 5 years old and I had started my primary school. Whenever I heard other kids calling their fathers, I felt hurt in my heart. Also, whenever I enter into our home, I often cry hard as I see the photos of my father hanging on the wall. In the same way, whenever I miss something, I always remember my father because I know if he could be alive, I could not miss anything. My extended family has also been a burden to me as it tried many times to treat me and my family unjustly. I appreciate my mother who strived in growing 7 children including me.
This workshop comes to alleviate a little bite the consequences of my trauma that I come to know the consequences on me. I'm glad to know about trauma and the way to overcome from it
Belyse

I lost my both parents when I was still very young. My father passed away when I was 4 years old and my mother took care of me until the time I was 12 years old. Then, she also passed away. After, I was taken care by different people. Since that time, whenever I have issues such as dispute with classmates, I remember my father and I feel bad in my emotions. I do request HROC to continue helping me and other youth who faced the same problem like me to overcome the past and work for a bright future.
Patrick

I want to share with you a story that traumatized me. It is a story of a family who fled the war and came into our house. In 1993, in Bujumbura rural, a place named Butaganzwa, there was a civil war between the two ethnic groups: In the first place, the Hutu killed Tutsi and after, the Tutsi came in our place located in Kinyovu/Rusaka in Mwaro province for revenge. There was a family of Hutu who asked for refuge into our house and the refuge was granted for a while. In the night, the family was asked to move again and go to a Catholic parish at Bukwavu as a way of finding a sustainable refuge. Unfortunately, in the way, the family was arrested by the killers and they slaughtered the whole family including the mother who was pregnant. Only the first born got saved because she climbed a tree when the killers where still preparing to murder the family. At that time, I was not born yet but I was really affected by this story.
Recommendations for way forward:
The facilitators, based on the observations taken note during this workshop recommend to:
Keep helping children who lost their parents especially fathers such as Belyse who failed to name even one person who loves her during empty chair session!
Participants advocated for othe school to learn about CPVID prevention and have equipment to do that
Reported by Icishatse Elie Rodrigue
On behalf of IPB-HROC Burundi