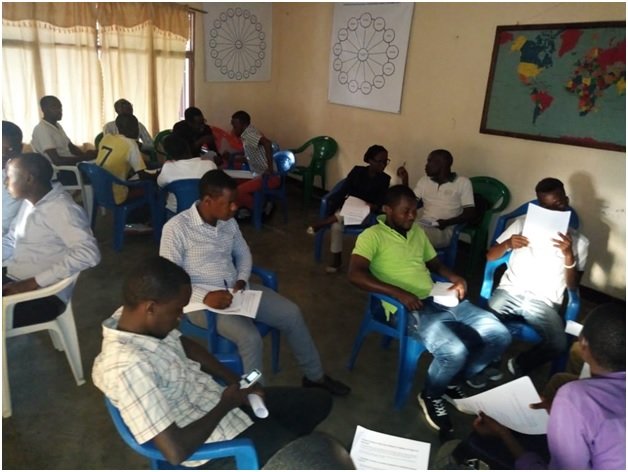 Context
Today's Burundi is marked by visible spread of the COVID 19 pandemic at the national level following the election campaign of May 2020. As solution to this, the Burundi new government comes to launch a national campaign since Monday July 6, 2020 to fight against it by reducing the price of the soap at 50% and the price of water for those living in villages and town who have to pay for water. All these to facilitate the washing hands measure for all people living in Burundi. UNICEF in collaboration with Savonor are going to make available ten thousand bars of soap since this coming week.
Equipment to test this pandemic is available now and many workshops and short trainings were organized at different levels of society. The implication of local and international organization and that of religious denominations is a reality today. A three month period to fight the pandemic is the first priority for the government where new centers equipped for testing it and treat patients are yet installed.
The Bujumbura capital city counts three centers including ETS Kamenge, Hotel Source du Nil and Kanyosha Catholic parish ground. For a period of two days of july 6 and 7, 2020, 670 people were tested in Bujumbura, among them 28 new cases were positive. We have registred 324 positif cases among them one have passed away when many of recovered from the pandemic.
IPB-HROC received a grant from AGLI and to buy a thermo flash, disinfectants and soap for this end. Five IPB-HROC staff were trained by Catholic Relief Servses on COVID prevention and in each activity, a session of the pandemic prevention is given.
Dr. Elisee, the IPB Legal Representative, received a whole week of training on COVID 19 prevention and methods of treatment.
All these are added values for IPB to make a contribution today on the pandemic prevention
Brief summary
Two main activities were performed during May and June 2020 including (i) one HROC follow up with university students, and (ii) three HROC basic workshops with secondary schools in Gitega with a total of 105 young participated
Activities Description
One HROC follow up
A one day HROC follow up met together twenty five (25) university students representing all Burundi provinces at IPB-HROC compound to brainstorm the way to build a national platform / network using HROC program in responding to the trauma consequences that many Burundi live under.
These students wish to work hand in hand with IPB in this project. IPB finds the idea very important as it responds to the need of having provincial focal points that take initiatives and IPB gives technical support. As conclusion the students' representatives and IPB accepted to enter in this process by conducting several similar follow up/meetings and be evaluating its evolution step by step.
HROC basic workshops
Three HROC basic workshops were conducted in Gitega during this period of June 2020.
The motivation behind returning to Gitega today is the below ones?
Following the 2015 election crisis, Bujumbura was the most impacted by the situation related to the protest against the third term of later President Nkurunziza. This pushed IPB-HROC to concentrate its efforts there in partnership with AGLI, AFSC and QSN both Quaker organizations through peace dialogues taking in account the HROC program strategies of interventions and nonviolent conflict management as well.
Since 2017, Catholic Relief Services opened a space for HROC program in its project " Be healed and cohabitate together" to offer technical services related to trauma healing until today in Bujumbura and Bubanza provinces.
Since 2019, the Burundi government separated the economic capital to the political one. Bujumbura remained the economic and Gitega became the political one.
Today the political sphere of the country at the high level is managed in Gitega and new initiatives are today piloted there.
Taking in account the way the 1993 Burundi crisis following the assassination of the hero of democracy President Ndadaye Melchior affected Gitega province and its surrounding, trauma healing is one of the needs for everyone there.
IPB-HROC plans to open a sub-office there and manage its interventions from the two strategic part of the country today: Bujumbura and Gitega.
The first three HROC basic workshops were conducted at Kwibuka Friends Church Center in three different schools and 80 students participated in those workshops.
HROC basic workshop at Kwibuka Technical School.
The third HROC basic workshop was facilitated at the Kwibuka technical school from June 18 to 20, 2020.
Twenty six students participated among the 21 males and 5 females. It's a school where 90% are male since the profession followed there is mechanic and electricity and females still hesitating to study those carriers.
The participants came from different provinces of Burundi and especially Gitega, Ruyigi, Cankuzo, Muyinga, and Mwaro.
Students at the end expressed their joyful feeling to have this workshop even though it ask them to manage difficultly the strong emotions
Below are some testimonies
Clairia
I lost my father when I was still a little girl /kid. I grew up without seeing him and I then asked about his death. Following how our neighbor told me, my father was very gentle and humble. He was kidnapped by unknown people. They took him at home and murdered him brutally. His body was found in the river in the nearby valley. This is something that made me sad throughout all these years. I developed isolation due to the fact I didn't support sharing with other who still have their father. I do have other symptoms of trauma that I will share another day if strength to do it will be there.
Thank you for supporting me!
Emery
My father was murdered by people when he was in his way towards Uganda. My father was a business man who purchased products in Uganda and then sold them in Burundi. I was born in good conditions because my father provided for the family. He also wants the wellbeing of me. Unfortunately, he was murdered and right after his death, my family and I carried out a hard life. It was even difficult to go to school with the provision of my mother only. I thank HROC for giving me the knowledge regarding trauma because I grew up feeling bad due to that lot of my father. Now, I understand that his death affected me. At least, I know why I am this way. Thank you very much for that!
HROC basic workshop at Kwibuka Secondary School
The second workshop was conducted at the Kwibuka secondary school on June 22 to 24, 2020 where 27 participants were present including 8 males and 19 females.
More than a half of participants lost one of the parents or both of them. Consequences of that situation due to the crisis were expressed during the three days.
Following are some testimonies
Anatole

I got very sad because I lost my father in 1995. He woke up and went at work as usual and then, we waited his return home in vain. We kept hoping that he would come back but up to now, we haven't seen him back. I got sad because since that time, we are not well treated in the father's family. We started to miss even food and we hardly continue our studies while relatives on the side of my father are rich. Whenever I miss what I need, I remember my father and then I regret "if he could be alive, I would not miss this". Whenever I think of him while I'm in class, I keep very quiet and I feel I don't love anyone. If my classmates ask me while am I so quiet, I respond them unwillingly.
Therefore, I thank you for this workshop. It helped me to understand myself and supported me a lot because I found out that I am not the only person who experiences difficulties. I feel I need to help others who have trauma due to their experiences of the past.
Ariella

I have two things which made me sad above many others more. On one hand, my father rejected us and on the other hand, my mother mistreats me as if she didn't give birth to me.
I still have both parents alive but they don't live together. My mother wished many bad things to me and I felt desperate because I realize that we were often incompatible. I feel rejected from everyone. She even wished one day strangers to cut off my legs, I may be flowed by water and many more bad wishes. I never feel at peace wherever I am because one day she even told me that I am a prostitute. All of these left me desperate and feel I am not like others. My mother did all of these to me because my father left her and married another wife.
In addition, I get sad because I have three step siblings and none of us shares a father with the other. At my highest surprise, I am the only child who is mistreated and my father doesn't help me at all. He left me and married another wife. My mother and I live at my grandmother. Every time I ask myself why it happened like that and I have no answer. Sometime, I feel I can commit suicide because the life that I'm carrying out is very hard. Few times, I am happy.
Also, as my mother always wishes bad things to me, I try hard to be careful so that nothing bad may happen to me. I always ask God to give me a heart of patience and to succeed in my studies and be away from the desires of my eyes.
So, I thank you for this workshop. I feel my heart with hope and I hope that all these difficulties I am experiencing now will reach their end.
HROC basic workshop at Kwibuka Ferguson' seminar
The Third HROC basic workshop was organized in favor of the Kwibuka Ferguson seminar students from June25 to 27, 2020.
Twenty seven (27) were present among them 15 males and 12 females. The majority of participants lost immediate family members as testimonies collected stated. See some below
Déborrah
I was traumatized by the death of grandmother. I got very sad because she passed away while she was coming to pay me a visit. It was on October 30th, 2019, the same date of my birthday. She was murdered on that same day. At day, she had completed to prepare herself and then a male neighbor found her and killed her. The reason was that my grandmother saw the man abusing his wife. Clearly, the man didn't want anybody to be aware of such misbehavior toward her wife. The man slaughtered with a knife my grandmother. Something that makes me more sad is the fact that the man is one of the richest person in our neighborhood while my grandmother is now "eating" the sand. Though she is no longer alive, I do love my grandmother very much. Even though I didn't see her, she died because of me. I thank you for this workshop because normally I don't speak out things which made me sad. But I come to learn that it's the only one way to deal with bad things happening to us. Thank you very much!
Jérémie.
Something that made me sad is the death of my sister. I was 4 years old when my sister passed away. That day we were all sleeping together. Then, I woke up. My mother asked me to wake up my sister as she stayed asleep. I called her name three times and after realizing that she didn't responded I went to tell it to my mother. My mother entered in the room and called her also but in vain. Then, she started to pray for her and suddenly, witchcrafts which indwelled in her spoke out. They said that they killed her and they were ready to go away. They went away but, of course, after killing her. So, whenever I remember about that mysterious death, I am very sad. This workshop helped me a lot because I realized that I was inside the second Johari's window. I can already feel that speaking out my sadness regarding the death of sister released my heart as a way to overcome the trauma I do have because of that death.

Recommendations for way forward:
Increase the number of workshops and follow ups.
Initiate a HROC Club
Get a mentor from HROC to work closely with the Club
Provide other workshops in other themes