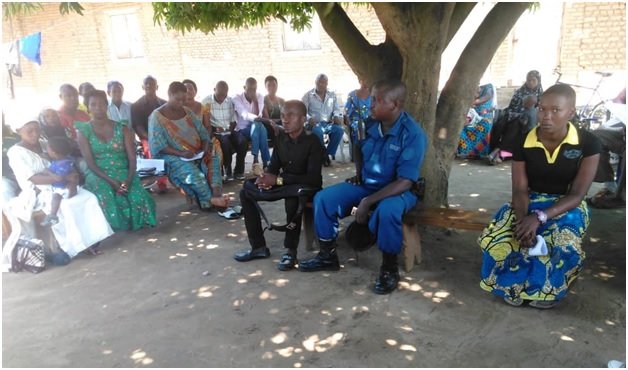 Context
Since 2010, IPB-HROC has set up Peace and Democracy Groups (PDGs) as a way to prevent and to respond to electoral violence. That is why IPB-HROC worked with these PDGs during these 2015 elections and continues working with them to preparing for 2020 peaceful elections.
Some of the objectives of a Peace and Democracy Group are:
To support people on a grassroots level to organize themselves as citizen reporters to effectively prevent and mitigate violence while providing a peaceful presence during elections.
To raise awareness of the particularity of election violence, empowering groups with the knowledge to prevent and mitigate violent incidents.
To offer a non-violent channel for the expression of dissatisfaction or concerns over election processes. In other words, if people in a community know that what has happened to them is being reported, perhaps they will be less likely to take revenge or speak out violently.
To build relationships and create groups of mutual cooperation in divided communities.
In partnership Buterere's Peace and Democracy Group, IPB conducted a dialogue for peaceful coexistence in Buterere zone on April 26, 2019. Forty five (45) participants were present among them 25 males and 20 females. They are representatives of youth affiliated to political parties, representatives of security agents mainly the police, chief of quarters, representatives of religious believers and those representing the local organizations.
Following are some testimonies.
The representative of MSD political party said:
Even though our political party was removed on the list of those having the right to compete during the 2020 elections, recommendations and conventions built during the peace dialogues conducted from October 2015 till February 2017 and other follow-ups organized after February 2017 still being the line of conduct and we must updating them in each meeting like this one.
According to him, the adepts of his political party need more peace dialogues and IPB should plan for that. When many youth are jobless, he continued on advocating for IPB to think about income generation activities in favor of youth as we continue approaching the 2020 elections period. He went on saying that meeting all stakeholders to discuss periodically on the political matter update should lead to a lasting peace in our zone. As the experiences have shown, meeting like this one could always review the technics of trauma healing and social cohesion since these have demonstrated positive impact within the community of Buterere zone.
One member of the CNR political party said.
We do have so many things opposing us to the ruling political party, but what we have so far learnt from the dialogues for peaceful coexistence made us know how to live together in our diversities too. We know that the political differences are wealth to protect instead of being sources of violence. We are part of the government since we do have ministers and parliamentaries for the last four years. This is a step illustrating how far the peaceful coexistence we are fighting for is making some roots. He ended his speech on advocating to sensitizing the teaching about good cohabitation in our differences at the national level. He continued in saying, "We committee ourselves to combat for peace and security for all".
One member from the FRODEBU political party said:
Currently our political party is getting invitations to participate in this kind of meetings rarely as we are considered to be the opposition. He continued in acknowledging that these kind of meetings with message on maintaining the good coexistence between Burundians need to be dispensed to all identity groups mainly those of the opposition side. As we are approaching the 2020 election period, we advocate for weekly workshops or dialogues for peaceful coexistence in diversity to prevent what happened in 2015 elections crisis. These peace dialogues are the solution for every group to prevent rumors and work together for a common solution that is peace for all. They help us understand that we are the first one to rebuild our country.
One representative of UPRONA political party:
Truly saying, if these peace dialogues didn't happen what could be our capital city and our country! Peace dialogues helped to leave out the fear that was between civilians and security agents. Mainly between those affiliated to the ruling party and that of the opposition; between youth and the police.
We regret to see that many refugees are from the UPRONA party because what happened before these peace dialogues started. A preoccupation we do have is how IPB-HROC should meet them for instance in Rwanda, RD Congo and Tanzania refugees camps. If not, communicate with those having capacity of organizing these kinds of dialogues there to do them. He advocated for special dialogues including as many as possible those belonging to UPRONA political party and reminding to use JOHARI's window illustration in any meeting as this helped many participants in dialogues.
One representative of the National Police
I don't have word to express my gratitude to be part of this dialogue for peace coexistence. It's my first time to participate in this kind of meeting and I find this to be the right solution for Burundi. We explored different means looking for solutions including fighting diplomatically or using weapons and so on. Listening to those having been said and the brief presentation by IPB-HROC national coordinator, I sensed I could have chance to participate in the four days peace dialogues that others benefited.
As one of the police team in this dialogue, I will make a share with those remaining in security position and those appointed in Buterere zone. We had nostalgias to meet with IPB-HROC staff after learning on how they made a positive intervention during the 2015 election crisis as unarmed civilian peacemakers. Our main question was to know how a civilian accepted to be between armed groups and succeed to convincing them to sit together and converge toward a peaceful approach and be led by civilian organized in local organization when international organizations are failing to do so.